The visit to Kot Bhramari temple was a part of my Baijnath trip. It is a temple dedicated to Bhramari Devi and Nanda Devi, which has many legends and beliefs related to it. This article will introduce you to most of them.
---
On the last day of the Baijnath trip, when we were sitting at breakfast in the morning, the owner of our hotel came to us and said, "So, have you guys wandered all over? How would you rate our Baijnath?"
When we told that we had visited the Baijnath temple and the Gomati river, explored the farmland and roamed through the barns. His reply, "You didn't go to Kot Bhramari temple?"
---
To tell the truth, we did not have any inkling about this temple. As he described the temple, my eyes started to widen.
I wished if there was a magic wand that would make me reach this place in one blink – you see, I wanted to go there as soon as possible. Well, this type of magic doesn't exist, so we had to go through the path created by humans.
We proceeded to the temple after breakfast.
3 km Short Trek to Kot Bhramari Temple
There is no need to tell about my attachment to the mountains, yet let me say that calling mountains a part of me will not be wrong.
Just next to our hotel was a small rocky path, which ends right at the Kot Bhramari temple. I thought if I can do one of the most difficult trekking of Himachal Pradesh – Kheerganga, then this 3 km trek is not a big thing.
Read Our Kheerganga Experiential Guide: Kheerganga: Everything You Need To Know Before You Go
But my expectations broke only after walking merely a kilometer. The result of not traveling and less physical activity for the last 8 months was clearly visible.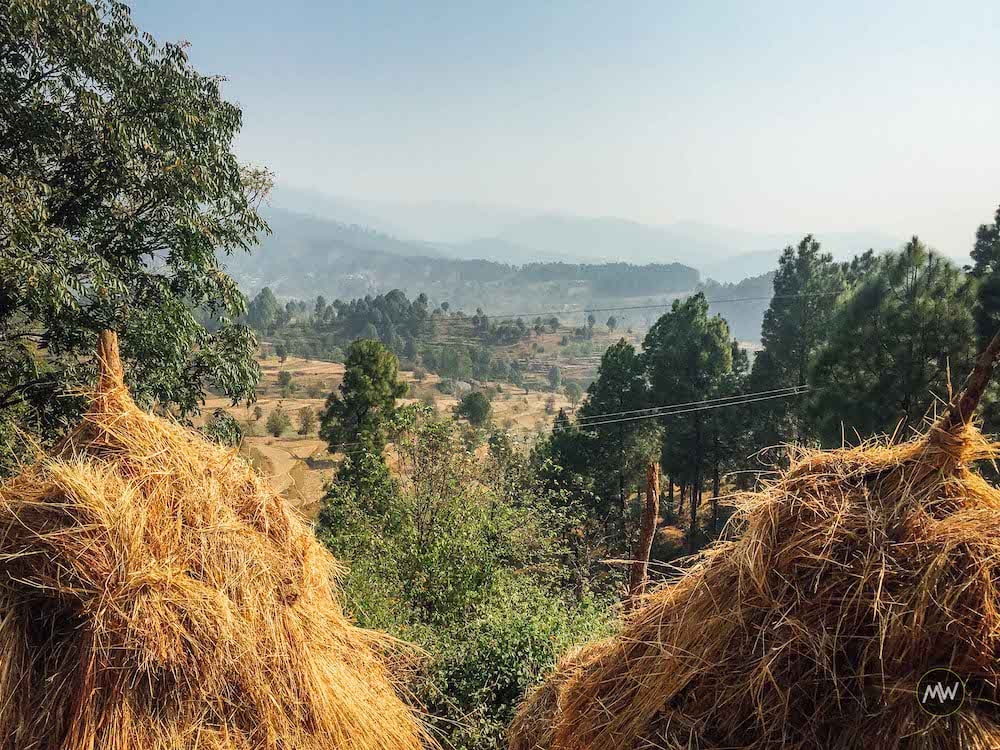 Well, took a short rest and started walking again. This time with full enthusiasm, now we have to stop only after reaching the Kot Bhramari temple, we decided. We climbed continuously for another one kilometer and glimpses of a temple became visible.
We thought we had finally arrived. Our feelings were hurt when a local man passing by said that this is not the Kot Bhramari temple, you have to climb a bit higher to reach there. #SadLife
On hearing this, Vipin said, "Brother! Let's take the rest and then continue trekking." We sat down and drank some water to relieve our nerves. The view in front of us, as if, encouraged to come a little higher, and said that you will get a better view.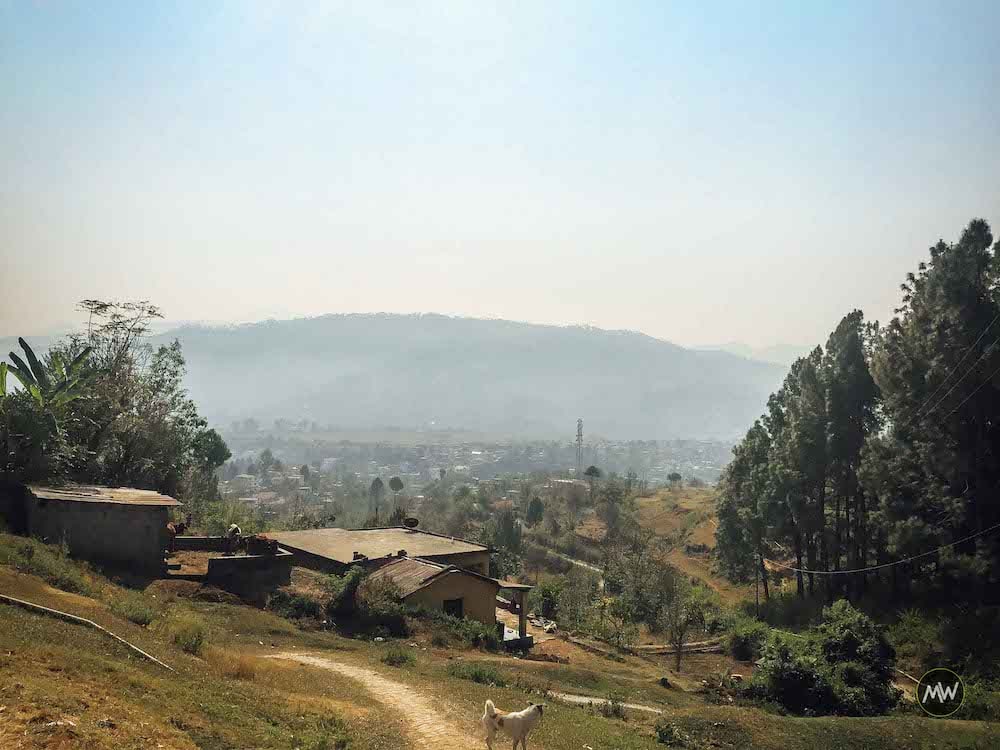 After some rest, we again started on our path with a refreshing mind crossing by the mesmerizing views, typical Kumaon villages, villagers, and their crops. Tall trees, wild herbs, tea gardens, and terrace farmed lands.
A Friend of Unknown Roads
When we left for the Kot Bhramari temple from our hotel, the pet dog (named Tiger) of the owner of the hotel followed us. We thought that after walking for some distance, he would return to his master again but this did not happen. He constantly walked ahead of us and kept guiding us. Wherever we stayed he would also take a rest with us and then continue the journey. We asked him to go back several times but, as you may expect, did not obey us.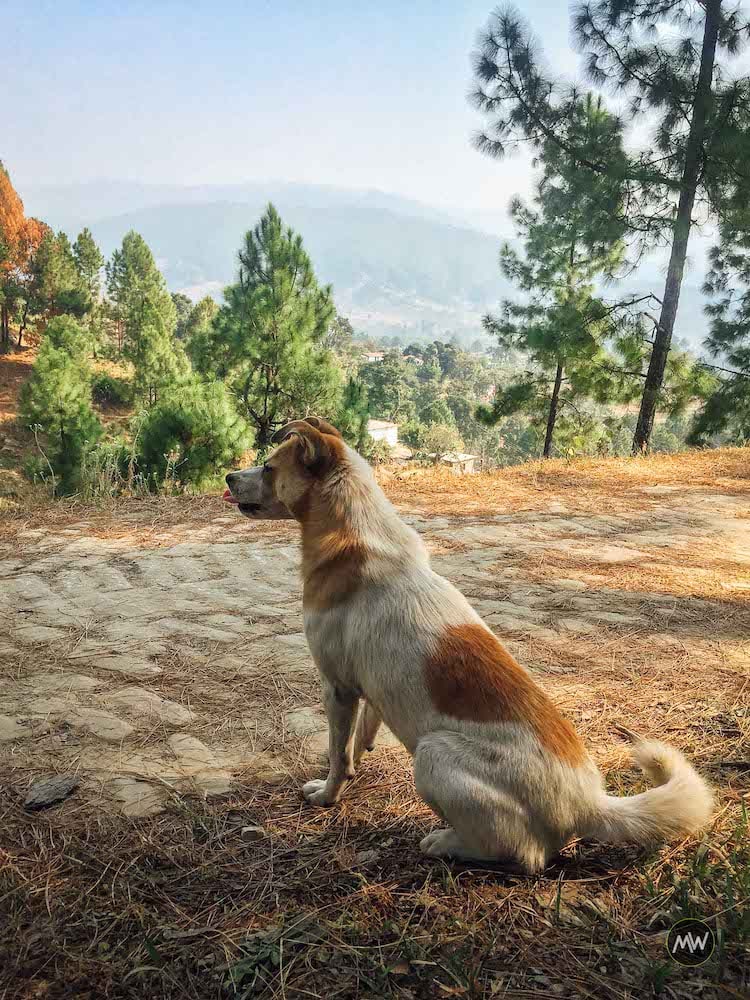 For a time, I was quite surprised that without drinking water, how can he keep climbing like this. Well, finally he gave us to our destination – Kot Bhramari temple. And perhaps that's why I call him a true companion or guide of unknown roads.
Devi Darshan and The History of The Kot Bhramari Temple
When the distance of a few yards was left and the entrance of the Kot Bhramari temple started to appear clear, it was as if energy was again transmitted to the feet. On entering the premises, we took a moment's rest and then saw Mata Kot Bhramari and Nanda Devi in ​​the sanctum sanctorum of the temple. A priest nearby was narrating the glorious story of the temple, which I was particularly interested in hearing.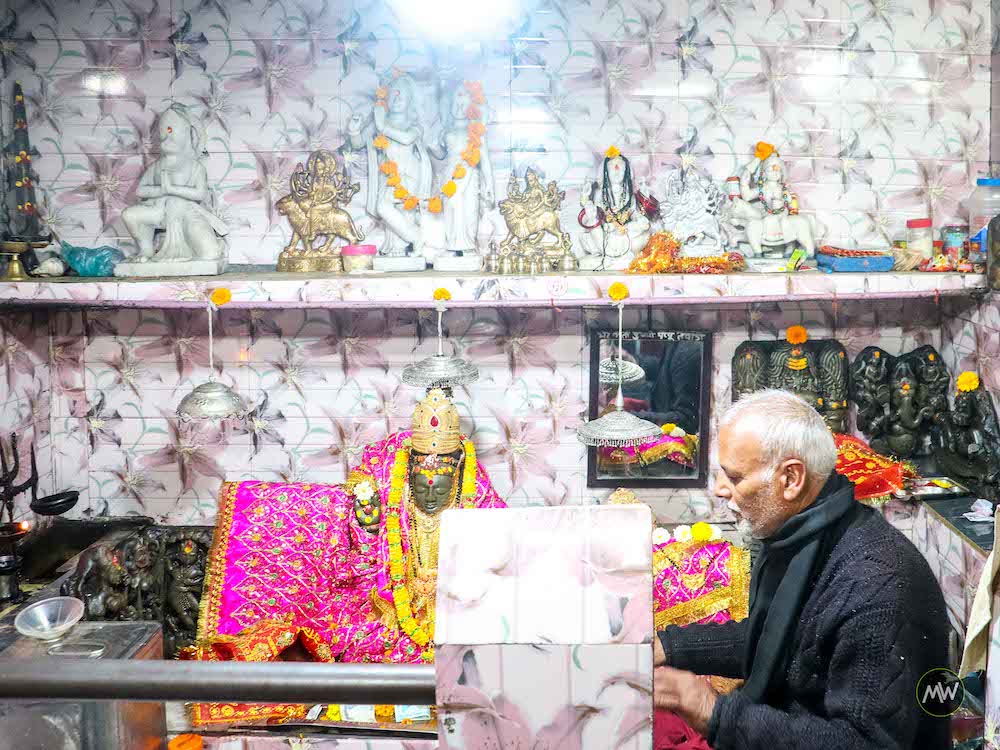 According to historians, the Kumaon Valley was ruled by the Katyuri kings from 2500 BC to 700 AC. Today the place where the temple is set up was once a fort established by the Katyuri rulers. It is also believed that the Kuldevi of Katyuri and genealogical kings were Bhramari and Nanda Devi.
The present-day Kot Bhramari temple is built in a modern style. When this temple was built, who got it built, everything remains a mystery. The great litterateur Jaishankar Prasad Ji has mentioned this place in his book "Dhruvaswamini".
Nanda and Kot Bhramari Devi are Worshiped Together
The account of Bhramari Devi comes from the eleventh chapter of Durga Saptashati. It is believed that Bhramari Devi's back is worshiped and the crown and face of the Goddess are not shown to anyone. Only the priest has the right to see the complete nature of the Goddess. Also, it is believed that if this tradition is not followed, the entire Katyur valley will have to witness Tandava and destruction.
Nearby is a village named Jhalimali. It is known that in the reign of, a Chand ruler was taking Nanda Devi's rock statue from Garhwal to Almora, on the way, he took a night's rest in this village. The next day when he tried to lift the rock statue, he found it was impossible to even move it.
People believed that the mother's heart had liked it there and didn't want to move. Her temple was then established at the site. Worshipping and recitations took place there for many years, then later Nanda Devi was established with Bhramari Devi.
Legends About Kot Bhramari Temple
It is said that there was once an outbreak of an Asura (demon) named Arun in the Katyur valley. He had the boon that neither any god nor any human nor any weapon could kill him.
His orgy and persecution continued to grow. Finally, in order to kill him, Bhagwati Maa (Goddess) took the form of Bhramar or Bhaura (bee) and killed the demon freeing the people from its deadly fear. Therefore, Bhagwati Maa is worshiped here in Bhramari form.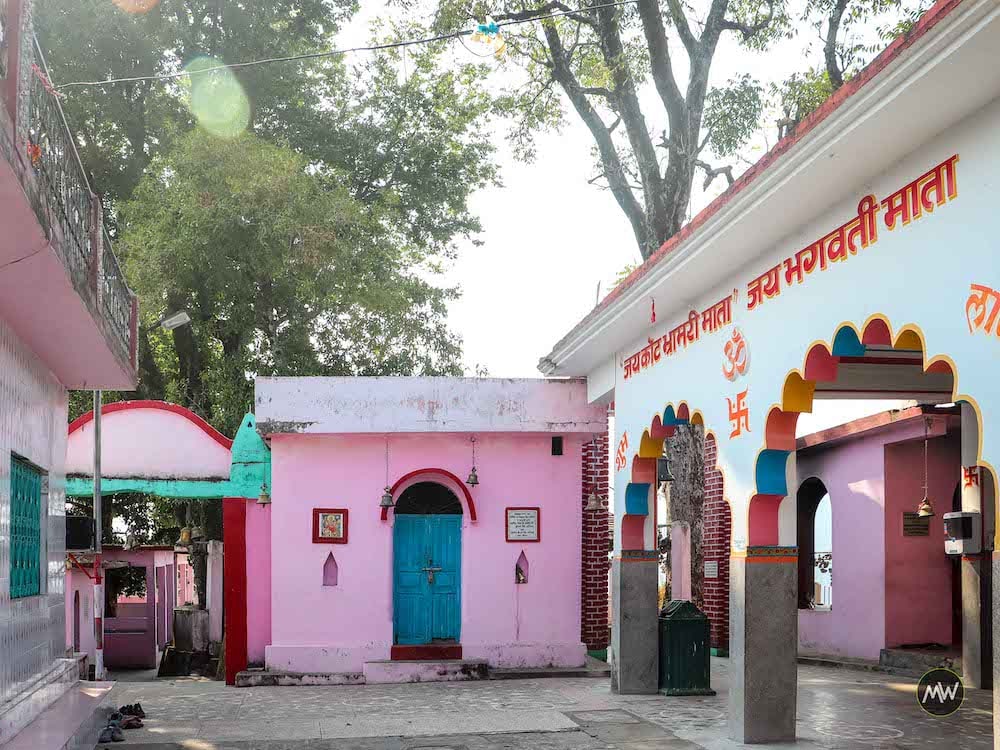 There is also a belief that when Adi Guru Shankaracharya rested at this place on his path to Badrinath.
360 ° View & The Kot Bhramari Temple
The thing that impressed me the most was the atmosphere of the temple and the 360 ​​° panoramic view of the entire valley. After getting darshan (sight), I climbed to the top floor and started admiring the beautiful view of the mighty Himalayas. I was in the lap of nature, completely engrossed in my dreamy thoughts.
Gentle sunshine, slowly flowing air, far-flung mountains, rolling valleys, mountain fields, and a strange silence. This experience carved a special place in my heart. The view in front was worth every trouble we face while trekking to this lesser-known and unexplored place of Uttarakhand, Kot Bhramari temple.
Major Festivals
On the day of Shukla Ashtami of Chaitra month (March / April), a big fair is organized in the court of Kot Bhramari Devi, for which devotees come from far and wide to attend.
There is another event dedicated to Nanda Devi, the fair takes place on the Shukla Ashtami of Bhadrapada month (August / September). This festival is also known as Nandashtami.
Nanda Devi Raj Jat Yatra is carried out every 12 years, which also passes through this place. It is a major event of the Kumaon and Garhwal divisions.
How to Reach to The Kot Bhramari Temple?
This amazing temple is situated at a height in the town of Baijnath in the Bageshwar district of Uttarakhand state. The place is in a town called Baijnath which is 300 km from Dehradun, 17 km from Kausani, 132 km from Nainital, 151 km from Haldwani, and 70 km from Almora. Regular buses from Haldwani, Almora, and Dehradun are available.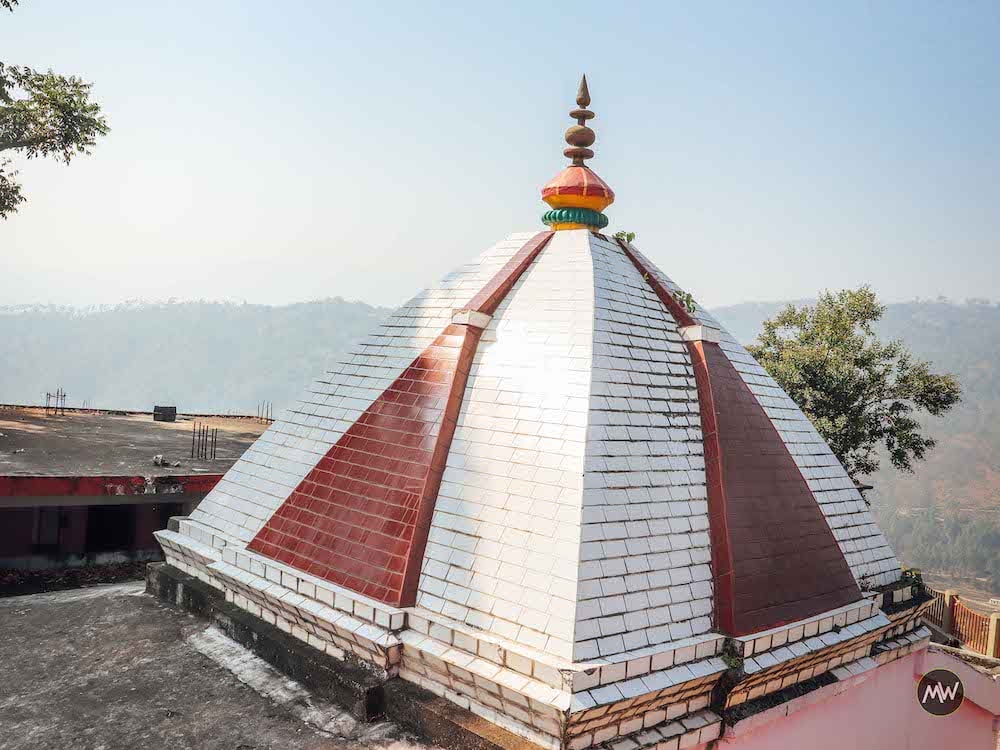 There are two routes to reach the temple from Baijnath. The easiest way is to travel 4 km from Baijnath by vehicle and reach the entrance of Kot Bhramari temple, from where you will reach the temple after climbing some stairs.
Another way is to take a rocky path in front of the Baijnath temple (a path near to the tourist guest house, TRH Baijnath, and next to the water tank) and trekking 3 km through villages, fields, and tall cedar trees. We adopted this path and if you are fond of trekking then you must adopt this path as well.
Last Words
They say that unknown roads often lead you to a great destination. This trekking was proof that finally gave the feeling that was very pleasant and relaxed. We stayed for a long time at this place and spent some happy moments.
I am thankful to the owner of our hotel who made us aware of this holy place and his pet dog (Tiger) who guided us.
Our Baijnath trip ended with the visit to Kot Bhramari temple.
How did you like this article? Do write your thoughts in the comment box below and if you want to give us some suggestions, feel free to tell us. We will try to improve ourselves further.
Related Reads:

1. Baijnath Temple Uttarakhand: An Experiential Guide to The Ancient Abode (Baijnath temple is a 9th-10th century temple dedicated to vaidd (physician) avatar of Lord Shiva)
An Appeal: Please do not throw the litter around. Use a dustbin and if you can't find a dustbin, take the trash with you and throw it when you find one. Your small initiative can make the whole world clean and green.
---
If you think our content is worth receiving in your inbox, please consider subscribing: