If you are looking to immerse yourself in some of the most exotic views nature has to offer, do the Kheerganga trek. Clearwater waterfalls, meadows surrounded by lush green woods, cool breeze on your cheeks, and a sense of adventure in your heart — this is what Kheerganga is all about.
In this post, we'll tell you everything you need to know about Kheerganga before going. And that includes how to reach, food, stay options, and other travel tips. This travel guide is written so that it also details the experiences we had. It's just an attempt to help you plan better for Kheerganga.
Let's roll in.
---
Kheerganga is a beginner to moderate level trek in Parvati valley of Himachal Pradesh, India. At its core, Kheerganga is a pilgrimage site according to Hindu mythology. Travel junkies and adventure-hearts alike visit it.
Travel Video: Kheergannga Trek
Kheerganga is quickly gaining the spotlight all because…
The tranquility that the Kheerganga trek provides is irresistible. The paths of the hike are full of blessings from Mother Nature. Waterfalls, greeneries, apple orchards, herbs, wildlings, and what not! Nature seems to be in her full glory to awe the trekkers.
But let's first know which path should we choose to reach Kheerganga. That's the mandatory step.
How to reach Barshaini? The point where Kheerganga trek starts.
Kheerganga is situated near a small town named Barshaini in Himachal Pradesh, also the last motor-able road in the entire Parvati valley. You can reach Barshaini from Bhuntar, passing through Kasol and Manikaran.
Have a look at this pic: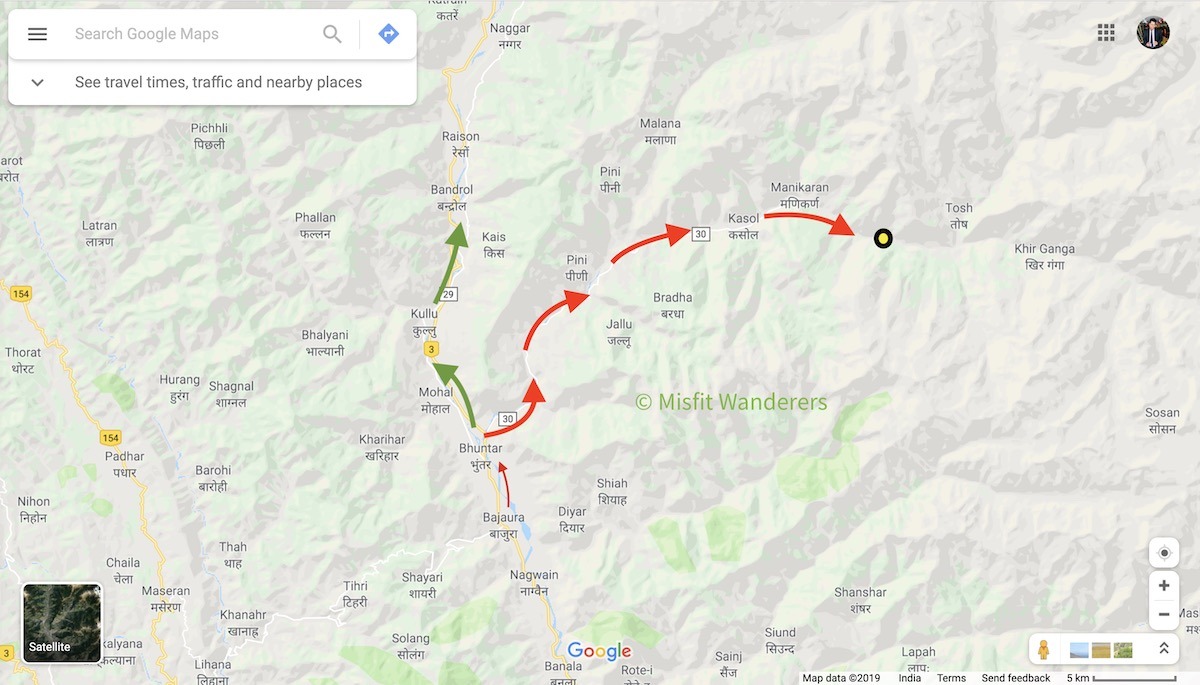 The map clearly shows that Bhuntar is a trisection point, and to go to Kasol, Manikaran, Barshaini, Tosh, Kalga, Pulga, and Kheerganga; we've to take the road going right.
Buses are available at Bhuntar Bus Stand for these places.
Pro tip: My last visit to Barshaini was tiresome. The buses were not very frequent even from Bhuntar! And if you wanna catch a bus from midway like Kasol (like we did), you'll likely have to wait a great amount of time.

Perhaps the reason for this, locals gave to us, was frequent accidents that happen near Barshaini. Bus operators don't fill people more than the number of seats.
Furthermore, let's see how we can reach Bhuntar first from anywhere in India. There are two suitable routes for anyone to reach by public transport.
Via Delhi.
You can catch a bus from Majnu Ka Tila or ISBT Kashmiri Gate in Delhi. Government buses including Himsuta Volvo, Himsagar of HRTC as well as the ordinary buses are available from Kashmiri Gate while private services are from Majnu Ka Tila and R.K. Ashram metro station.
All Volvo buses leave in the evening and reach Bhuntar in between 5 am to 8 am.
The buses generally costs around INR 1,200 for a semi-sleeper Volvo bus (private and govt. both) while ordinary buses charge you around INR 700.
There are also flights available from Delhi Airport (IGI) till Bhuntar Airport (KUU).
Via Chandigarh.
At ISBT Sector 43 of Chandigarh, you'll get many ordinary as well as Volvo buses of Himachal, Punjab and Haryana roadways to almost every destination of Himachal Pradesh.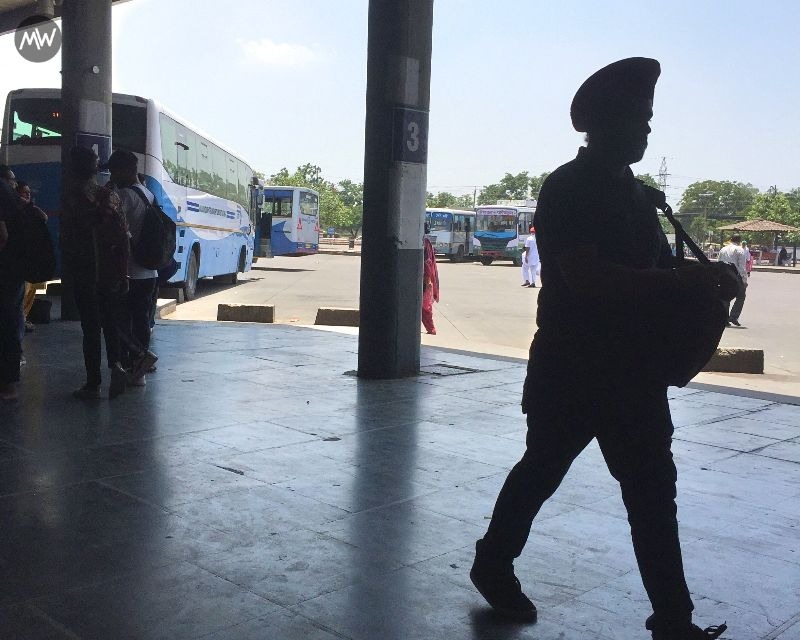 Most private operators of Volvo, sleeper, semi-sleeper, etc., buses depart from HP Petrol Pump adjacent Kiran Taxi services near ISBT Sec 43 of Chandigarh.
Note that all Volvo/luxury buses of government as well as private operators usually depart in the evening.
A simple search on RedBus or Paytm app can provide exact details. Book online and call the bus service provider beforehand!
The Volvo buses start from INR 800 while ordinary buses will cost you around INR 400. We were able to grab a deal and got a semi-sleeper booking at just INR 650 per person.
Where to stay in Kheerganga?
When we were planning for Kheerganga, this question made us very confused. Although the free staying option was there with us (Couchsurfing lets you stay for free), we wanted to explore more near Kheerganga and in the villages. Thoda to fun banta hai na boss?
And we ended up staying at two places. Kasol and Kalga village.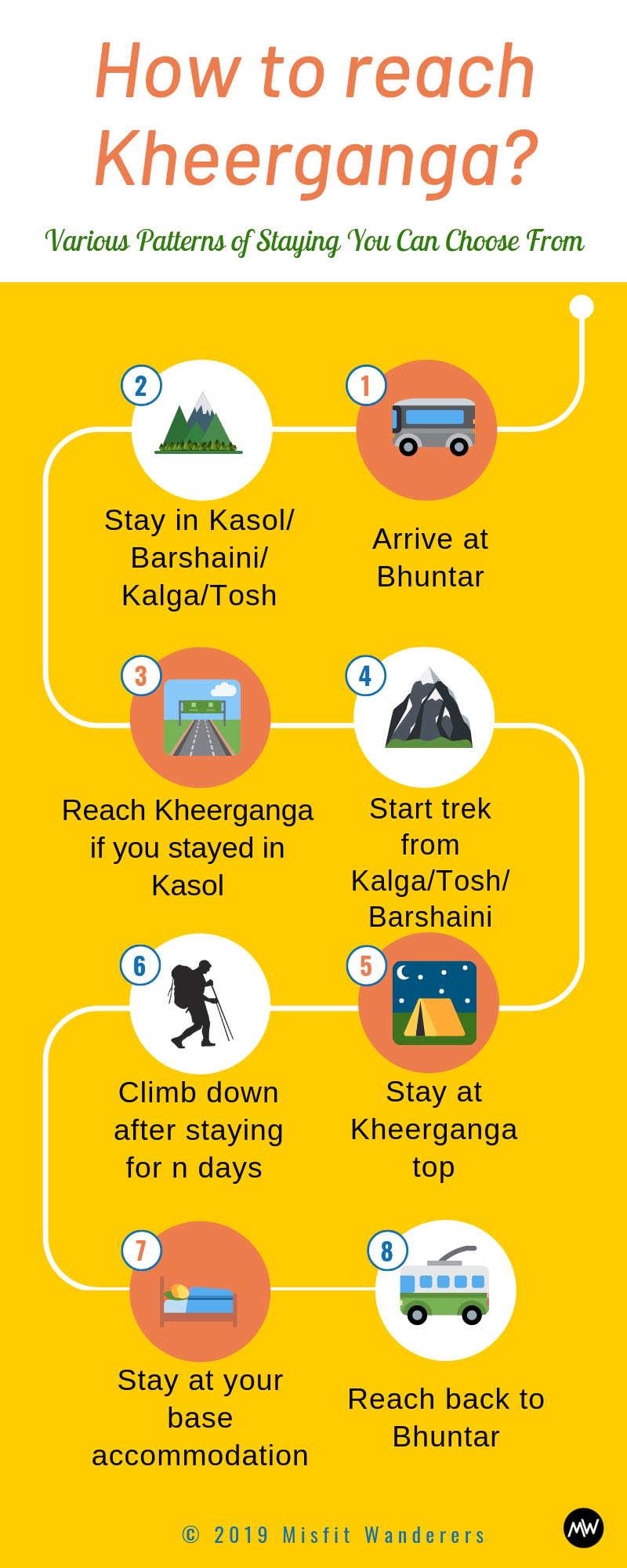 We opted for Parvati Woods Camp in Kasol to be our #1 stay. Dropped our luggage and left for Barshaini (starting point of Kheerganga trek) as soon as we reached 29-June-2019. It was about 10 am, I guess.
At last, after a long jam-packed journey via bus, we somehow reached Manikaran, and then we came to know about sad news – 'bus aage nahi jaygi'; the bus terminated there.
Hence we kicked the bus tires and moved on. After exploring Manikaran a bit, we asked locals about the bus to Barshaini, and someone from the back said – 'dedh baaje aaygi' – it'll arrive at 1:30 pm. And it was 12:30 pm then.
Huff, roaming here and there, we caught up with two guys who were also going to Kheerganga. So we all four waited, waited, and waited, but the bus never arrived.
Clock hands at 3 and 12 made us worry, and by this time, we had accepted that trek was not possible.
At last, we all four booked a cab for INR 600 to Barshaini.
So this gives you a hint that you have many options available for staying. Look at infographics. However, a stay at Kalga or Tosh village is recommended if you're coming solely for the trek.
Best time for trekking in Kheerganga. Few things people tend to IGNORE!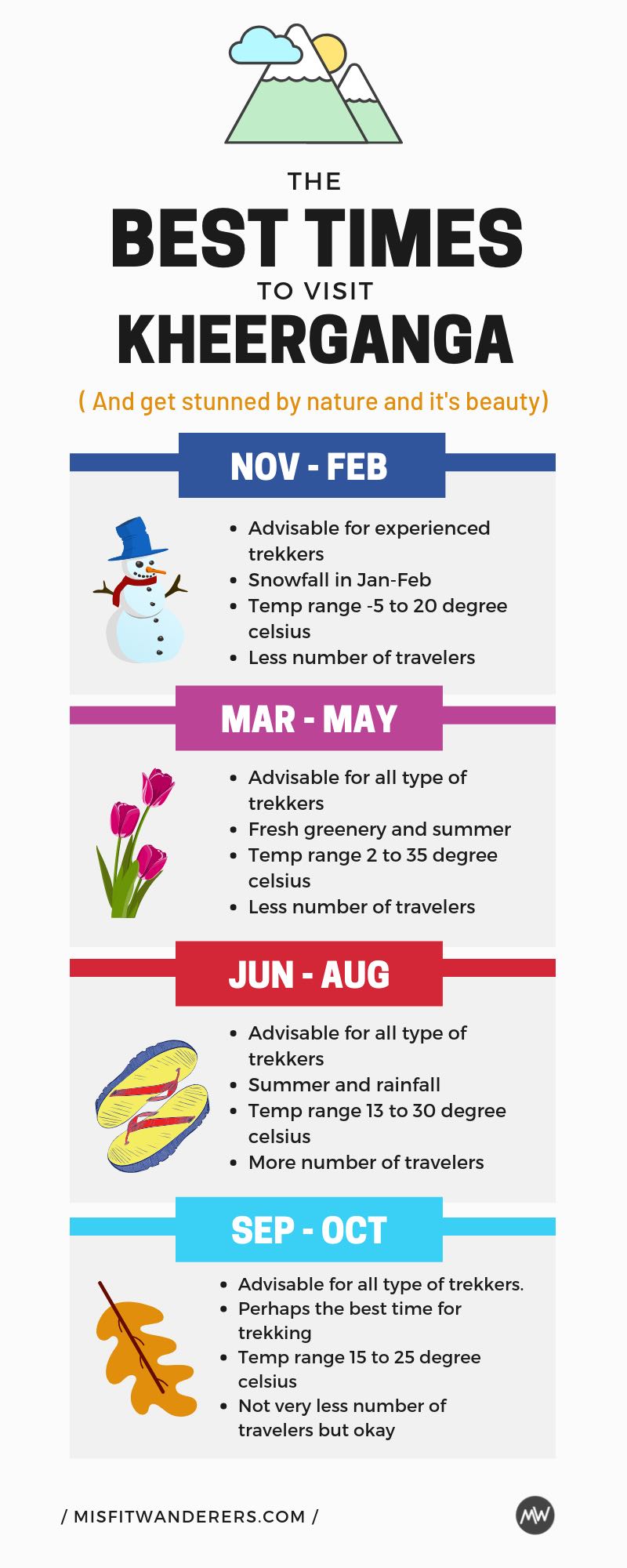 Kheerganga in December? Kheerganga in March? Or Kheerganga in August? Which sounds like a good bait?
Actually, Kheerganga is a trek that can be pursued in any month of the year except for some. Kheerganga officially closes in snowfall. Snowfall generally happens from January to February.
We went at the end of June, and we experienced a mild rainfall too while returning from the top.
Rain makes rocks slippery and creates unwanted mud on the trails.
Staying at Kalga Village, a serene and calm place at the base of Kheerganga.
Almost 3 km away from Barshaini, up at a bit of hike on the right after crossing the dam on the Parvati river, there's an utterly peaceful village named Kalga.
After realizing that trekking is impossible on this day, we, along with newly met people, stayed at a campsite in Kalga village at the cost of INR 250 per person.
Kalga has a special place in my heart. Not only because it's beautiful and undeniably very calm, but also because this place gave so many memories as well.
Be it boozing under the chilly starry night, exploring the forest nearby with fluffy dogs, or just getting on a chat of our future aspirations, we quickly turned from strangers to people who can be called good friends.
Our two new friends were from the blue city of India – Jodhpur named Aditya and Jitesh. The four of us talked under nothing but only a dark sky with clear twinkling stars, and it was as if we were in between the natural cosmos.
Trekking Day. Climbing to Kheerganga top.
In short, here are the three routes that go to Kheerganga, and these are from:
Kalga Village,
Nakthan village,
Tosh village.
Barshaini is up at a bit of hike on the right, and after crossing the dam, you can reach Kalga. The Kalga village route, which we adopted, is through the forest, involves climbing at some points, a shadowed way, and can be regarded as a medium-level difficulty for first-time trekkers.
For Nakthan village, we just have to leave after crossing the dam. This route is the most trusted one and with well-marked trails. Further, this route passes along the left side of the Parvati river and is believed to be the shortest one.
The Tosh village route is ideal for those who stay in Tosh. And it's a bit long compared to other courses. However, this route joins the Nakthan village route near the village itself.
Note that each route joins before a few kilometers of reaching the Kheerganga near a giant waterfall.
As a result of tiredness, we woke up at 6:30 am the following day (30-June-2019). Further, it was now the time for starting out the trek.
So, before you plan the trek, make sure you don't forget these do's and don'ts.
Consequently, we left the campsite at 7 am and started getting lost in the wilderness.
Now, this is the most exciting part of the Kheerganga trek. To clarify, all along the hike, you get a treat from nature, and every moment walked will make you snatch out your camera and click a shot. Khichikk!
And no, regardless of the route you choose to reach Kheerganga, you are going to be treated well, my lords and ladies!
As we moved up further, views like this started appearing.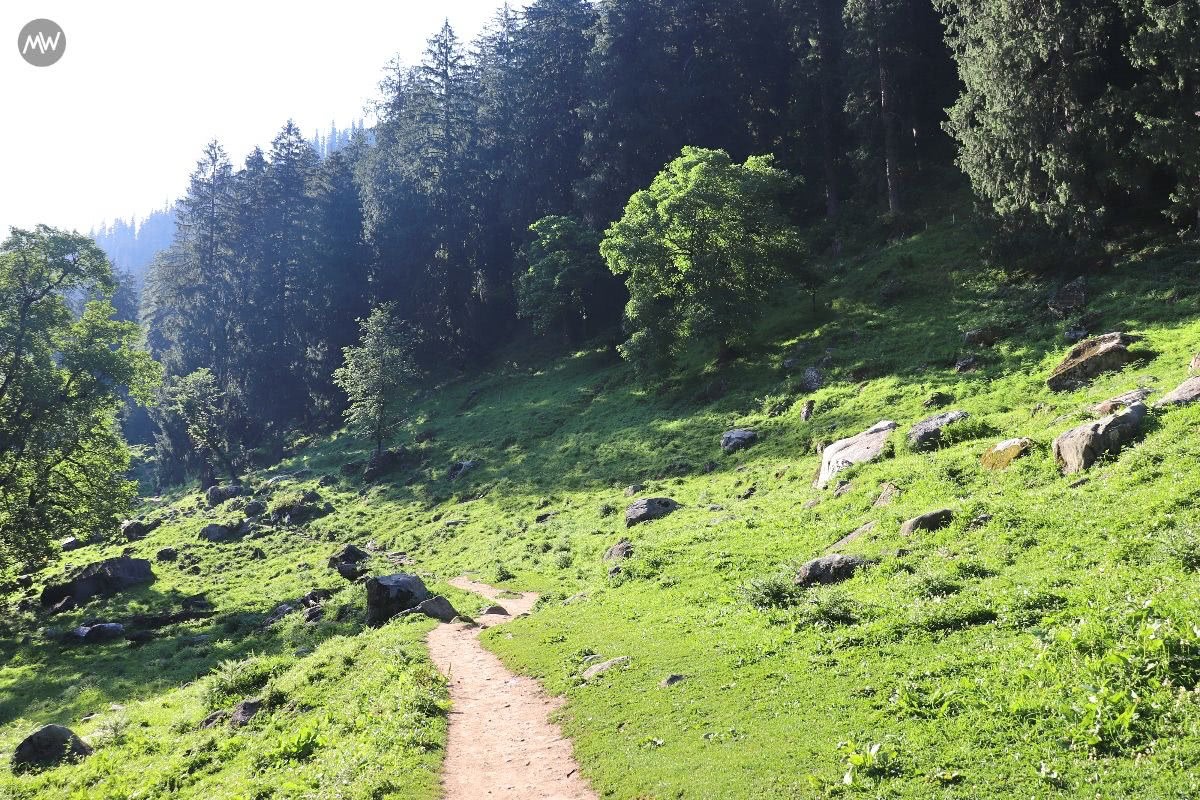 There are many small cafes and waterfalls on the way. Most waterfalls have clear and clean water, safe for drinking. You are advised to fill up your bottles from these.
There's one big waterfall after you cover more than half of the distance that'll leave you mesmerized. After this waterfall, the hike becomes straight up and gradually becomes difficult.
You can relish the calmness near a waterfall and have some refreshments before you take the final leap of the trek.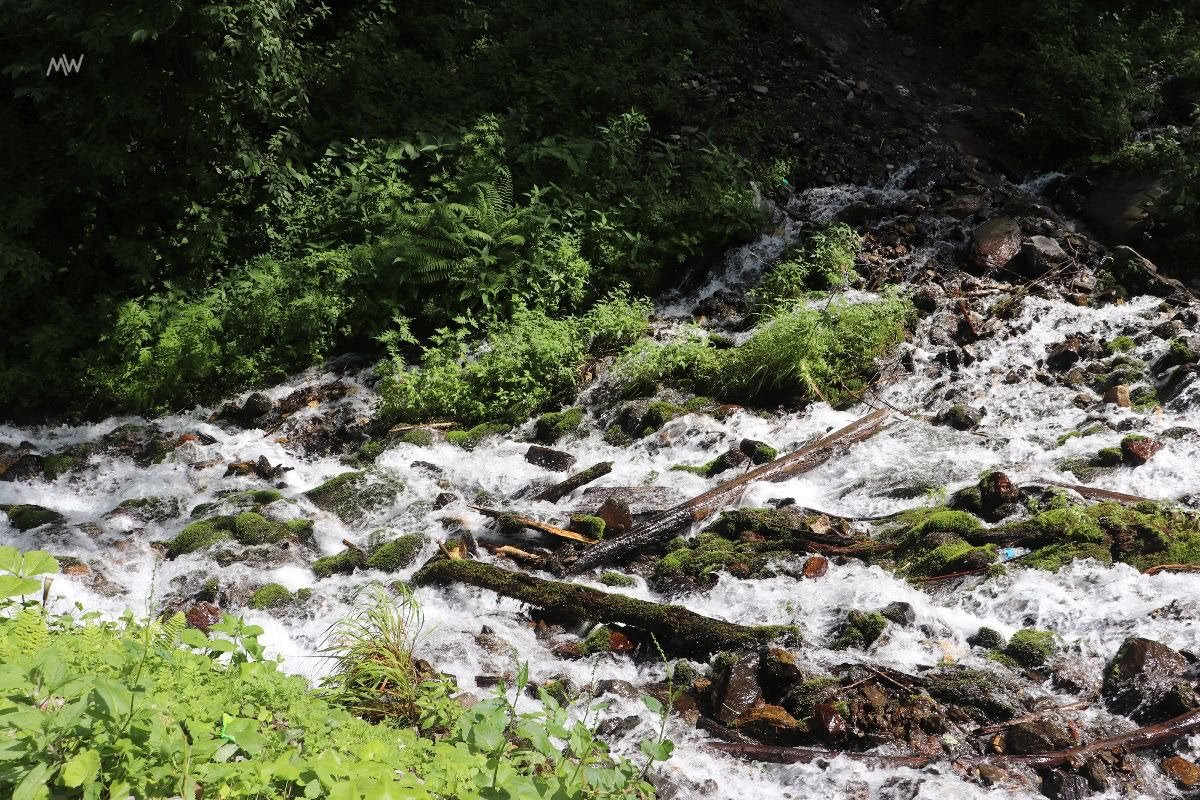 We reached the top around 1 pm (took 6 hours) after the final leap. There's a magical hot water spring at the Kheerganga top known as Parvati Kund. And it is believed the visit is incomplete without a dip in this kund or pool.
The pool magically receives the hot water, and no one knows how.
Why the name 'Kheerganga.' The untold story behind.
Many of us know why Kheerganga is famous and the stories of natures' wonders here. But…
Have you ever thought about why this place is called 'Kheerganga'?
Since it's in Dev Bhoomi Himachal (Land of Gods Himachal), there must be a religious reason to backup? You guessed it right.
Actually, Kheerganga is a holy place, a pilgrimage. Kheerganga word is made by two Hindi words viz., Kheer and Ganga.
Kheer is a sweet dish prepared with milk and boiled rice as the main ingredients. Ganga is the name of the holiest river of India.
Hinduism believed that in the Satyug era, with Lord Shiva and Goddess Parvati's blessings, a river of kheer used to flow here in this area.
When the Kalyug era arrived, this river of kheer was turned into a water river by sage Parshuram to prevent quarrels among humans.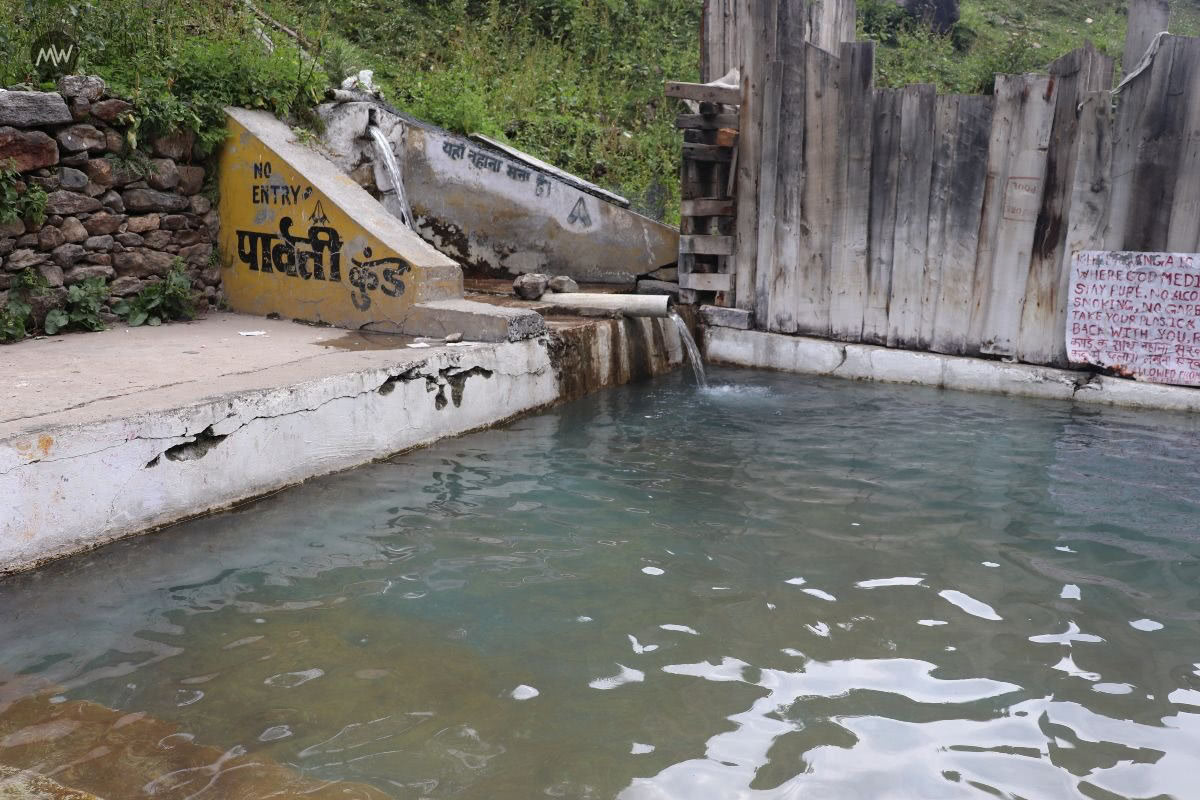 There's a Shiva temple at the highest point of Kheerganga near Parvati Kund.
It is also said that Lord Shiva's son Karthik also meditated here for some time in a cave that is 60 meters from the temple.
Staying at the Kheerganga top. These are some best options!
No wonder after a long and tiring trek, you'll get tired, well, especially if you're not a pro.
Kheerganga is blessed with many options to stay for a night. It's a recommended option if you've always fantasized about stargazing in Kheerganga, provided the sky remains clear as well!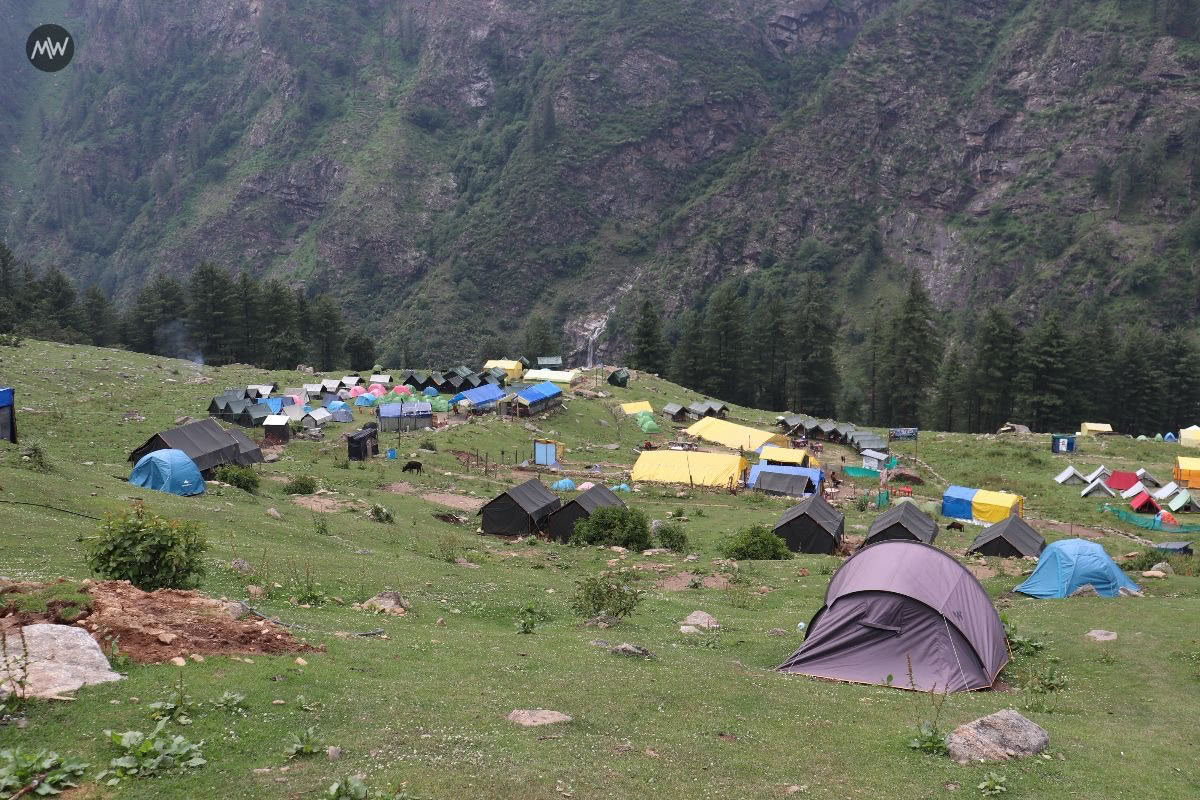 A tent/camp which can accommodate 2-3 people will cost you around INR 500-800.
You can also choose to stay at homestays, hallways for as low as 200-300 per person, but you'll be only provided with beddings and mattresses and probably no food.
Furthermore, you can also pitch your tent with proper permission from authorities.
Although the option of staying was in our initial plan, we ditched that plan simply because we were running behind our other plans. And so we've to get down the Kheerganga top the very same day.
It may easily be perceived that hiking down the mountain is easy, but, my good old friends – THIS AIN'T THE CASE. In fact, some people feel getting down is much tricky compared to going up.
While climbing down, your knees or ankles might give you some signals, and the gravity will work upon you too. Undoubtedly hiking down takes less time than trekking up. Therefore, you need to be cautious while returning from Kheerganga.
We left at 3:30 pm from the top and reached at 7:30 pm at our campsite in Kalga village.
So for us:
Trekking time for Kheerganga: 7 hours
Hiking down time for Kheerganga: 4 hours
Cost Estimation for Kheerganga trek.
Let's list out the item and approximate minimum-maximum cost to be incurred.
| Item | Price in INR (approx.) |
| --- | --- |
| Bus charge from Bhuntar to Barshaini | 120-600 (in case of cabs) |
| Staying at Barshaini/Kalga/Tosh | 300-500 |
| Eateries at Barshaini/Kalga/Tosh | 1000-2000 |
| Hiking Stick/Trekking Pole | 50-300 |
| Eateries for trek | 500-1000 |
| Staying at Kheerganga | 200-400 |
| Return to Bhuntar | 120-600 (in case of cabs) |
So the cost estimated from and to Bhuntar is likely to be this:
| | |
| --- | --- |
| Minimum Cost | INR 2,290 |
| Maximum Cost | INR 5,400 |
Indeed these are just cost estimates, and your expense entirely depends upon what type of services you are taking.
---
Lastly…
So, this was a travel-cum-experiential guide of Kheerganga. We hope it'd helped to get the information you sought. However, ask us your any queries in the comment box.
In the end, I just wanna say that this was one of the most adventurous trips of my life and also my first long trek ever!
---
An appeal: Please do not throw litter around. Use a dustbin and if you can't find one, take the trash with you and throw it when you find one. Your small steps like this one can make the world clean and green.