Do you know there are remains of the Indus Valley Civilization near Kurukshetra — the land where the battle of Mahabharata occurred?
In this travel guide, we'll tell you about Kurukshetra tourist places, foods you can savor, souvenirs you can buy, budget, public transport, activities you can do, and affordable accommodations for a comfortable stay.
There will be hardly anyone in India who has not heard the name of Kurukshetra. Since childhood, we have been listening to the teachings of the Mahabharata, the Kurukshetra war, and the Bhagavad Gita — the epic spoken by Lord Shri Krishna.
So, let's not waste any more time and jump right into, shall we?
---
---
Notice: This post may contain a few links which might earn us financial support when you buy or make any reservations through them. They're in no way affect our opinion or the information presented here.
Video Guide (in Hindi)
If you're not in the mood of reading or prefer watching, here's a quick video guide for Kurukshetra in the Hindi language:
Kurukshetra Tourist Places: Top 6 Places to Visit
1. Shri Krishna Museum
Shri Krishna played an essential role in the war of Mahabharata. And this museum displays everything about Him and has been alone of its kind since 1987.
The present-day museum has nine galleries where you will see archaeological artifacts from Kurukshetra, Haryana, Dwarka, Mathura, and other parts of the country.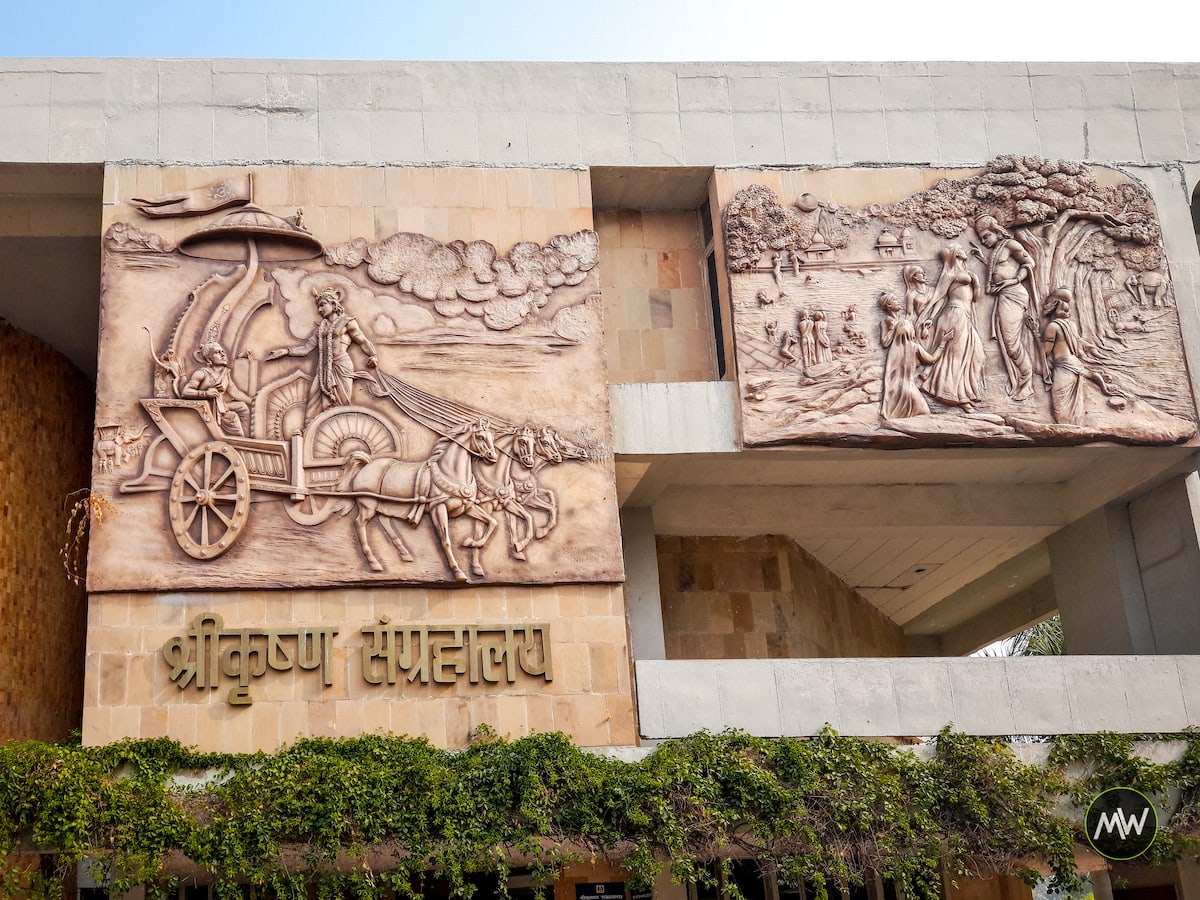 These galleries display wood carvings, ivory works, metal artifacts, inscriptions, miniature paintings, and more related to Lord Krishna.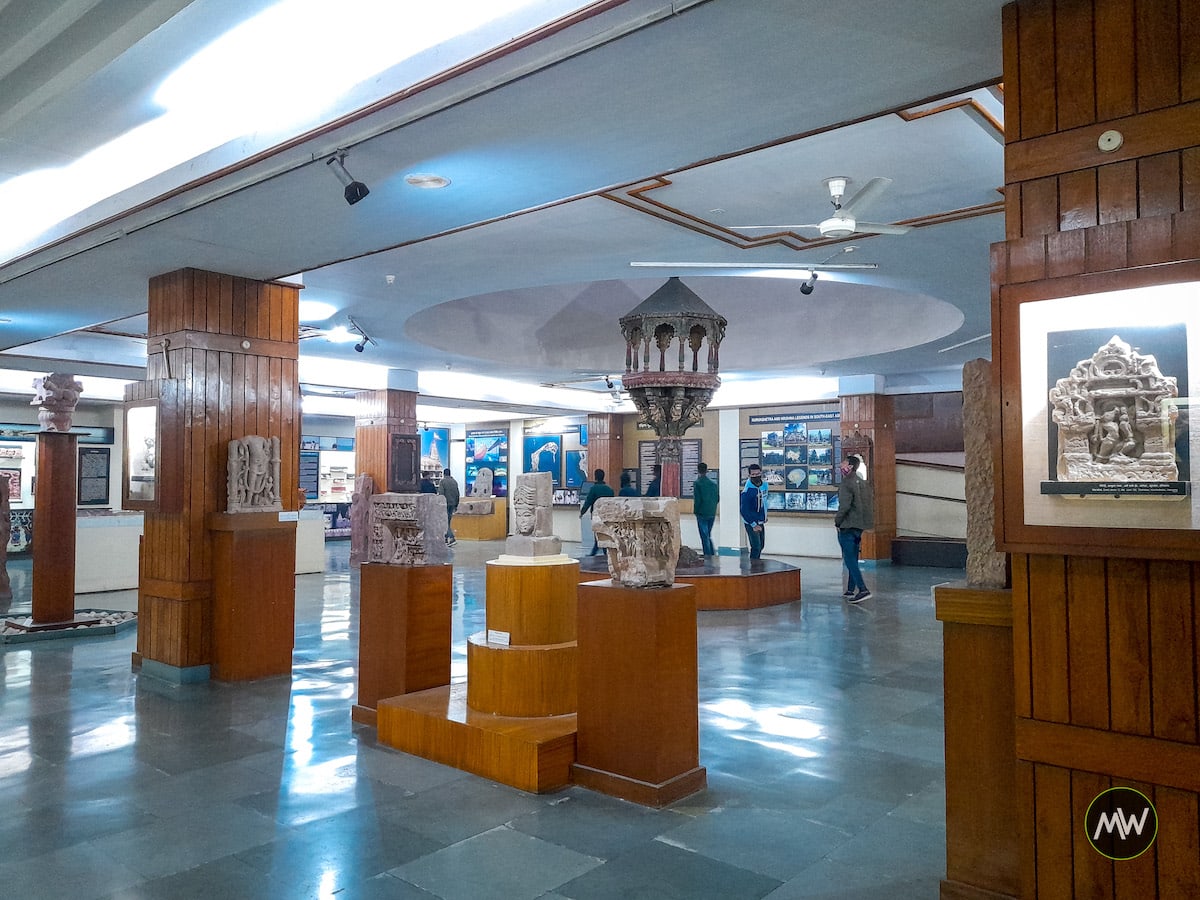 Another gallery depicts the lifetime of Sri Krishna and the Mahabharata — this is the museum's main attraction. Besides this, workshops, exhibitions, and competitions happen throughout the year.
Opening Hours: 10 am to 4:15 pm (Closed on Mondays)
Ticket Rate: INR 30 for adults, INR 10 for children (as in December 2021)
Amenities: Public restrooms, tour guide, and canteen.
Photography is not allowed.
2. Brahma Sarovar
The most visited, Brahma Sarovar, is the largest artificial lake in Asia and one of the best among Kurukshetra tourist places.
This lake gets its name after the creator of this universe, Lord Brahma, as per Hinduism. As per believers, this lake is precisely the place where Brahma Ji performed his first Yagya.
Further, King Kuru renovated this place.
Kurukshetra gets its name after the name of King Kuru. He was the ancestor of Pandavas and Kauravas.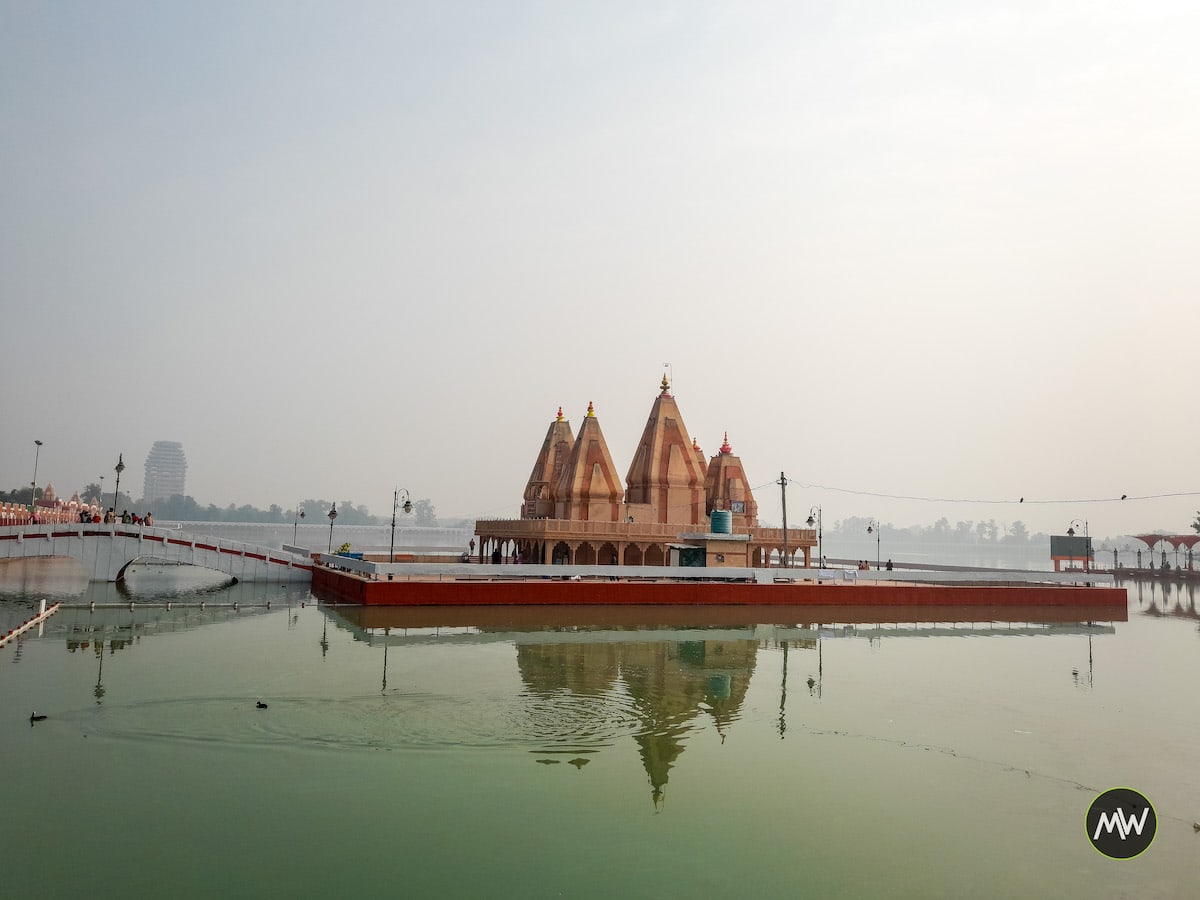 The result of bathing in this sacred lake on the day of a solar eclipse is equivalent to performing a hundred Ashwamedha Yagyas.
Spread over a circumference of about 4 kilometers, you'll see Sarveshwar Mahadev temple dedicated to Lord Shiva in the middle of this lake. On one side of it is the Sri Krishna Arjuna chariot. This colossal statue made of bronze weighing 35 tons looks grand. It depicts Krishna preaching to Arjuna.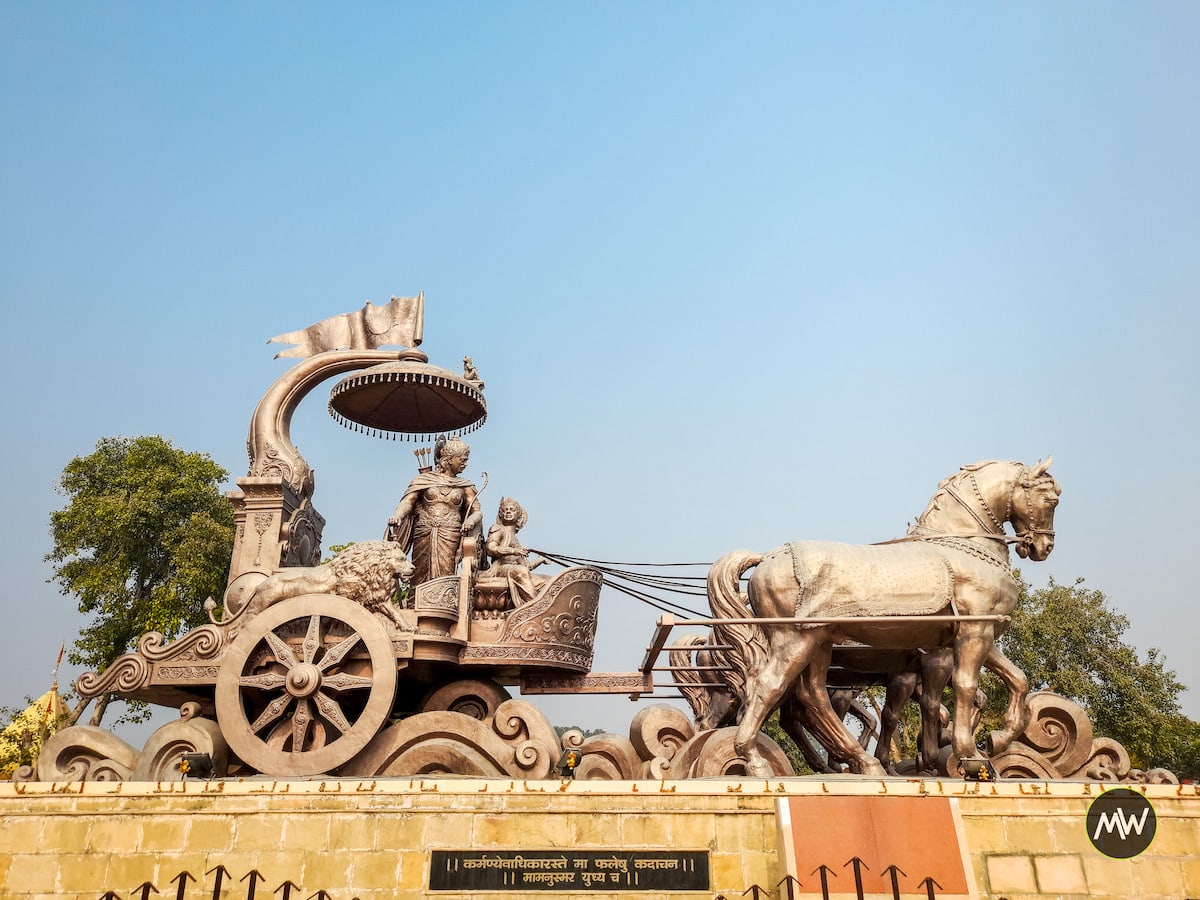 Gita Jayanti celebrations or International Gita Mahotsav occur every year to November-December. This event happens on a large scale, in which devotees from all over the country come to participate.
3. Kurukshetra Panorama and Science Center
Situated in the Shri Krishna Museum complex, this science center brings to life the stories based on the episodes in the Mahabharata. Its cylindrical building will hold your gaze.
The unique amalgamation of science and religion here will fascinate you for sure.
The Gitapaath and the screams of the Mahabharata war give a lively depiction of the events of this time.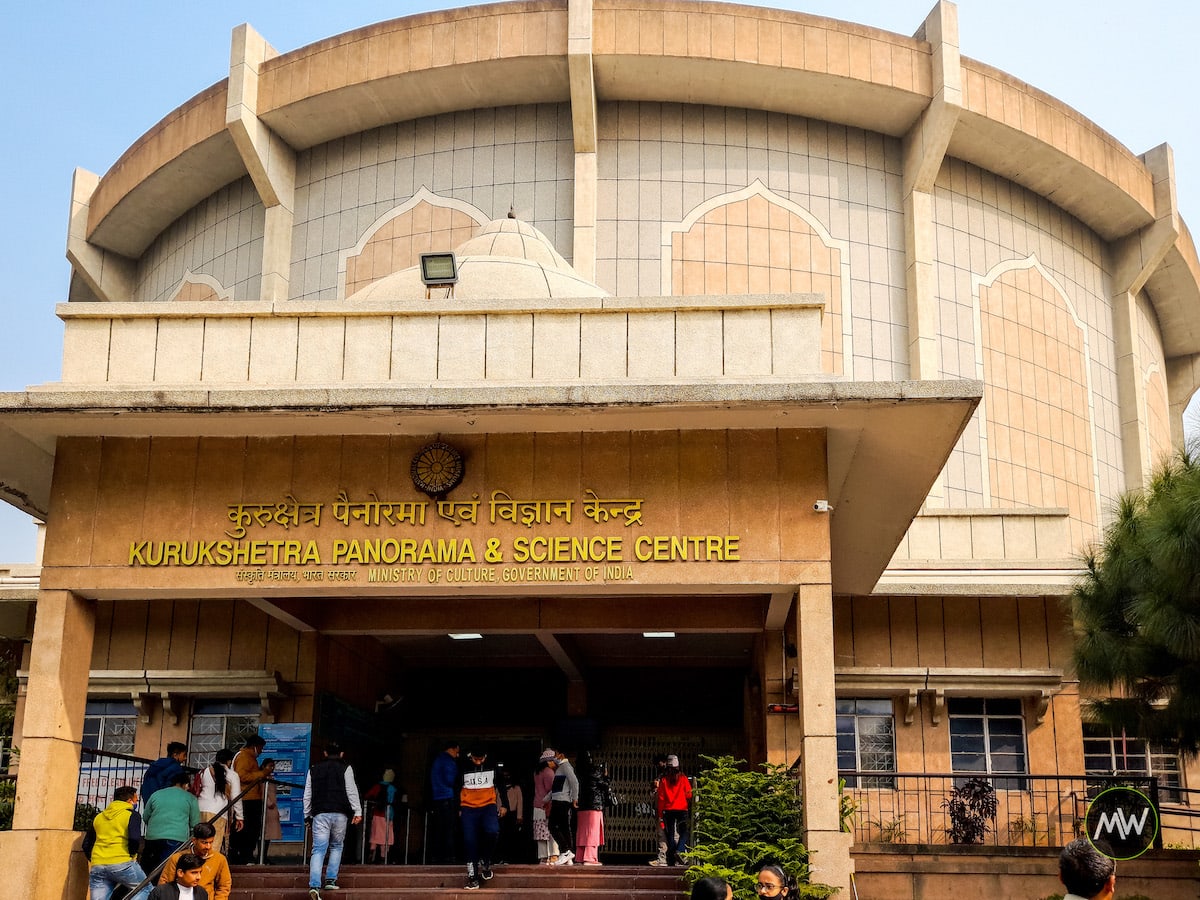 You get sermons explaining the importance of several events in the Mahabharata war while providing a scientific viewpoint.
Here, you get the picture of the old-age relation of India with science, technology, properties of matter, the structure of atoms, geometry, astronomy, ancient Indian concepts of surgery, and much more.
Apart from this, you can see many types of live shows here. It is a perfect place for kids to learn by playing.
Opening Hours: 10 am to 5 pm (Closed on Mondays)
Ticket Rate:
INR 35 for adults and INR 10 for students (as in December 2021)
INR 20 for 3D movie show
INR 10 for the planetarium show
4. Sheikh Chilli's Tomb and Raja Harsha's Mound
You may have heard about the stories of Sheikh Chilli.
Sheikh Chilli (Sheikh Chaheli), or Abdul Rahim (Abdul Razzaq), was a Sufi saint. And the eldest son of Mughal emperor Shah Jahan, Dara Shikoh, built his tomb in the 17th century. (Shah Jahan is known for the Taj Mahal — a wonder of the world).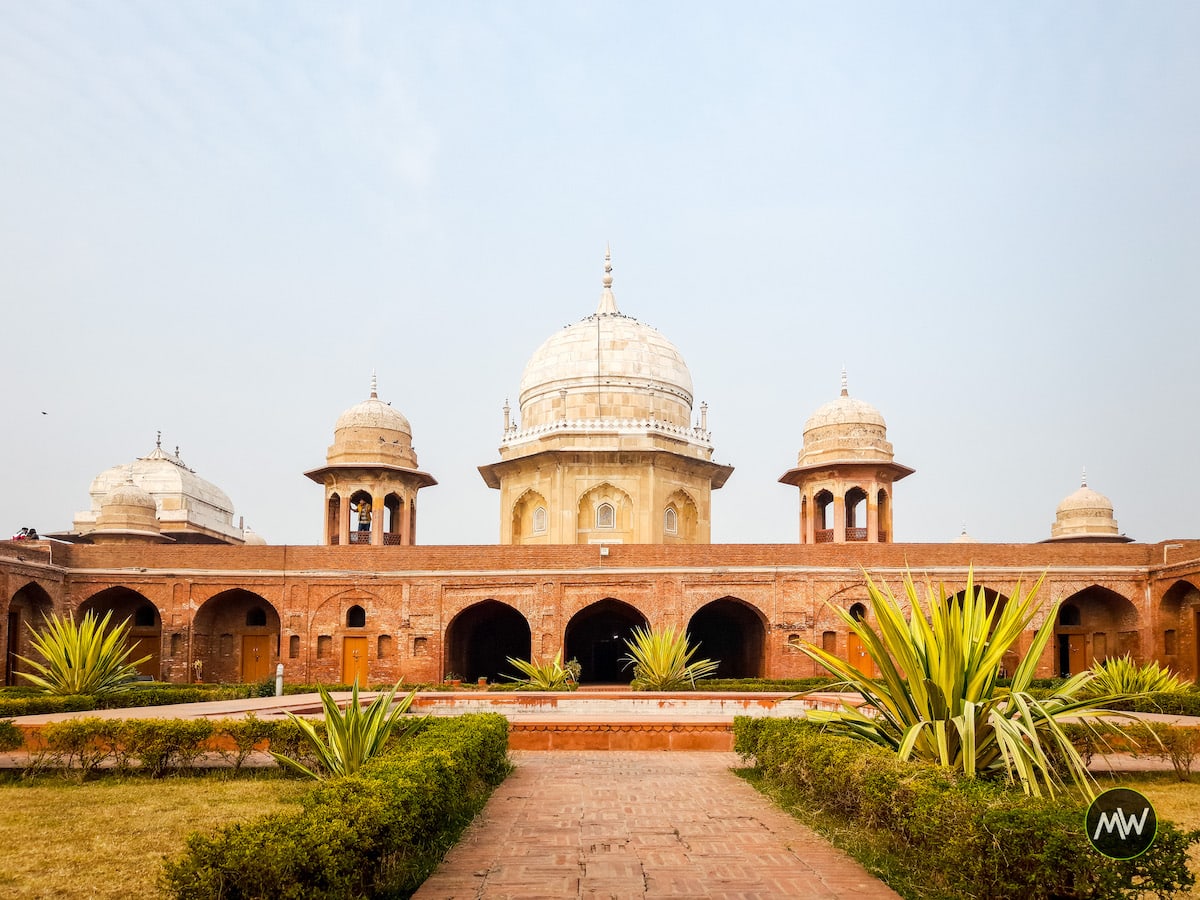 Built of red sandstone and marble, the complex of this tomb is pleasing to see at first sight. The complex has a mosque, a Madrasa, and a museum under the protection of the ASI.
Behind the tomb, you'll find Raja's mound — spread over a radius of 1.5 km. Experts have found the cultural remains from the Kushan to the Mughal period (which are in the museum).
Opening hours: 9 am to 5 pm.
Ticket rate: INR 25 for Indian tourists and INR 100 for foreign tourists.
5. Sthaneshwar Mahadev Temple
Sthaneshwar Mahadev Temple is a few meters away from Sheikh Chilli Tomb. The area is called Thanesar after the name of this temple (Sthaneshwar) dedicated to Lord Shiva.
According to scholars, Lord Brahma Himself established the Shivling here. Sikh Guru, Guru Tegh Bahadur Ji, also visited this place and spent some days.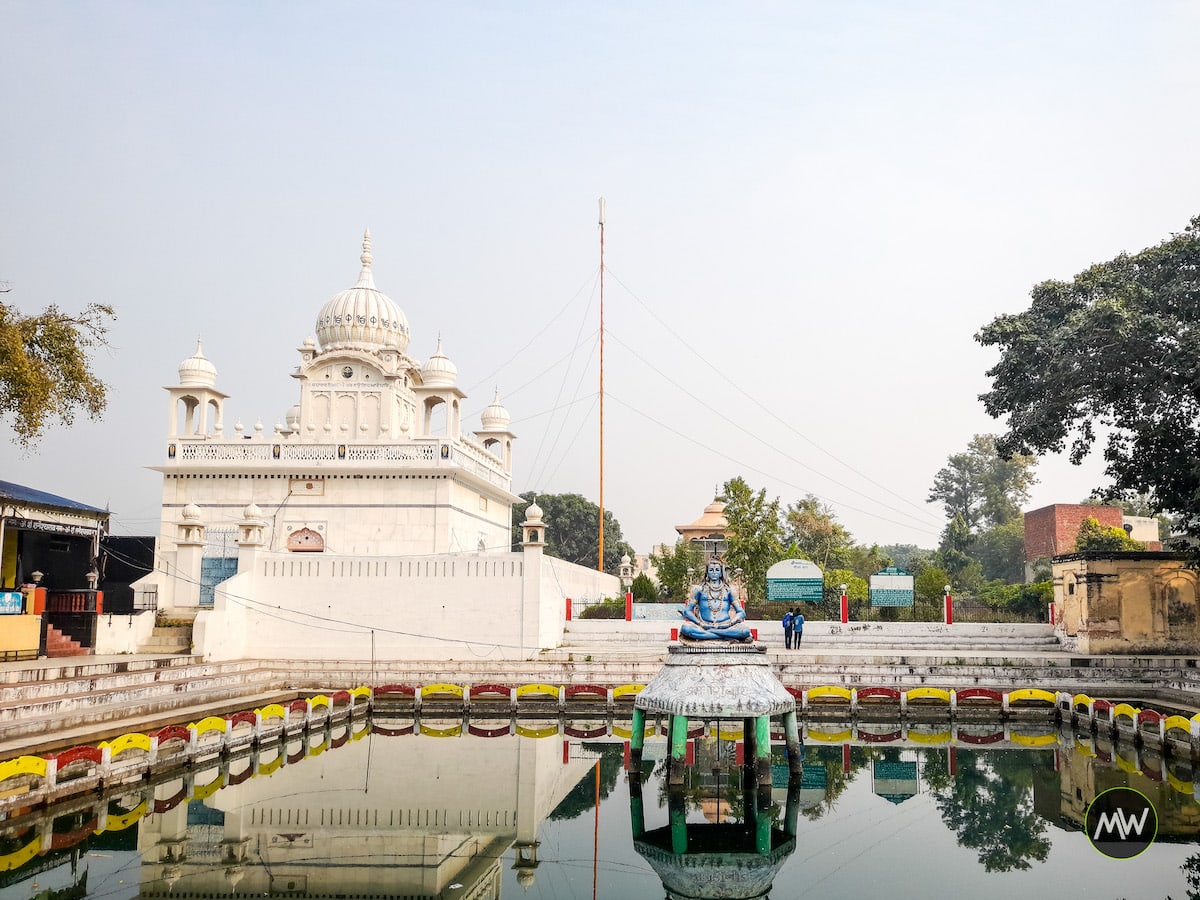 There is also a belief that before the Mahabharata war, Lord Krishna, along with the Pandavas, worshiped the Shivling located here and got the blessings to be victorious in the Mahabharata war.
There is also a pool in front of the temple — for reflections and spending some time with the almighty.
Maratha general Sadashiv Rao renovated the temple giving its present-day form after the third Battle of Panipat.
6. Shri Devikup Bhadrakali Temple
Kurukshetra has one of the 51 Shaktipeeths of Goddess spread all over India. If you seek blessings from Devi Ji, this place is a must among other Kurukshetra tourist places.
You may also know this temple by its other names vis-à-vis Savitri Peeth, Devi Peeth, or Kalika Peeth.
When Lord Vishnu cut the dead body of Goddess Sati into 52 parts with the Sudarshan Chakra, her right ankle fell into a well located here. Hence it is called Devikup.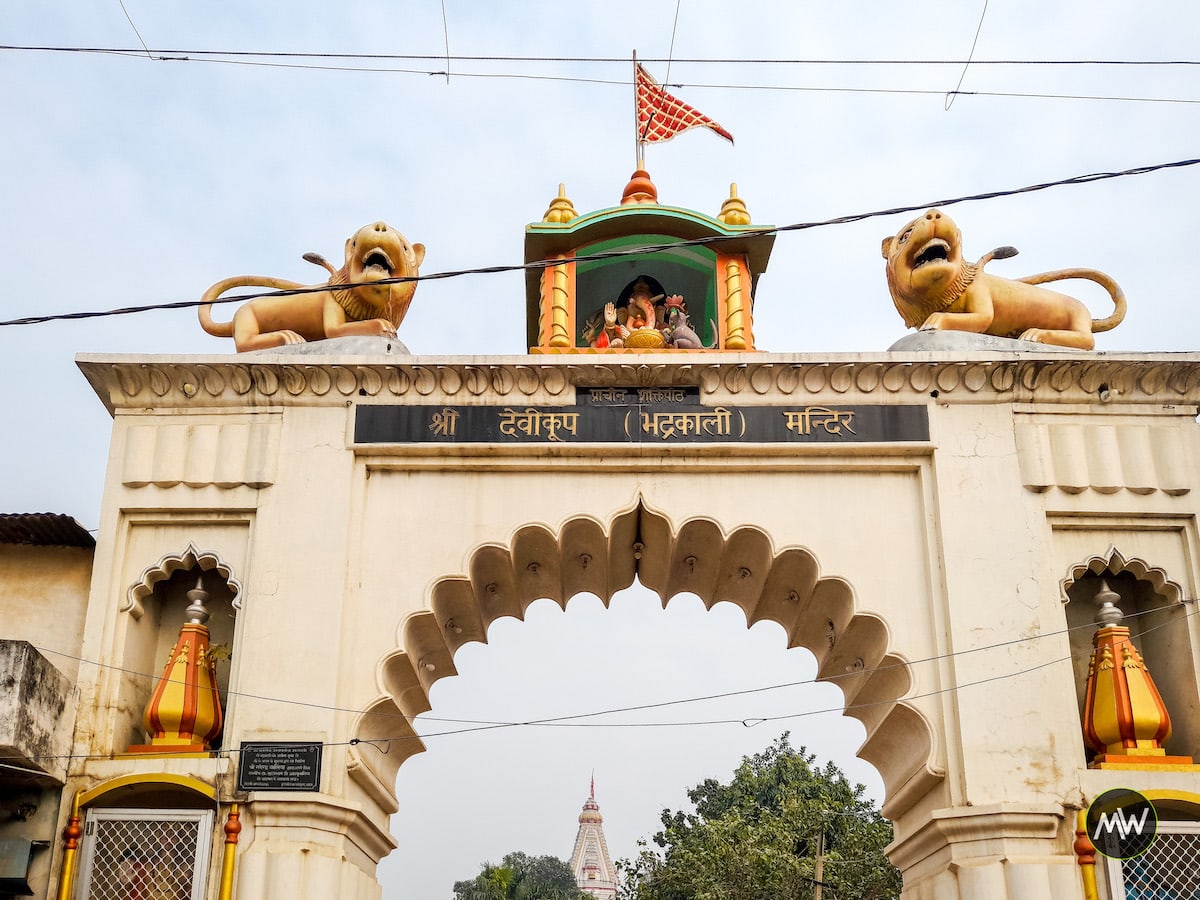 Lord Krishna and Pandavas continuously worshiped here during the war and donated their horses. Since then, the practice of presenting mud or metal horses has started. Even today, people donate after their wishes come true.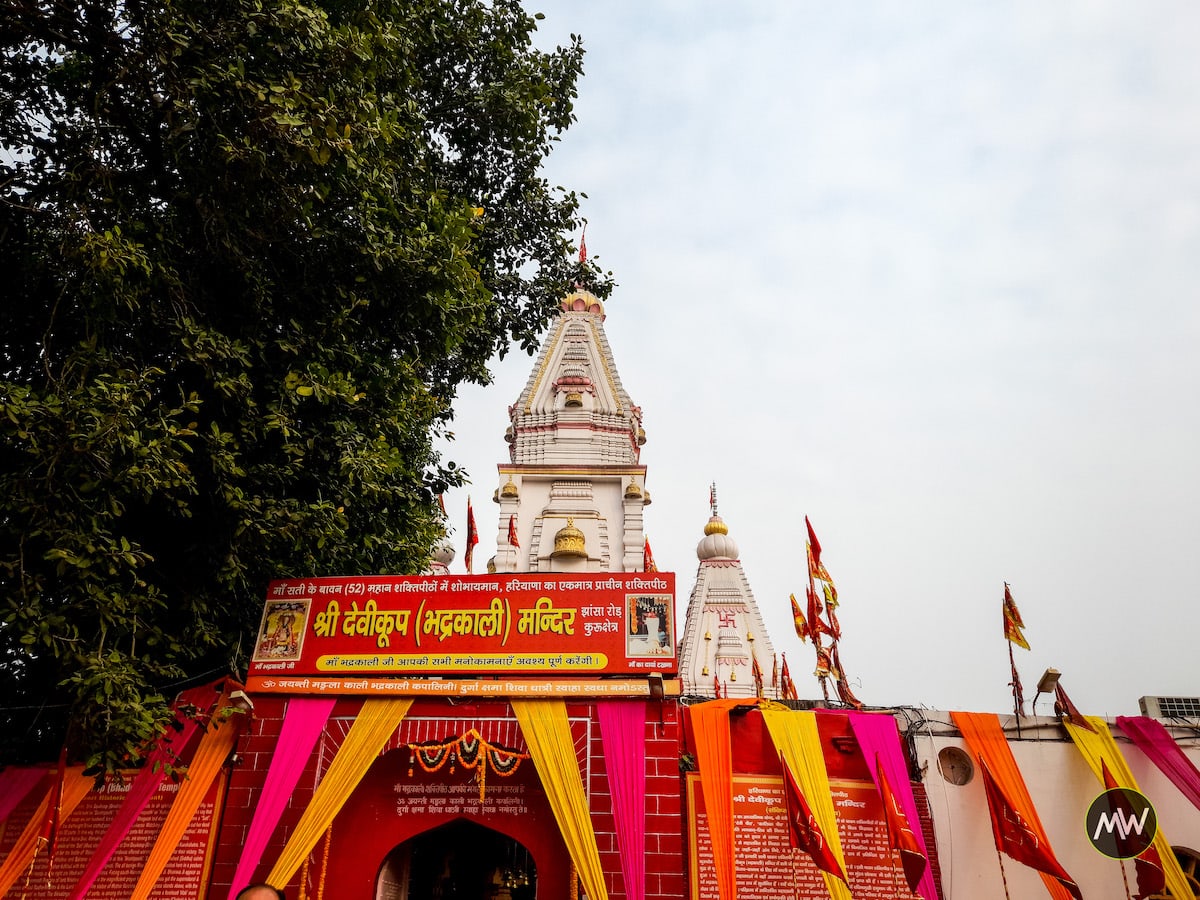 Further, temple records tell that the head-shaving ceremony of Lord Krishna and Balarama was also done at this place.
In Navratri, the crowd of devotees is a delight. Nonetheless, hundreds of people visit the temple every day.
You'll also see an "I LOVE KURUKSHETRA" sign near the temple premises — a perfect spot for beautiful shots.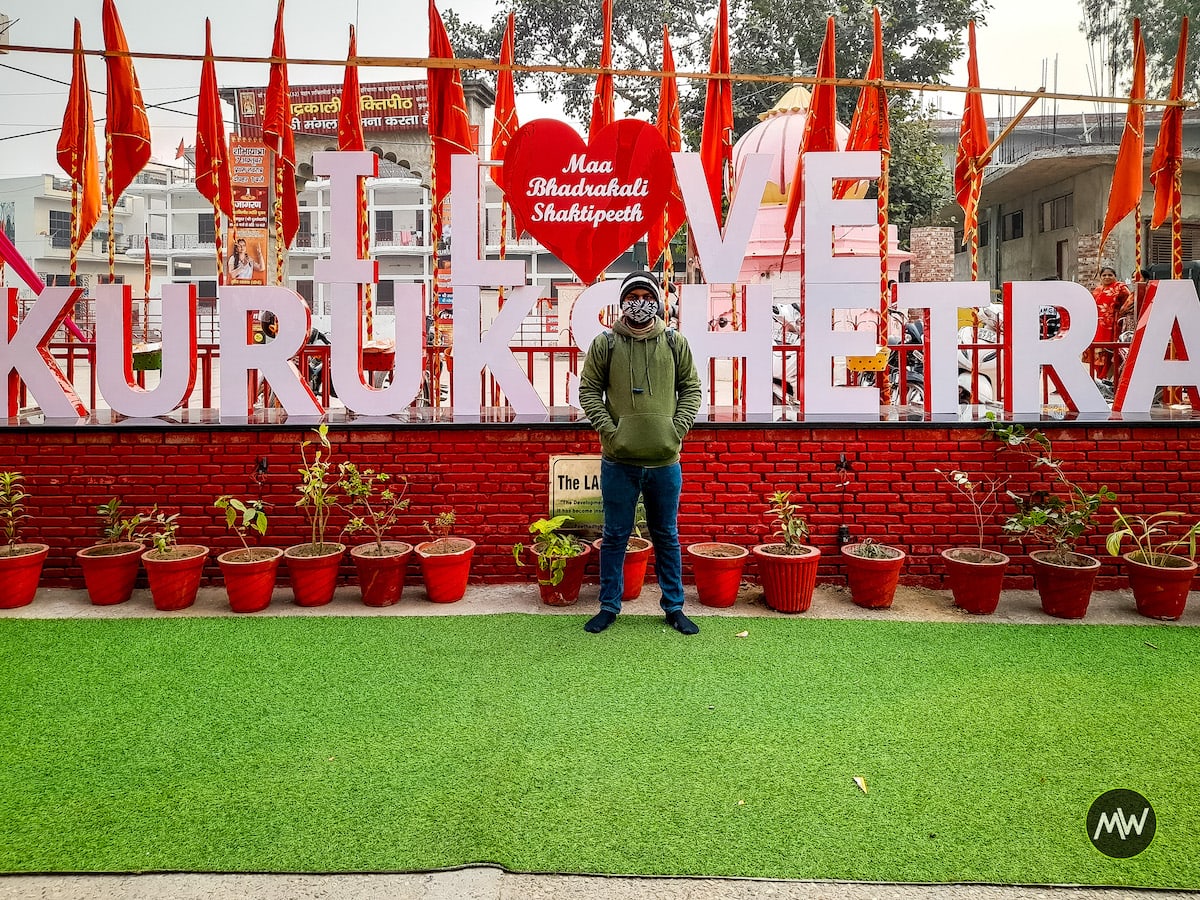 Some More Options in the List of Kurukshetra Tourist Places
Gitasar
Gitasar is the holy place where Lord Krishna preached Gita to Arjuna. It is at a distance of 7 km from Kurukshetra, and from this place, the war of Mahabharata started. Adi Guru Shankaracharya had discovered this place during his Himalaya journey.
Sannihit Sarovar
Another revered lake, Sannihit, means where everything is contained (collected). So it is believed that on the new moon day, the water of all the holy lakes of the earth collects here.
Bathing in it is considered very fruitful. Maharishi Dadhichi had donated his bones at this place to kill a demon named Vritasur.
Bhishma Kund
When Bhishma Pitamah was lying on the bed of arrows, he expressed his desire to drink water. Knowing his wish, Arjuna shot an arrow into the earth from where the stream broke out, and this pool is situated at the same place today. At this place, Yudhishthira took initiation from Bhishma Pitamah for Rajadharma and discipline.
Dharohar Museum
To take the local culture and rich historical traditions of the state of Haryana to the public, the state government established Dharohar Museum in 2006 on the Kurukshetra University campus. It houses art, crafts, costumes, weapons, artifacts, and manuscripts.
Local Food & Eateries: What to eat in Kurukshetra?
Let's talk about food — because after visiting so many places, you're going to need it.
Being an integral part of Haryana, you mainly see Haryanvi traditional dishes in Kurukshetra. Due to its proximity to Punjab, you'll also find delicious roti, saag, and lassi.
Check out the table below to know about places to eat in Kurukshetra:
| Food Item | Where Can You Eat? |
| --- | --- |
| Chole Bhature | Near railway station |
| Chola, Puri, and Petha | Old City (Near Ambedkar Chowk) |
| Brinjal Bharta with Parantha | Shri Krishna Museum Complex |
| Bajra Roti and Khichdi, Lassi, Malpua, Bathua Raita Roti, Kachri Sabzi | Any local Dhaba and restaurant |
| Chaat, Phulki and Pakoras | On stalls near Brahma Sarovar |
| Other North or South Indian dishes | Mezbaan Restaurant |
What to do in Kurukshetra? (5 Activities)
After exploring Kurukshetra tourist places, you can do these soulful activities if you have more time.
Sit in Solitude at Brahma Sarovar: Sitting on the benches of the Brahma Sarovar spread over a large area, admiring the lake gives a different feeling of bliss. If you want, you can also take a bath in it or you can listen to the stories related to this place from the sages.
Admire Mughal Architecture: It is astonishing to have an architecture built during the Mughal period in such a place of importance to Hinduism. In fact, this is the beauty of our country. If you are a fan of Mughal architecture, then you can spend some good time here and take great pictures #Photographer.
Watch Mahabharata come alive at Kurukshetra Science Center: Watch live depictions of the Mahabharata and Gita sermons in live shows at the Kurukshetra Panorama and Science Center located near the Sri Krishna Museum.
Do 48 Kos Kurukshetra Circumabulation: The state government operates a government bus daily from 9 am and 10 am to visit the 15 pilgrimage sites of Kurukshetra. It provides sightseeing to all the places in just INR 50. Contact the local bus stand for more details.
Join the Gita Mahotsav: You can also take part in Gita Jayanti celebrations or International Gita Mahotsav which falls in the month of November or December. Lamp lighting, cultural programs, exhibitions, Gita seminars, and many other activities happen during the celebrations.
What Souvenirs to Buy?
After visiting so many tourist places and attractions in Kurukshetra, it makes sense that you take a souvenir from here as a remembrance.
There are many options if you are an art lover. Below is a list of souvenirs you can buy in Kurukshetra.
Handloom Articles
One can buy handloom items like woven shawls, robes, lungis, phulkari style, purses, bags, and umbrellas. The people make all these things from rural areas. This way, you will contribute to the Local for Vocal campaign.
Pottery Items
These items come from the rural cottage industries of Kurukshetra. You can take traditional items like utensils, vases, toys, decorative items, etc. Their artistic design and manufacturing standards are highly commendable.
Puja Items & Reflections of Shri Krishna
You can buy religious things here, associated with Gita Upadesh and Mahabharata war. Among these, worship plates, bells, idols of every shape, items made of metal, books of Bhagavad Gita and Gita preaching, and objects of wood art, are prominent.
Markets Where You Can Buy
Some of the main markets are Sector 17, Railway Road Market, Old City Market, Shri Krishna Market, Tularam Market, and Shastri Market. Apart from this, you can also shop near all the tourist places.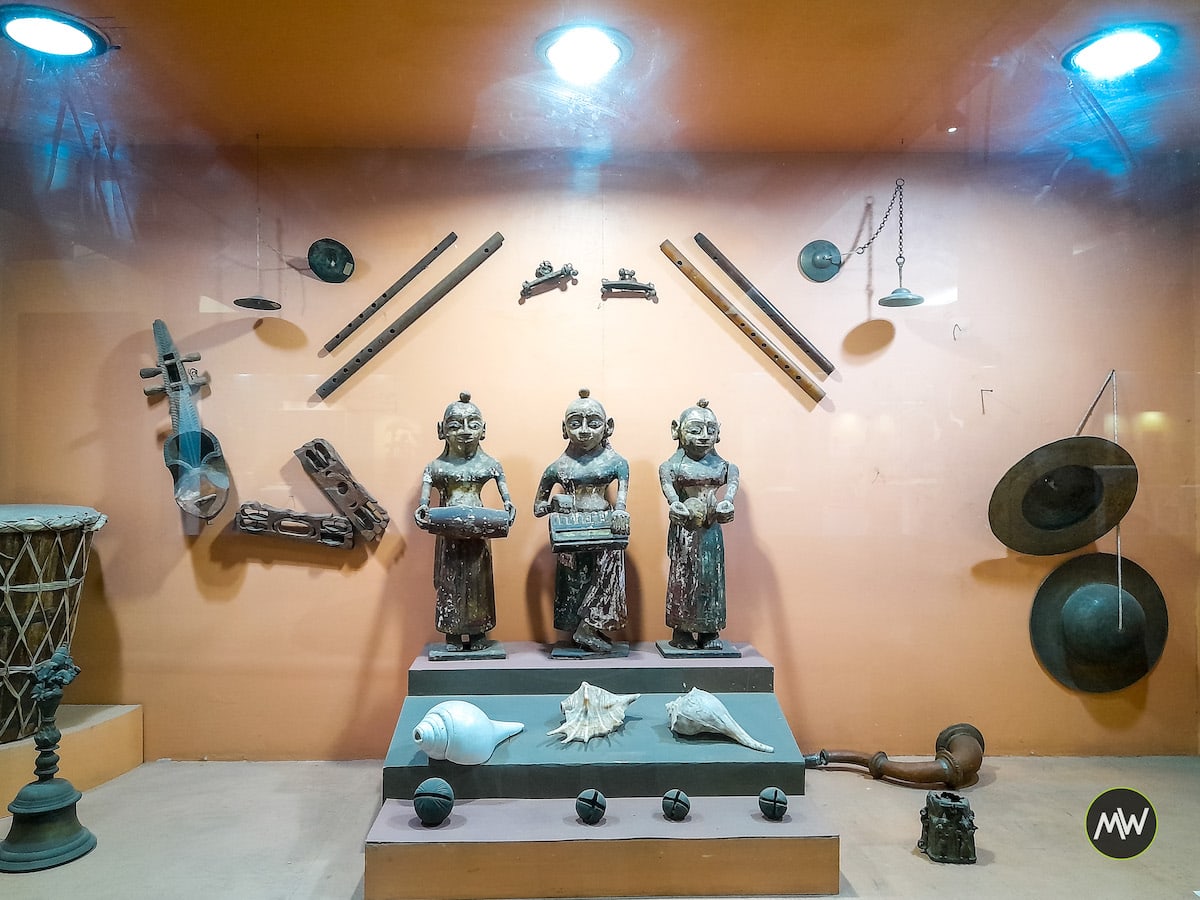 Public Restrooms and Hygiene
The cleanliness of the premises of all the tourist places is astonishing. Be it a temple, a tomb, a museum, or a lake, public toilets are available at all sites, and cleanliness gets special attention.
So, be sure that you will not get any chance to complain in this department.
Mode of Transport and Distance Between Attractions
All the main attractions come in a locality called Thanesar. The distance of Brahma Sarovar from the Kurukshetra bus stand is only 6 km. We can consider Brahma Sarovar as a focal point because all other attractions lie within a radius of 5 km.
You can find tuk-tuk and e-rickshaws for all destinations. So you will not have any problem reaching any place. If you want, you can also visit these places on foot. Jyotisar is just some distance away.
Best time to visit Kurukshetra
September to March is the ideal time to visit Kurukshetra as the weather is pleasant in these months. Be sure to bring light woolen clothes during these seasons. Summers are scorching and monsoons are humid here, making it a bit unsuitable for most travelers.
Further, the Gita Jayanti Festival occurs in November or December. So, plan while keeping it in mind if you're up for a blissful experience in Kurukshetra.
Number of Days and Budget
Number of Days
If you want to know and understand all the tourist places of the city in-depth, then you will need at least two days.
If you reach Kurukshetra early in the morning from Chandigarh or Delhi, you can see all the places by evening.
Budget
The budget may be different for everyone. It often depends on which hotel you take to, what you eat and drink, and what you shop for. However, a typical budget is as follows:
For one day: ~INR 2,000
For two days: ~INR 3,000
How to reach Kurukshetra?
Railways
The nearest railway station to Kurukshetra is Kurukshetra Junction (3 km). Many trains are available from this railway station to Delhi, Ambala, and Chandigarh.
Roadways
Kurukshetra sits on the Grand Trunk Road at 6 km from Pipli — this road connects Delhi to Chandigarh. Haryana, Punjab, Himachal, and Chandigarh Road Transport buses operate daily to and from Delhi. The main bus stand is Pipli, while the local bus stand is Kurukshetra.
Airways
The nearest international airport to Kurukshetra is Chandigarh (90 km) and Delhi (170 km). Domestic flights are operated here from all parts of the country.
Where to Stay in Kurukshetra? Best Accommodations
From cheap Dharamshala to expensive hotels, many options are available here. You can choose the hotel according to your convenience and budget.
There are many Dharamshalas near Brahma Sarovar where rooms are available from INR 500 to INR 1000. On the other hand, Parkit, Hotel Pearl, Heritage Hotel, and Neelkanthi Niwas are reasonable accommodations.
Frequently Asked Questions
What is Kurukshetra famous for?

Kurukshetra is where the war of Mahabharata took place between Kauravas and Pandavas. At this place, Lord Krishna preached the Gita to Arjuna, which is compiled in the most sacred book of Hinduism, Bhagavad Gita.

Kurukshetra is also known as?

Kurukshetra is also called Dharmakshetra, the land of Mahabharata and the birthplace of Gita preaching.

Why was Kurukshetra chosen for the Mahabharata?

Lord Krishna wanted to eradicate the rising sins on earth and establish dharma through the Mahabharata war. Therefore Kurukshetra was chosen in the battlefield rap. There are beliefs that Kurukshetra has a boon that whoever dies here will go to heaven.

Where did the Mahabharata war occur, and how long did it last?

The war of Mahabharata took place in Kurukshetra and lasted for 18 days. Countless people died in this.

Why was the Mahabharata war fought?

The war of Mahabharata happened between Kauravas and Pandavas because of land and rights. Along with this war, Lord Krishna established the religion.
---
Before You Hit Back
This travel guide has given you a clear idea of Kurukshetra tourist places, what to eat, souvenirs, and more. We hope the information will help you plan your trip to Kurukshetra in a better way.
Still, if you have any suggestions or questions, feel free to express your views in the comment box below. Also, a share would mean a whole lot to us.
---
An appeal: Please do not throw litter around. Use a dustbin and if you can't find one, take the trash with you and throw it when you find one. Your small steps like this one can make the world clean and green.