Enchanting valleys, high peaks, rivers yielding rain, and the elixir of rain! Embellished with these ornaments is a small hill station in Karnataka – Coorg. Also called Kashmir of South India, Coorg is a dream destination.
Coorg is blessed with lush greenery that uplifts the mood. So if you are a nature lover, this place will not disappoint you.
In this post, we'll take you to the places to visit in Coorg, show you activities to do, cuisines to try out, and some practical travel tips that'll be super helpful.
---
Note:This post may contain a few links that might earn us financial support when you buy or make any reservations. They in no way affect our opinion or the information presented here.
Save Your Time, Jump to Any Section:
---
Places To Visit in Coorg
Coorg or Kodagu is a small district headquartered in Madikeri. 80% of the tourist destination falls in Madikeri while 20% in Kushalnagar. We were Couchsurfing in Kushalnagar, so on the first day, we planned to see some places around there.
Let's show you the gorgeous places to visit in Coorg, one by one:
1. Namdroling Monastery, Bylakuppe
Bayalakuppe is also called Tibet of South India. The main settlements of Tibetans are in Dharamshala in North India and Byalakuppe in South India. Buddhist followers from different parts of the country come here to receive religious education.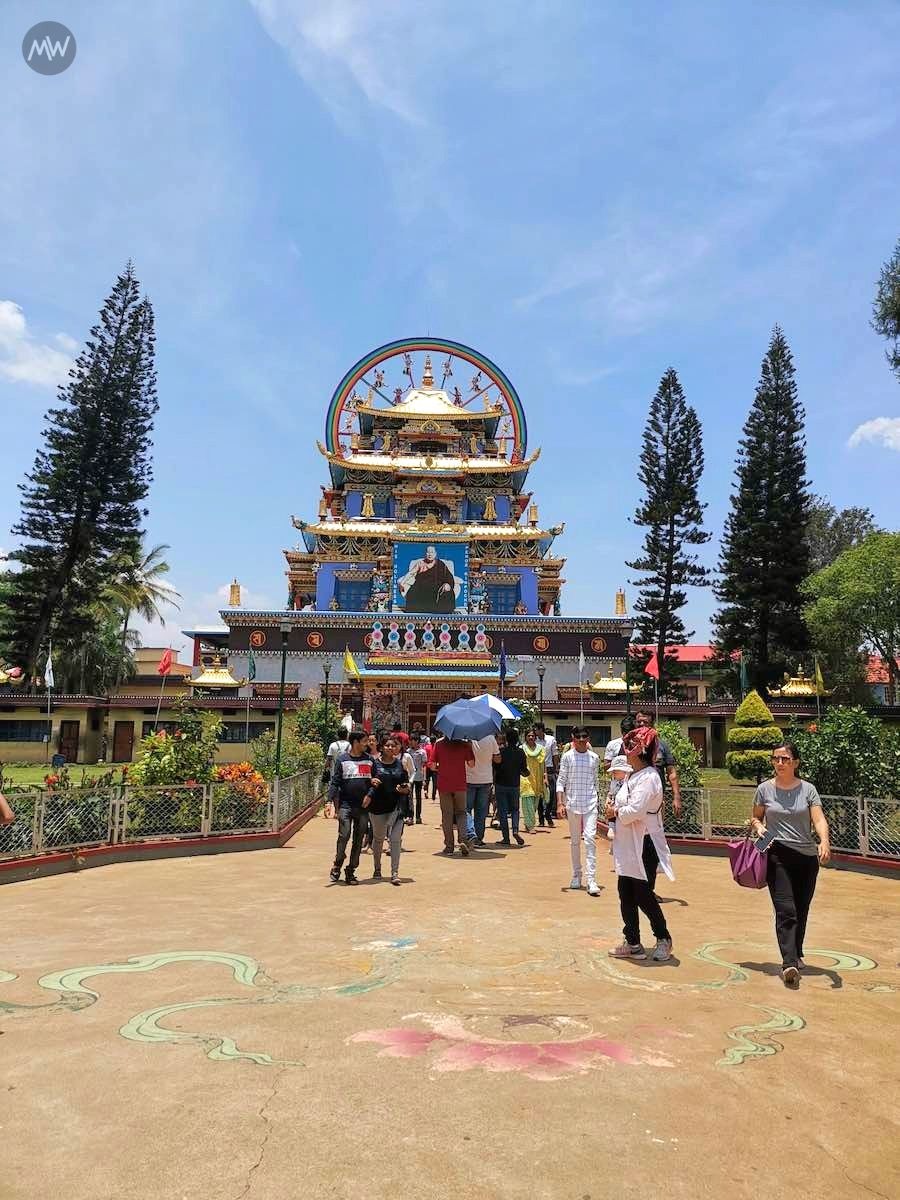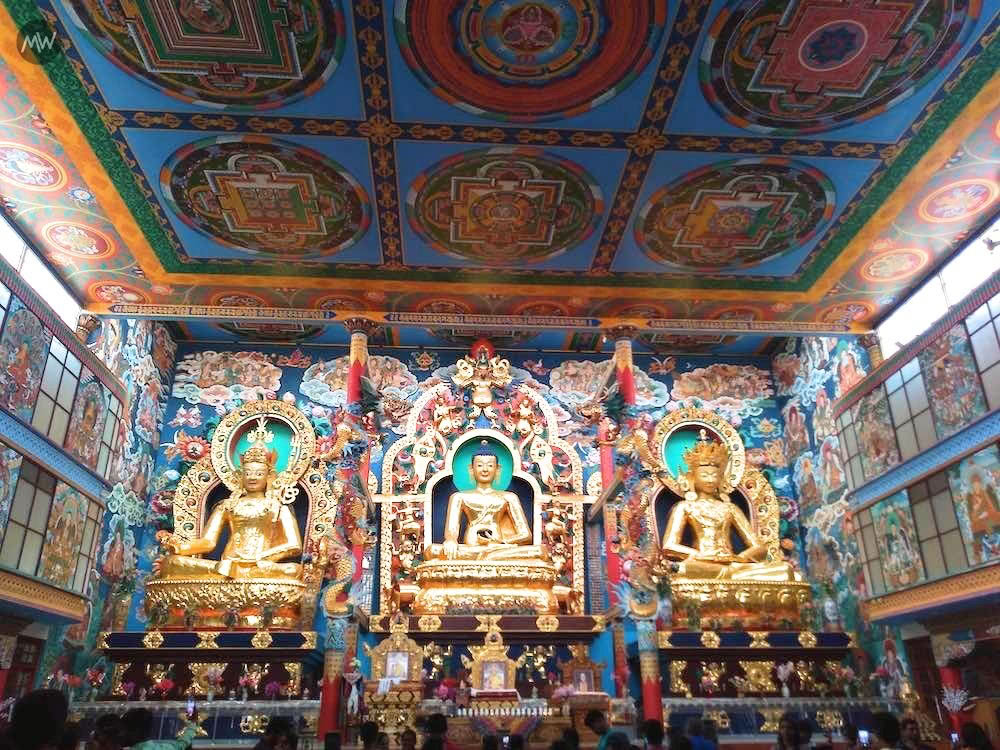 The peaceful and spiritual atmosphere here served as a lifeline for the beginning of our journey. This will be a perfect place among all the places to visit in Coorg to start your expedition.
We first entered the main temple, where the magnificent statue of Lord Buddha was decorated. After seeing it, we sat there for some time. Peaceful like a forest lake, it is easy to get lost and contemplate that environment.
There is a small lake ahead of it at some point, which very few people visit. If you want some more time in solitude, head towards it.
2. Nisargadham
Nisargadham is a breathtaking island situated at a distance of 2 km from the city of Kushalnagar, which is spread over an area of ​​64 acres.
Established as a tourist destination in 1989 by the Forest Department, the picturesque picnic spot is adorned with dense bamboo trees and sandalwood sandstone with beautiful bamboo tree clumps.
It would not be an exaggeration to say that Nisargadham is truly a paradise for all nature lovers. In fact, Nisargadham is one of the ideal places to visit in Coorg for tourists who want to spend a few moments in peace in the lap of nature.
The natural beauty of Nisargadham makes it one of the most beautiful places in Coorg. It is a famous picnic spot, not only for locals but also for travelers who visit Coorg from all over the country.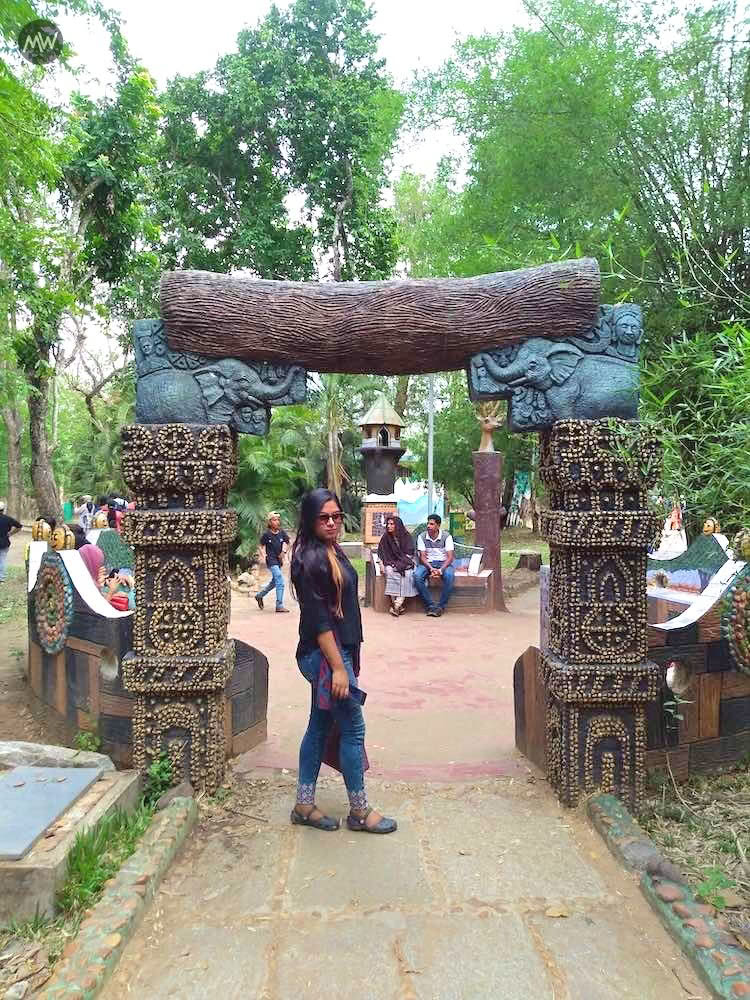 You can access Nisargadham island via a hanging rope bridge. A herd of animals, including deer, rabbits, and peacocks, live here in ancient surroundings. Apart from this, the place also has a small snack house and a deer park.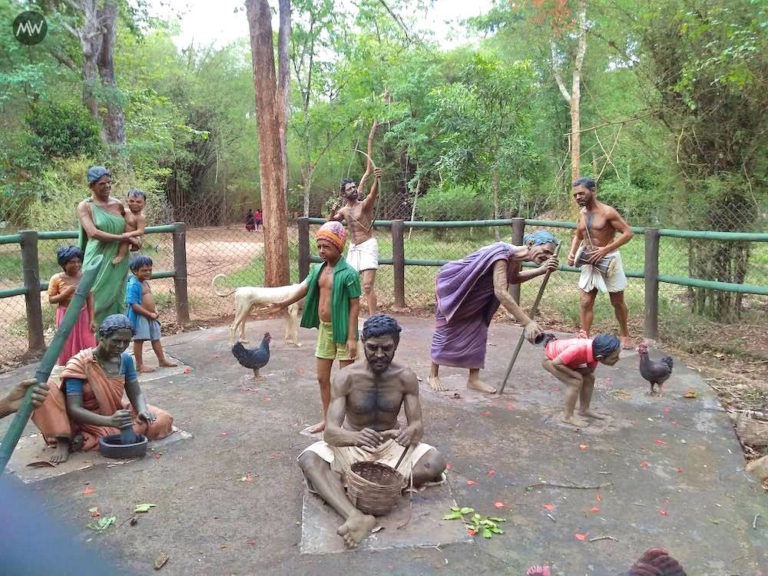 You can venture into some shallow and safe places along the river. Further, you can also enjoy elephant rides and boating here.
Nisargadhama also has a forest guest house and treetop bamboo cottages. Also, if you're a chocolate lover, you will find many shops where you can savor organic chocolates.
3. Abbey Waterfall
The distance from Madikeri to Abbey Waterfall is 8 km.
The waterfall is surrounded by beautiful gardens of coffee. You have to descend long stairs to reach the waterfall. But after that, the natural panorama you see removes all your fatigue.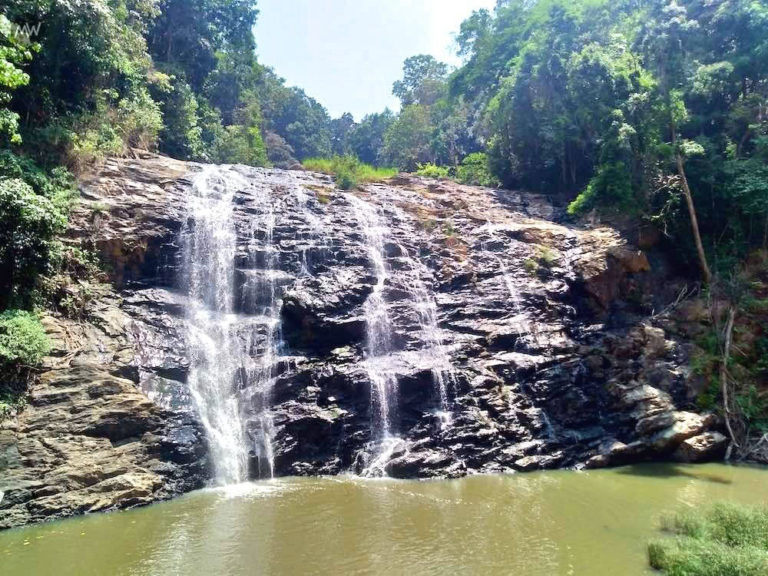 Abbey Waterfall, formerly Jessie Waterfall, is named after the wife of an English officer and was later named Abbey.
If you love water bodies and sit by them, include Abbey Waterfall and put this in your list of places to visit in Coorg.
4. Kings Tomb
The Tomb of the Kings is a historical monument built in the Indo-Scenic style and sits at the edge of a mountainous region. It is approximately 1 km from the city center.
There are two main mausoleums on the right. On the right is Lingarajendra, built by Chikkavirajendra in A.D. 1820, and to the left of the tomb of Rudrappa (royal priest), built in 1834. Moreover, there's a tomb in the center; the tomb is that of Dodda Veerarajendra and his queen.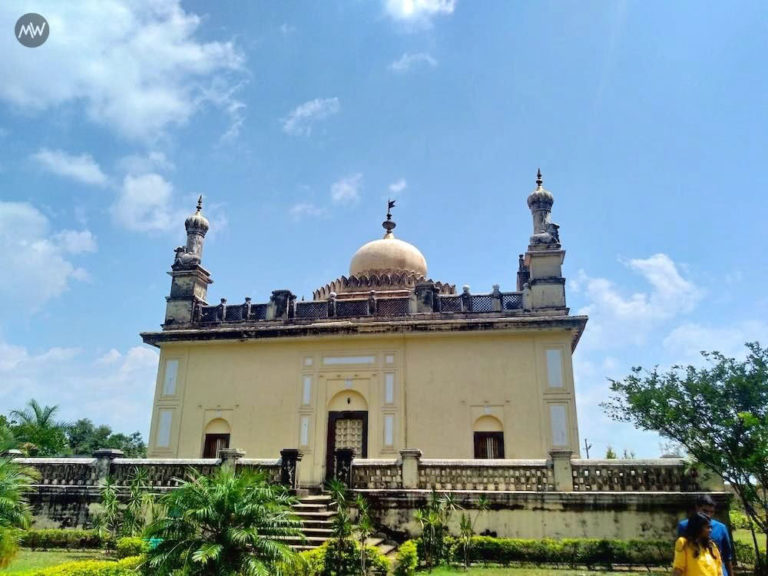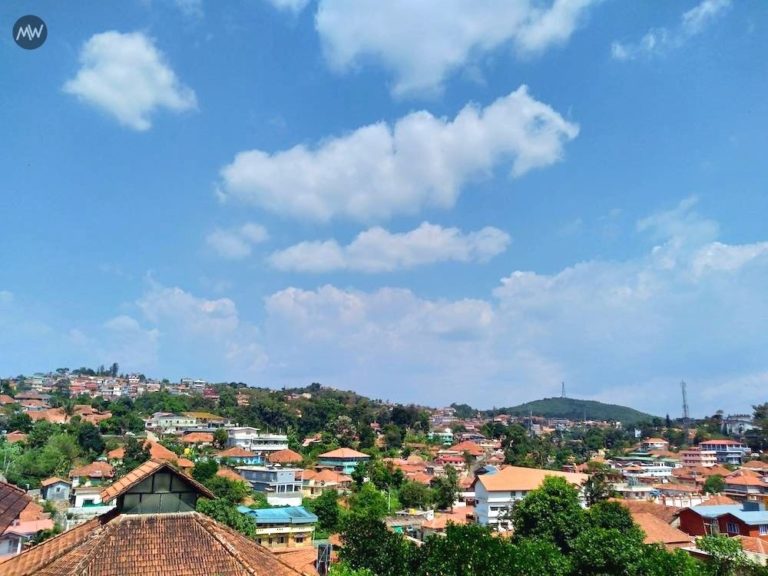 From here, you can see the entire city of Madikeri. You will get amazing views to take lots of photos. For the love of breathtaking pictures and exciting history, make sure you visit this, one of the places to visit in Coorg.
5. Madikeri Fort and Museum
The Madikeri Fort is located just 700-800 meters from the bus stop. The Madikeri Fort is not very grand, but it describes the history of that time. Now, this building is used for government offices.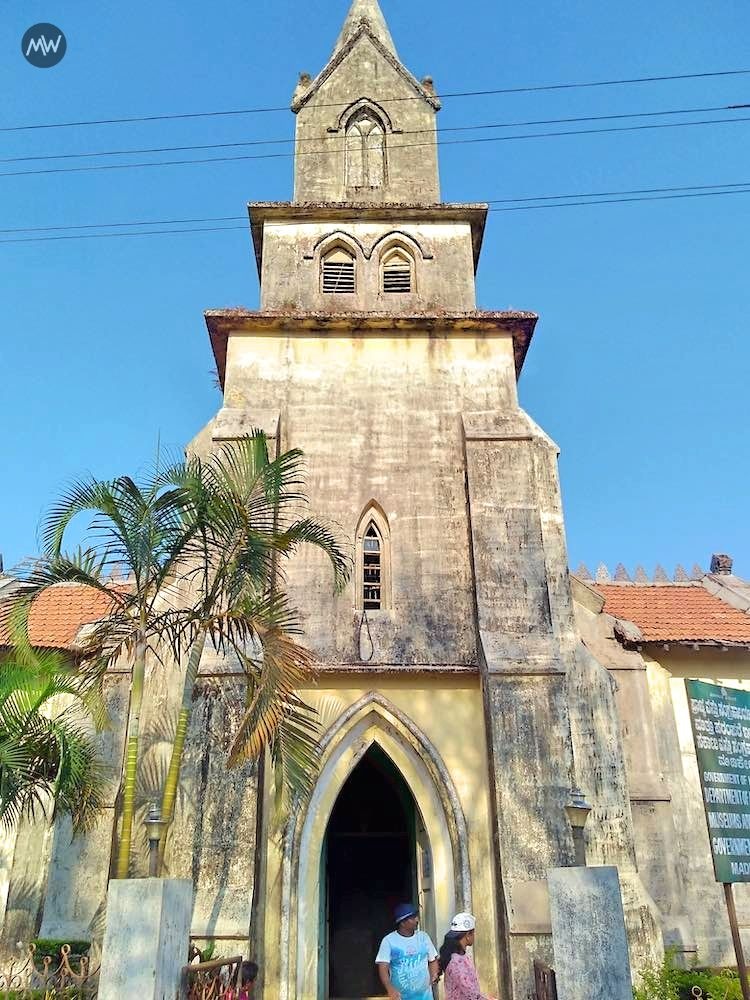 Right in front of it is a museum where you will glimpse Kodava culture. Everything found in the excavation is stored here.
6. Raja's Seat
Raja's Seat is a fantastic place where you can see mountain ranges, sunrise, sunset, and coffee plantations at a height.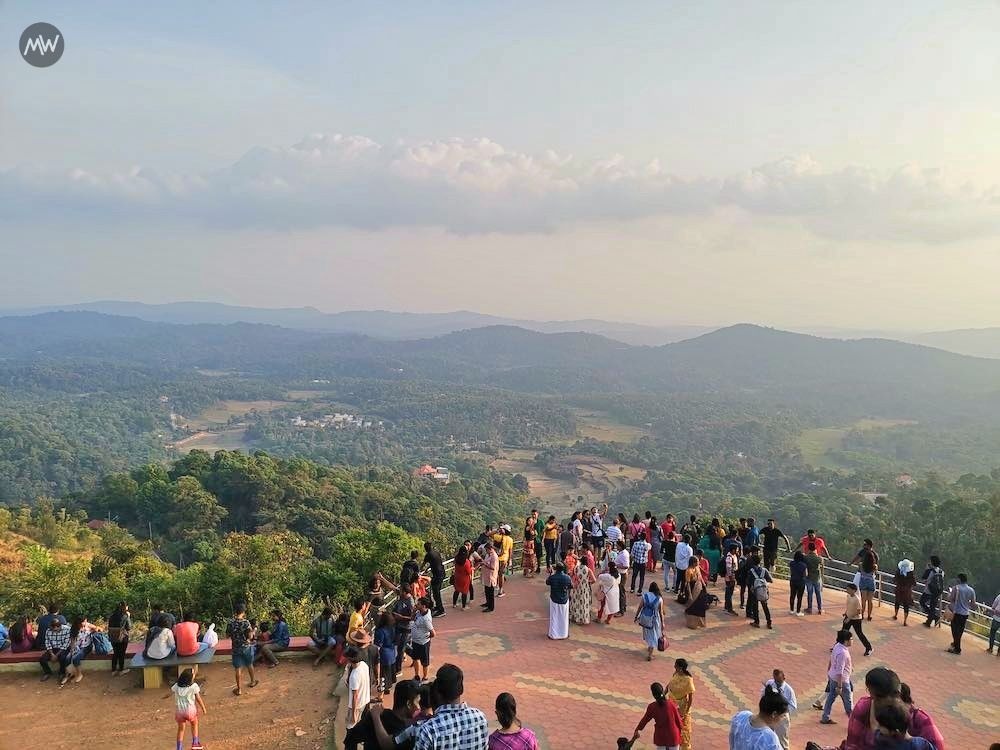 It has been given the form of a park to spend time with children and family. It is said that the king used to come with their queens to watch the sunset.
If you're a naturalist, this is definitely one of the most exciting places to visit in Coorg for you.
7. Omkareshwar Temple
The Omkareshwar temple is in Madikeri and was built in 1820 as a penance by King Lingarajendra II.
The temple follows the Muhammadan style of architecture, with a dome. Further, its four corners are surrounded by four bastions.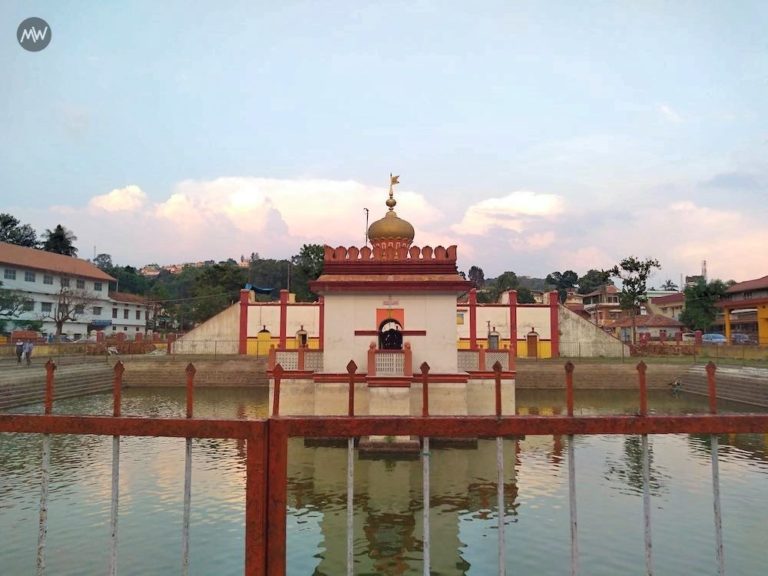 A linga is installed near the entrance of the temple. Another attractive architectural feature of the temple and in front is a small pond, which has a variety of fish.
Some More Tourist Places to Visit in Coorg
Mandalpatti Jeep Safari: Mandalapatti is located 25 km from Madikeri, where you have to go through the thick forests of Pushpagiri. Its beauty is doubled during the rainy season by freshly bathed grass and wildflowers swinging with the breeze.
Dubare Elephant Camp: Here you can see bathing and playing elephants. If you want, you can also ask to bathe elephants under the guidance of experts.
Talakaveri: It is 40 km from Coorg. This is the place where the river Kaveri originates. The Kaveri is one of the sacred rivers of the Sapta Indus rivers.
Tasting Local Cuisine in Coorg
Coorg is as famous in terms of travel as it is in terms of food. Apart from this, there are many options for traditional Karnataki food in Coorg.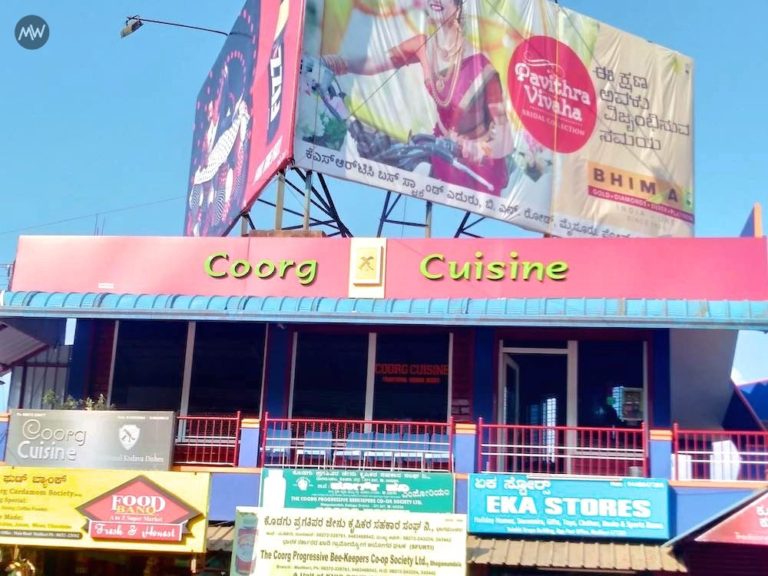 There are long queues for food at Madikeri's 'Coorgi' restaurant. You will get the token number. You will get a seat when your number comes. Coorg Cuisine, Udupi Garden, Raintree Restaurant, taste of Coorg, Ambika Uphaar, etc., are some places where you can eat food.
The table below lists the top dishes to be tasted in Coorg.
| | |
| --- | --- |
| Filter coffee | Madikeri-Virajpet Road and Jattipala-Kanakpura Road, Bus Stand, and any shop in the city. |
| Kadambut, Akki Oti Thalia Puttu, Pa Puttu, Nu Puttu, Nuchu Puttu, Thambuttu etc. | Madikeri-Virajpet Road and Jattipala-Kanakpura Road, Bus Stand, and any shop in the city. |
| Pandi Curry, Kodava Kola Curry, Bamboo Shoot Curry | Madikeri-Virajpet Road and Jattipala-Kanakpura Road, Bus Stand, and any shop in the city. |
| Chocolate | Bus stand, and any shop in the city. |
| Jackfruit Idli, Jackfruit Papad, Moong dal Carrot Salad, Pumpkin Idli | Bus stand, and any shop in the city. |
Chocolate and Coffee Lovers' Paradise
Coorg is the largest producer of chocolate. Do not forget to buy different types of chocolate and homemade coffee from here. Near the bus stop is a shop called "Ganesh Coffee" which is the best coffee seller in the city.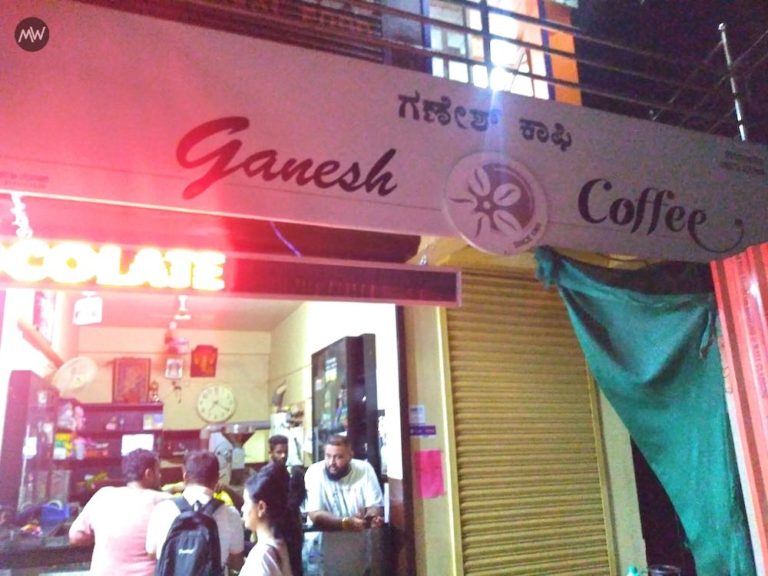 Spices like cloves, cardamom, black pepper are also sure to be taken home. Homemade wine is also famous here. You can take coffee and chocolate back at your home as a souvenir.
Activities To Do in Coorg
1. Stop at the Coffee Estate
Watch the coffee being cultivated as well as get a closer look at how the coffee that comes in the cup is ultimately made.
2. Visit Elephant Camp
A visit to Dubare Hathi Camp, located a few km from the city, can add wonders to your experience. You can see elephants playing, bathing and roaming here. Moreover, you can also bathe the elephants yourself.
3. Experience Glimpses of Kodava Caste and Culture
The people here belong to a tribal tribe called Kodava. They are related to Mohenjodaro, the city of Indus Valley Civilization. The Skanda Purana describes the Kodava as the descendant of the Chandravanshi kings, who were the worshipers of Parvati and the protector of the birthplace of the river Kaveri.
The city was settled in the 8th century. The rulers of the Ganges were the first to rule here. Later it was ruled by the kings of Pandava, Chola, Kadamba and Chalukya dynasty. Even today you will get to see a glimpse of Kodava culture here.
4. Enjoy Trekking and Camping
You can do a variety of adventure activities in Coorg like trekking, camping, jeep safaris, hiking and more. So, if you are an adventure lover then don't forget to check out these activities.
What to Buy in Coorg?
Coorg is famous for coffee, spices, and chocolate. You can find these food items in almost every corner of the city.
Here's a table that better illustrates what to buy in Coorg?
| What | Where |
| --- | --- |
| Coffee | Kushalnagar Market, Tibetan Flea Market, in the main bazaars |
| Spices | Kushalnagar Market, Tibetan Flea Market, in the main bazaars |
| Black Pepper, Dry Fruits, Turmeric, Homemade Wine | Kushalnagar Market, Tibetan Flea Market, in the main bazaars |
Public Restrooms and Sanitation
Toilet facilities are available at all public places within the Coorg city. The city is clean and neat which gives a happy and satisfied feeling while exploring it.
Mode of Travel and Distance Between Attractions
All the major places to visit in Coorg are located at a great distance from each other. However, you can reach all the tourist places very easily by auto, cab, or taxi.
Another way is to rent a bike or scooter and explore the city however you like. There are many bike rentals available in the city.
How to Reach Coorg?
Railways
Coorg does not have a railway station. The nearest railway station from Coorg is Mysore Railway Station. Located at a distance of about 107 kms from Coorg, Mysore Railway Station is well connected to almost all the major cities of India.
Roadways
Coorg is well connected to nearby cities with an easy and reliable bus service. Buses run by Karnataka State Road Transport Corporation (KSRTC) are the best and most reliable mode of transport.
KSRTC has a long list of deluxe buses that provide regular transport to Coorg from all the major cities of the state like Bangalore (243 kms), Mangalore (151 kms) and Mysore (107 kms).
Airways
The nearest international airport is Mangalore International Airport, which is located at a distance of just 140 kms from the city of Coorg. For domestic flights, the nearest airport is Mysore, which is 120 km away. However, the most well-connected airport is Bangalore International Airport, which is 286 kms away.
Best Time to Visit Coorg
Although this place attracts tourists throughout the year, but visiting during the rainy season (June to September) is recommended. Lush greenery surrounds the city and weather becomes beautiful.
Do not forget to keep an umbrella and raincoat. Apart from this, the winter season i.e. from October to March is a good time to visit Coorg as well.
How Many Days and Budget Will Be Needed?
The number of days and budget is a subjective question. However, for frequent travelers the budget and number of days to visit Coorg might look like this:
One day (city tour only) — INR 1500
Two days (including safari and coffee estate tour) — INR 300
Coorg Accommodation Options
There is no dearth of accommodation options in Coorg. From cheap hostels, homestays to big hotels, everything is available. All the hotels are situated in the immediate vicinity of the main city. You can choose hotels as per your convenience.
Some Commonly Asked Questions
What is the easy way to reach Coorg?
Bangalore Airport is the nearest airport to Coorg. From there you can reach via bus. Due to good road conditions, you can also go with your personal vehicle.
What to do in Coorg?
The most important thing to do is to visit the coffee plantations. Look at the method of making coffee and if possible, plan to stay in the coffee estate itself. Also, buy chocolate and coffee, as well as relax in the lap of nature.
What is a good time to go to Coorg?
Winter and rainy seasons are considered ideal. At this time, the beauty and beauty of Coorg comes. And of course, abstain from going in summer.
By what other name is Coorg known?
Coorg or Kogadu is a district in the state of Karnataka, headquartered at Madikeri. Mainly all tourist places are around Madikeri.
---
Our Experience
Living close to nature is always pleasurable and joyful. To be fair, this journey was a wonderful journey where not only remained close to nature but also saw a new culture and met new people.
If you ever think of admiring this natural beauty and have any question in mind, feel free to ask us.
---
An appeal: Please do not throw litter around. Use a dustbin and if you can't find one, take the trash with you and throw it when you find one. Your small steps like this one can make the world clean and green.