Delhi, the city of cities and the capital city of India, is not just a city but an amalgamation of various Indian cultures, people, architecture, art, and history. It rightly resembles the largest democracy of the world — incredible India.
Whether you live in Delhi or come from another state or country, there are many places and history to explore here. Today in this blog, we'll show you 19 awesome places to visit in New Delhi.
List of 19 Awesome Places to Visit in New Delhi
Now let's dive into the details and know about each of these places.
1. India Gate
India Gate is one of the grandest war memorials in India's capital city, New Delhi, of India. It's a symbol and homage to all the British-India soldiers martyred in the 1st World War and the 3rd Anglo-Afghan War.
You can find the names of all those English and Indian soldiers engraved on the bricks of India Gate. France's Arc de Triomphe inspires this 42 meters tall archway.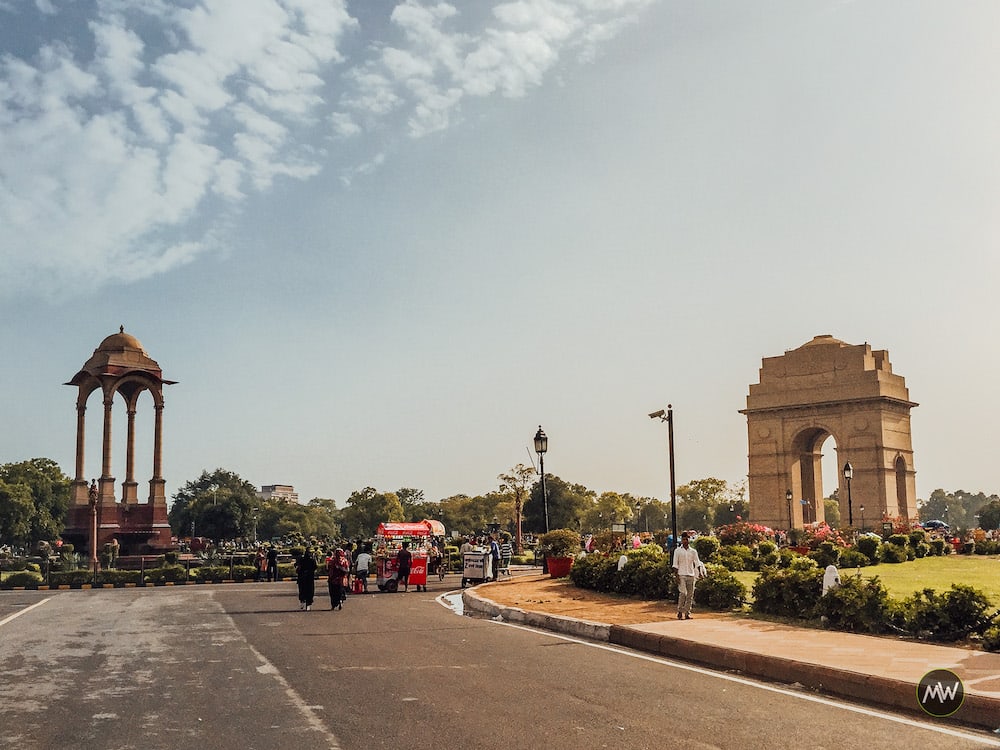 You'll see soldiers standing in position under the archway and the Amar Jawan Jyoti (The Eternal Flame) burning around four corners of an army rifle. Amar Jawan Jyoti was added to India Gate in 1971 in memory of soldiers who lost their lives during the Indo-Pak war in December 1971.
Today, it's a picnic spot for locals, and thousands of people visit it every day. Around the India Gate, you'll find parks and garden areas where you'll see people enjoying their time. You can see street vendors selling eatables and toys. You might even encounter some people with DSLRs ready to click a pic of you and get printed almost instantly.
When you visit Delhi, India Gate should be the first place you should visit.
Nearest Metro Station: Central Secretariat (Yellow Line)
2. Akshardham Temple
Akshardham Temple or Akshardham Mandir or Swaminarayan Akshardham is a Hindu temple complex in New Delhi. At first sight, you're likely to be astonished by its grandeur architecture sprawling over 100 acres of land.
The whole temple complex only took five years to complete. The main deities are Swaminarayan, Sita-Rama, Radha-Krishna, Shiva-Parvati, and Lakshmi-Narayana.
The entire complex represents millennia of Hindu tradition and cultures. When you're inside, stop for a moment to observe the intricate carvings – statues, decorations, and events shown on the walls.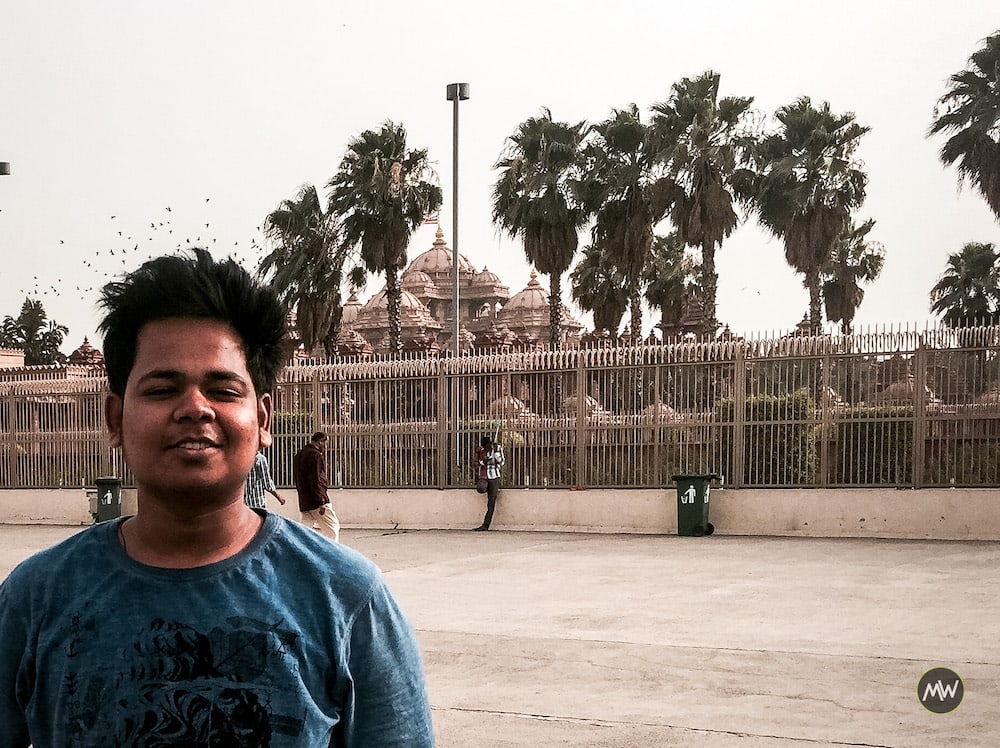 You can enjoy many exhibits; make sure you check visitor info on Akshardham's official site.
Further, note that you can't take electronics and leather products inside the temple complex. You can submit it at the dedicated counters built outside the temple complex.
Nearest Metro Station: Akshardham (Blue Line)
3. Red Fort
Red Fort or Laal Qila is a Mughal's era fort in Old Delhi built by the same architect who built the Taj Mahal. It served as the primary residence for Mughal Emperors during their reign in India The British later used it until India got its freedom.
If you believe scholars, Red Fort wasn't red but a white-colored fort made from lime bricks. It is the Britishers who painted it red and gave it the name Red Fort.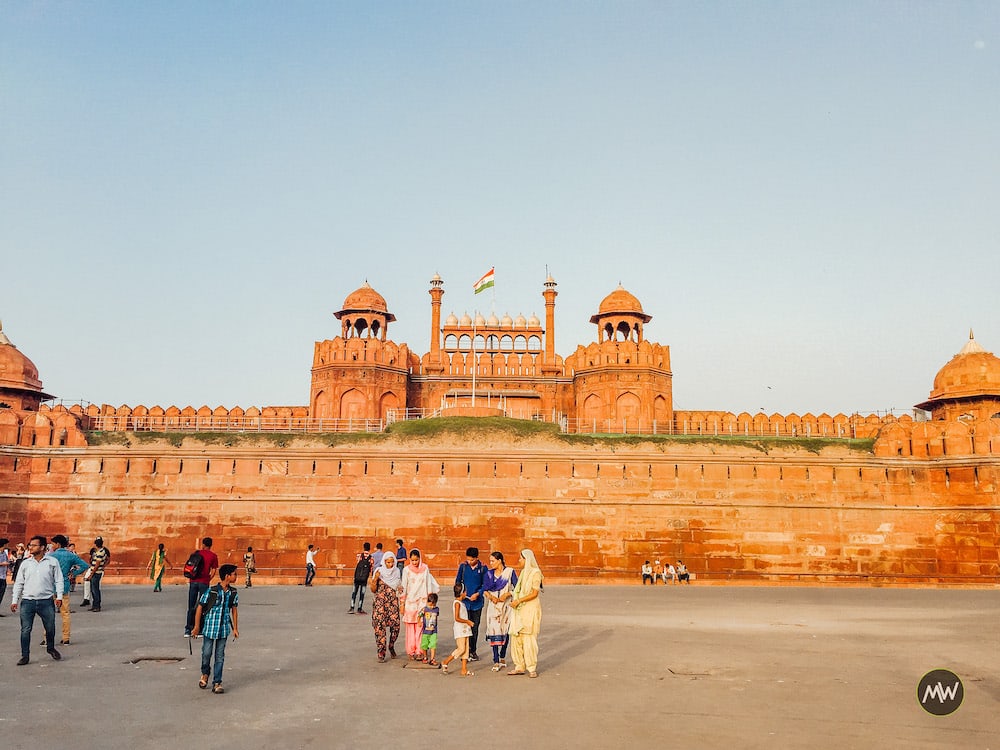 Today, thousands of people visit every day to see the grandness of Red Fort. There are many structures inside the fort which are worth visiting. And to me, it closely replicates the Red Fort in Agra.
Nearest Metro Station: Lal Qila Metro Station (Violet Line)
4. Humayun's Tomb
The widow of Mughal emperor Humayun, Haji Begum, constructed Humayun's tomb in the memory of her husband. It started gaining popularity after UNESCO included it in the World Heritage List in the year 1993.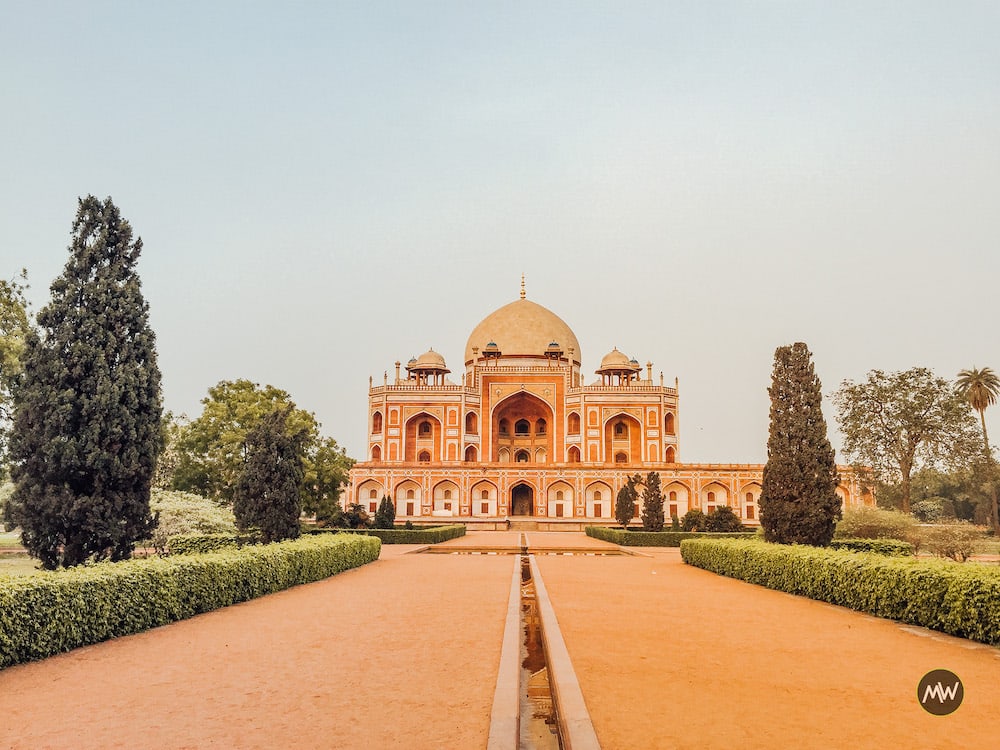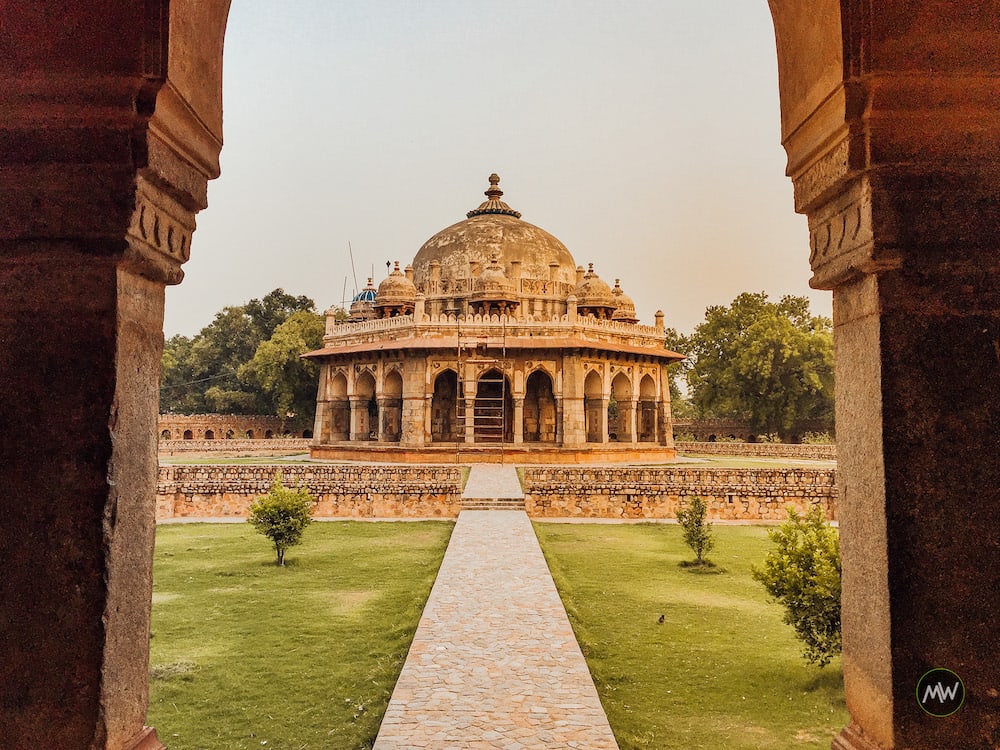 The monument is made of red sandstone and white marbles that reflect Persian architecture. A lush green garden surrounds the tomb.
Other notable monuments inside the complex are Isha Khan Tomb, Nila Gumbad, and Babar's tomb. The place looks more beautiful in the evening when it illuminates.
If you're into architecture and/or photography, this place will make your time worthwhile.
Nearest Metro Station: Jor Bagh (Yellow Line)
5. Qutub Minar
Qutub-Ud-Din Aibak built the Qutub Minar in 1193, but many rulers have contributed to the construction of the Qutub Minar.
It was started by Qutub-Ud-Din Aibak, but he only constructed the basement. The construction of the tower was later done by his successor Iltutmish. The last two stories were completed by Firoz Shah Tuglak. The different architectural styles from the time of Aibak to Tuglak are clearly visible in the Qutub Minar.
This masterpiece of Mughal architecture is not precisely erect and is slightly tilted towards one side. This is due to the many additions and renovations that were made to the tower over the years.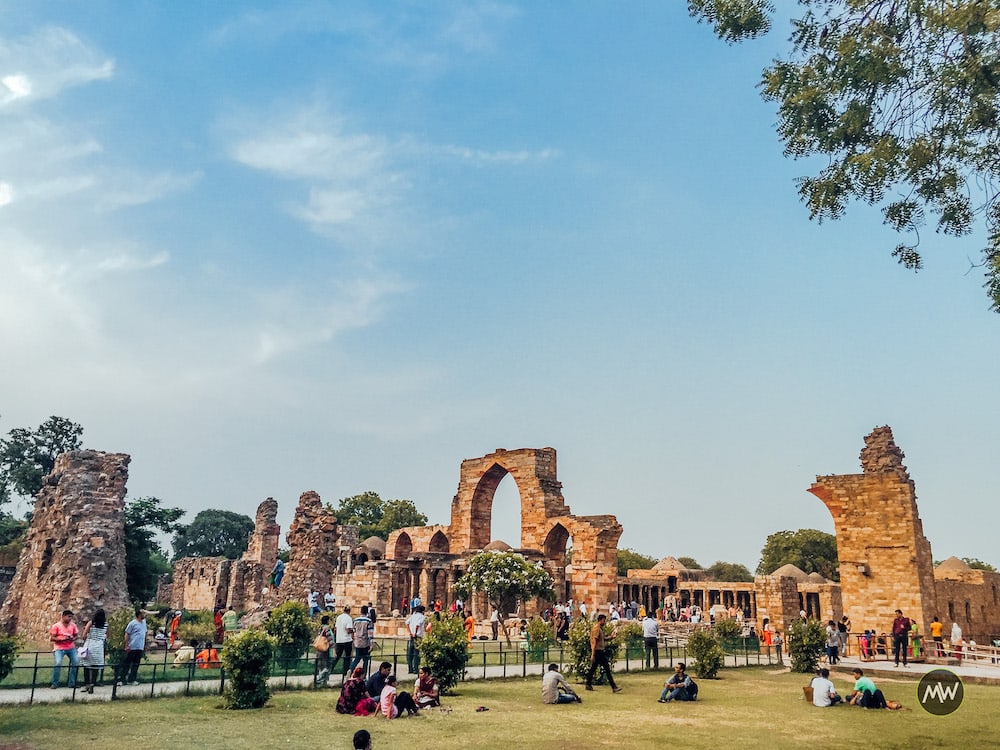 It is the tallest brick minaret in the world and is made up of red and buff sandstone. You'll see numerous inscriptions in Arabic and Nagari characters on its walls, which narrate its history.
There are 379 stairs inside the tower, which lead to the top. However, you can't climb as it's closed considering its sensitive condition.
Nearest Metro Station: Qutab Minar Metro Station (Yellow Line)
6. Lotus Temple
The Lotus Temple is also known as the Bahai House of Worship. Bahai faith believes that their centers of worship are for all religions.
Visitors from all across the globe come for peace, meditation, prayers, and study. The Bahai faith believes in the Oneness of God, the Oneness of Religions, and the Oneness of Mankind. There is no idol to be worshipped, and people of any faith, case, creed are welcome inside.
Thus, no matter what religion you belong to, you are allowed at the Lotus Temple.
However, you can chant or read scriptures of Baha'i and other faiths, too, in any language. You can even set them to music by choirs, but you can't play any musical instrument inside the temple.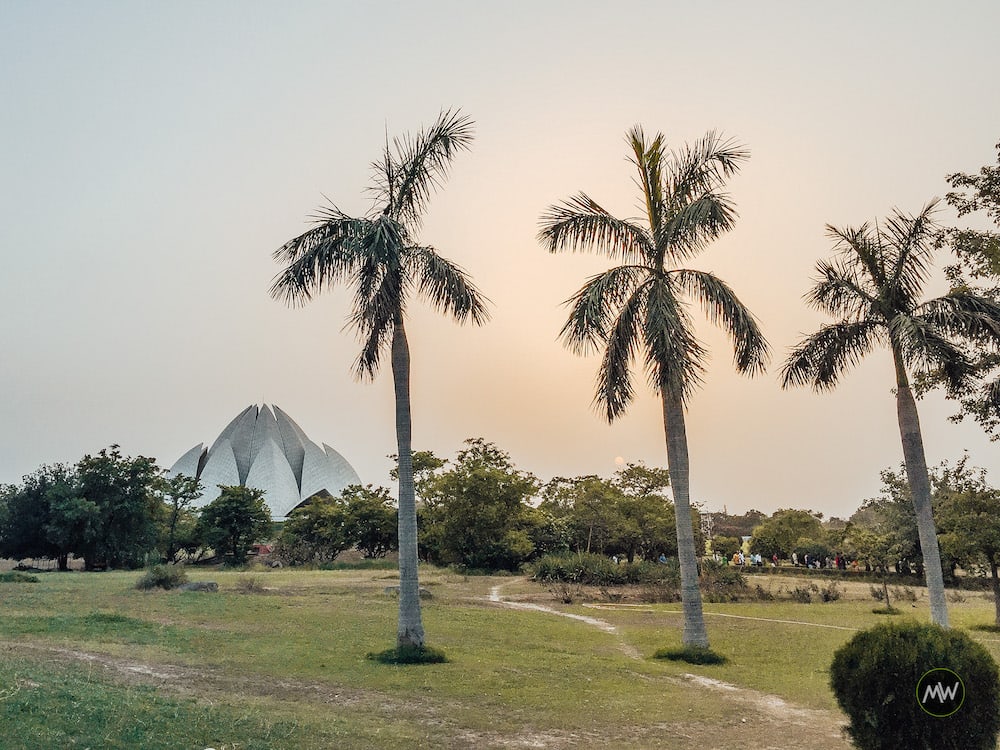 The Bahai community offers four activities called the core activities for those who are interested in the Bahai way of life. These activities are Children's Classes, Junior Youth Classes, Devotional Meetings, and Study Circles.
Besides the belief, the architecture of the Lotus temple is genuinely captivating – white-colored, and to me, it looked somewhat like the Opera House in Sydney, Australia.
Further, as with most places to visit in Delhi, it's surrounded by lush greenery, and thousands of people visit this place in Delhi.
Nearest Metro Station: Kalkaji Metro Station (Violet Line)
7. Gurudwara Bangla Sahib
Gurudwara Bangla Sahib is dedicated to the eighth guru of Sikhs, Guru Har Kisan. It's easily accessible as it's situated in the heart of Delhi near Connaught Place.
According to the scholars, the gurudwara was initially a bungalow owned by Raja Jai Singh and known as Jaisinghpura Palace. He donated it to the Sikh community, and later it was converted into a gurudwara which became highly revered after Guru Har Kisan stayed in it.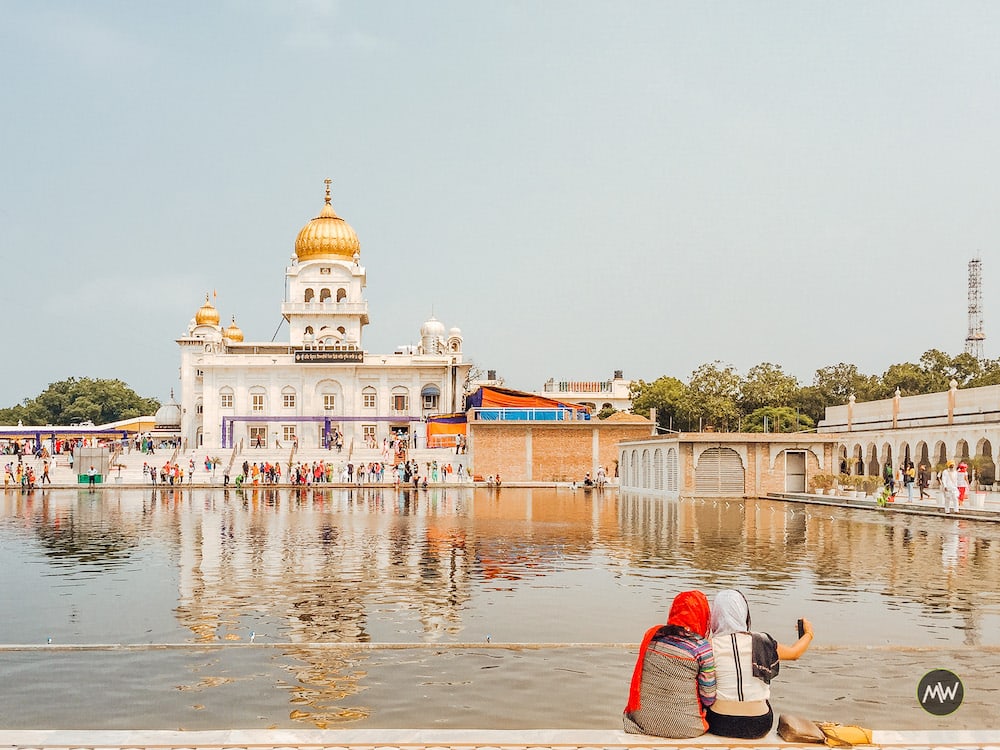 You should definitely have prasad in the langar hall. You'll find a Sarovar (a holy river), the yellow color dome of gurudwara, kitchen, langar hall, and cloakrooms.
Outside the gurudwara, you can have special hot tea and pakoras to savor your tongue and buy some souvenirs from the shops around.
Nearest Metro Station: Patel Chowk (Yellow Line)
8. Agrasen's Baoli
A hidden gem in the heart of Delhi, Agrasen's Baoli is an ASI-protected Baoli. It is 60 meters long and 15 meters wide. The place is haunted, but one will fall in love with its beauty and rustic charm. Built as other Baolis or step-wells in Gujarat and Rajasthan, it has 108 steps towards a well that is now dry.
The construction era of the place is unknown, and some claim it to be from the Mahabharata period. King Agrasen belonged to that period only. But the historical records suggest that it was built over time and today's structure belongs to the 14th century.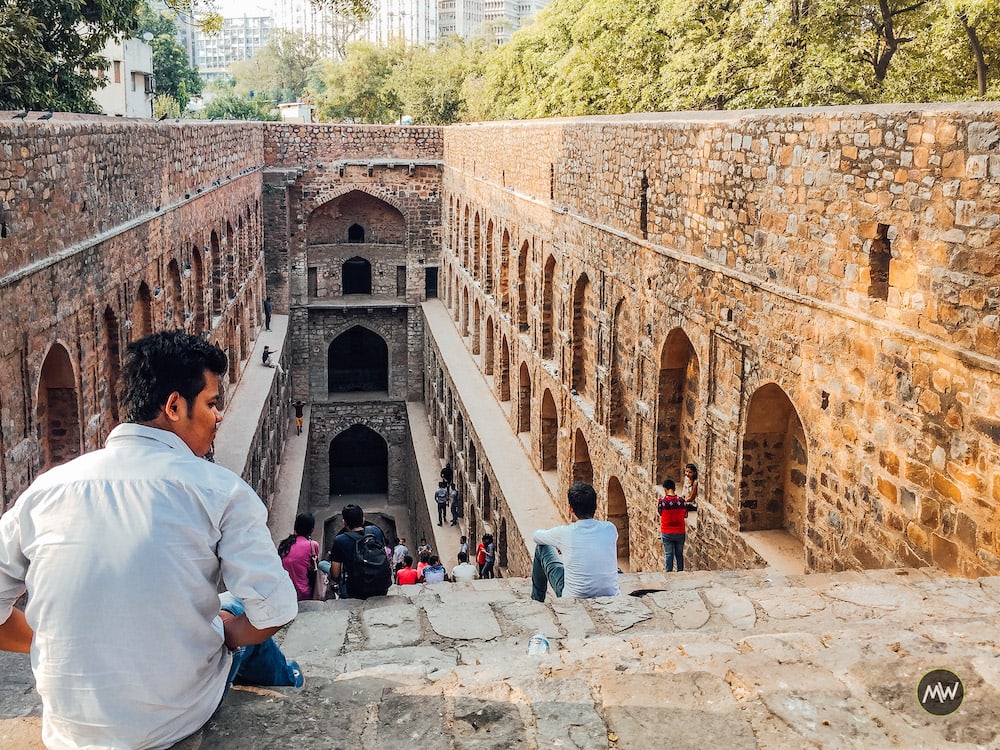 Today, thousands of tourists visit this place, while it's also a common hangout place for Delhites. The area surrounding this architecture is majorly residential, and it is usually packed with people during visiting hours.
If you've seen Baolis of Rajasthan (such as the mesmerizing Chand Baori with 300+ steps), you can skip. Otherwise, it's worth a visit.
Nearest Metro Station: Barakhamba Road Metro Station (Blue Line)
9. Lodhi Garden
Lodhi Garden is a lush green park with a few historical monuments in its abode. The green sceneries inside the garden are enough to rejuvenate you after a tiring day.
Inside the Lodhi Garden, you'll find two significant monuments: the tombs of Mohammed Shah of the Sayyid dynasty and Sikandar Lodi from the Lodi dynasty.
Other notable architectures include Bara Gumbad (which is a gateway), Seesha Gumbad, Athpula ("Eight Piered") Bridge, and a beautiful lake surrounded by geese.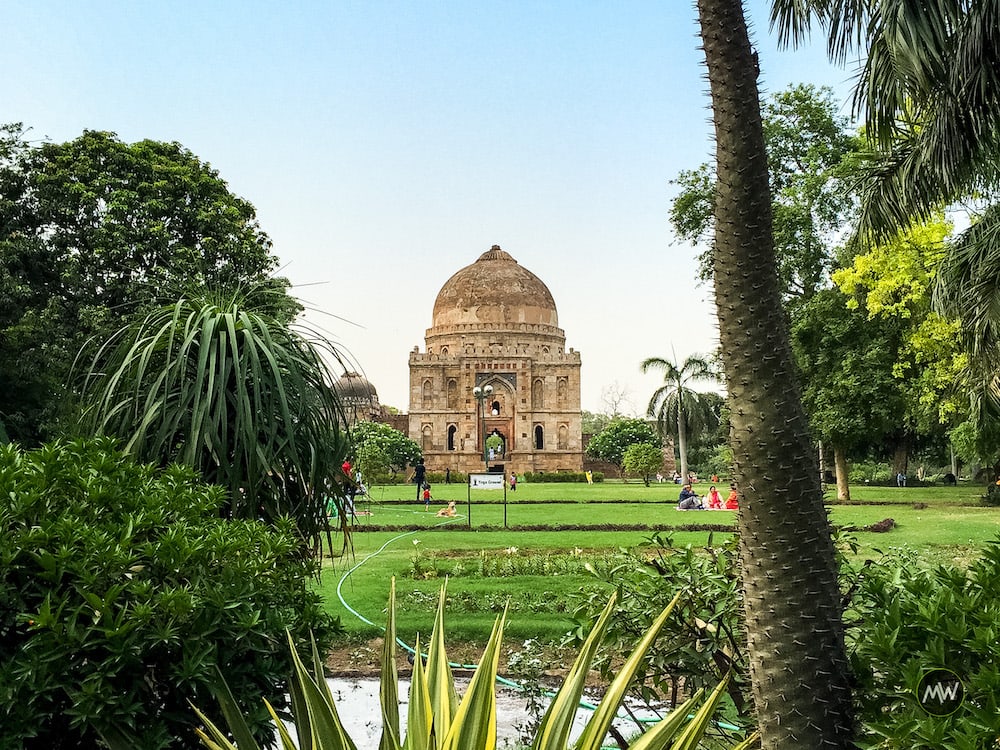 Lodhi Garden is regularly visited by locals, including exercise and jogging enthusiasts. You should visit Lodhi Garden if you're a naturalist and have some interest in history and architecture. Other than that, it's an excellent place for you to spend some relaxing moments.
Nearest Metro Station: Jor Bagh (Yellow Line)
10. Safdarjung Tomb
Safdarjung Tomb is a mausoleum of Mirza Abul Mansur Khan sitting near Lodhi Garden of Delhi.
The ornamental painted double story monument has several apartments, a courtyard, and a mosque. The monument attracts visitors because of its beautiful architecture and a lush green garden around it.
If you're a photography enthusiast, this is one of the best places in Delhi where you should be creative.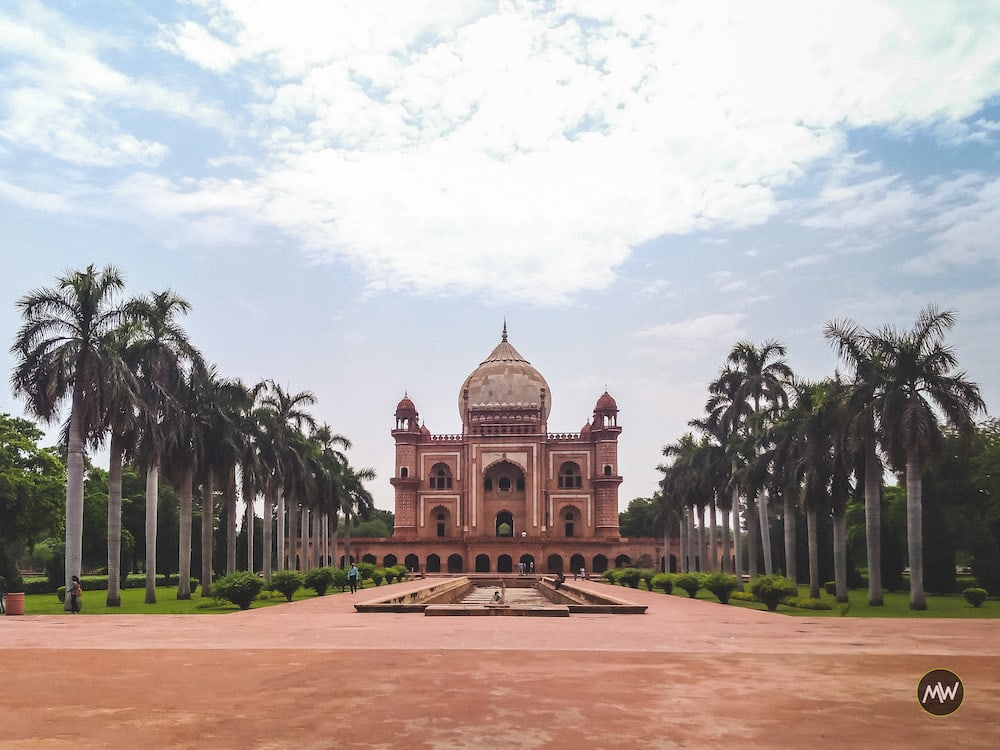 The structure is built with red sandstone and marbles, which provides a charming look to the tomb. There is a garden divided into squares and known as Charbagh. The other pavilions are Moti Mahal, Jangali Mahal, and Badshah Pasand.
You can explore the surroundings and spend some time in peace and appreciate the Mughal architecture.
Nearest Metro Station: Jor Bagh (Yellow Line)
11. Hauz Khas Village
Hauz Khas Village is an urbanized village in the neighborhood of South Delhi. You'll find Hauz Khas Complex at the center – home to numerous cafes and shops mainly targeted to youths.
Hauz Khas is named after a lake or water reservoir of the same name built by Alauddin Khalji. In Urdu, Hauz means "water tank," and Khas means "royal."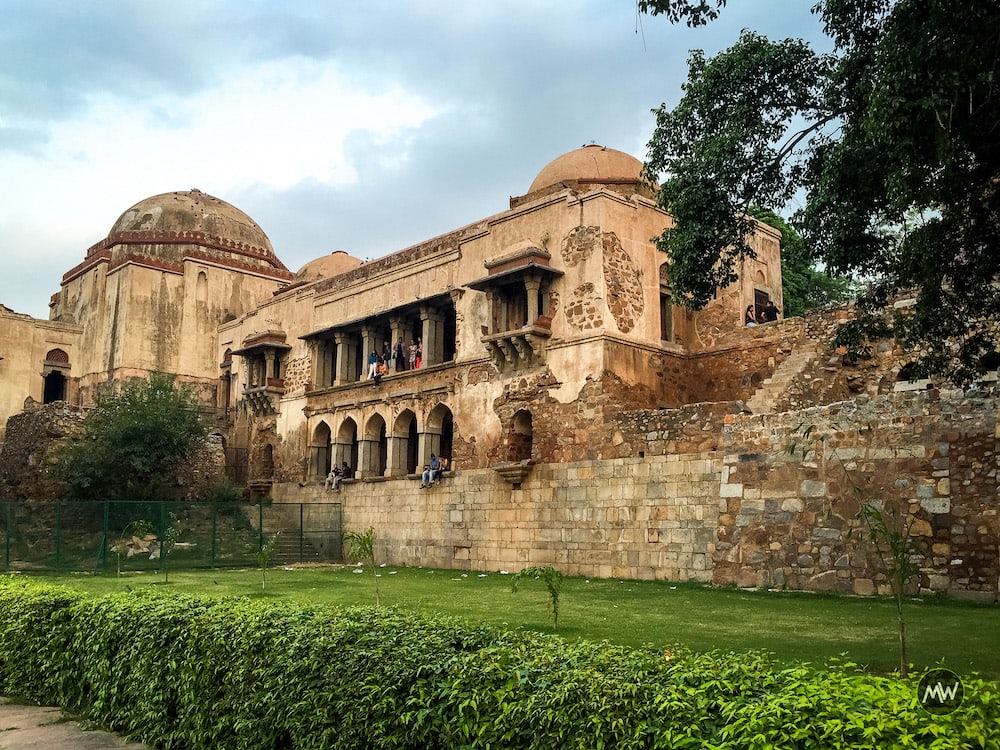 Inside the complex, you'll see a lot of beautiful architecture around the lake, including a madrasa and a mosque. It's worth exploring and getting a few pics clicked here.
Hauz Khas is majorly attracting youths with its plethora of urban shops and cafes. The streets have a few notable wall arts too.
Nearest Metro Station: Hauz Khas (Yellow Line)
​​12. Jama Masjid
Mughal architecture is the distinctive Indo-Islamic architectural style that developed in northern and central India under the patronage of Mughal emperors from the 16th to the 18th century. It is a remarkably symmetrical and decorative amalgam of Persian, Turkish, and Indian architecture.
Mughal Emperor Shah Jahan built the Jama Masjid or Jama Mosque between 1650 and 1656 at one million rupees.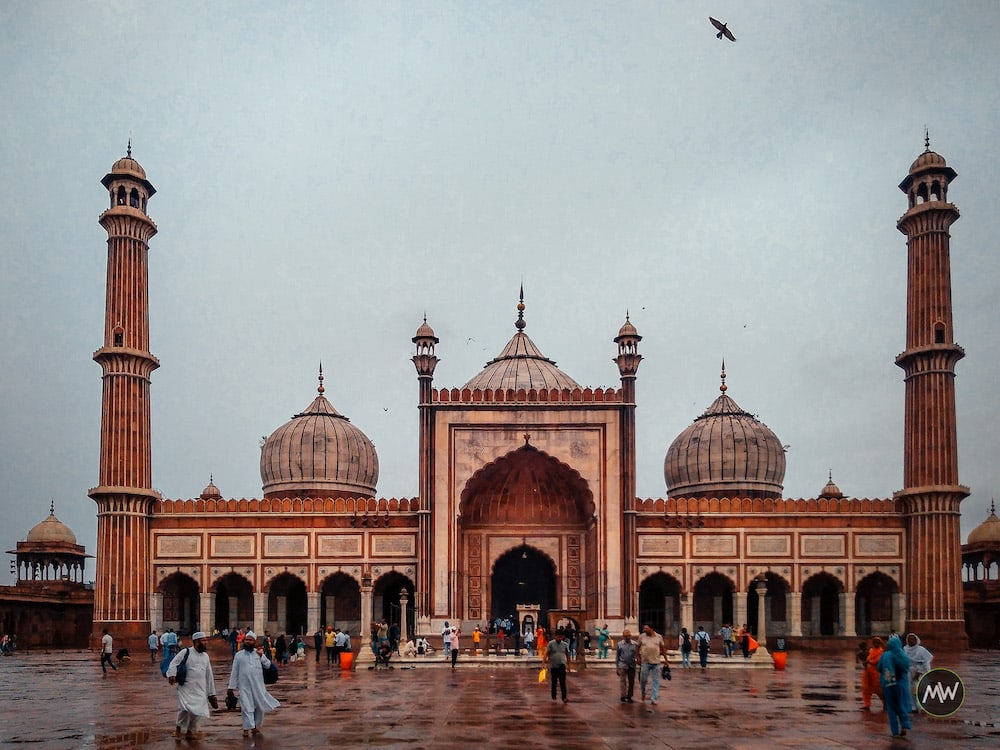 The mosque is constructed with strips of red sandstone and white marble. It has four minarets which stand 40 meters tall, four towers, and three gateways. The mosque also reflects a splendid blend. Some places inside have been designed as per the Hindu and Jain architecture designs. You can experience its grandeur the moment you visit there.
Be sure to follow religious norms when you visit to witness the splendid beauty of this holy mosque.
Nearest Metro Station: Jama Masjid Metro Station (Violet Line)
13. Old Fort (Purana Qila)
Old Fort, or Purana Qila as commonly referred to in Delhi, is one of the oldest forts in Delhi. And as per the scholars, the fort sits on the site of the ancient city Indraprastha, ruled by Pandavas.
Sher Shah built the first fort in Shergarh, now called the Purana Quila or the Old fort.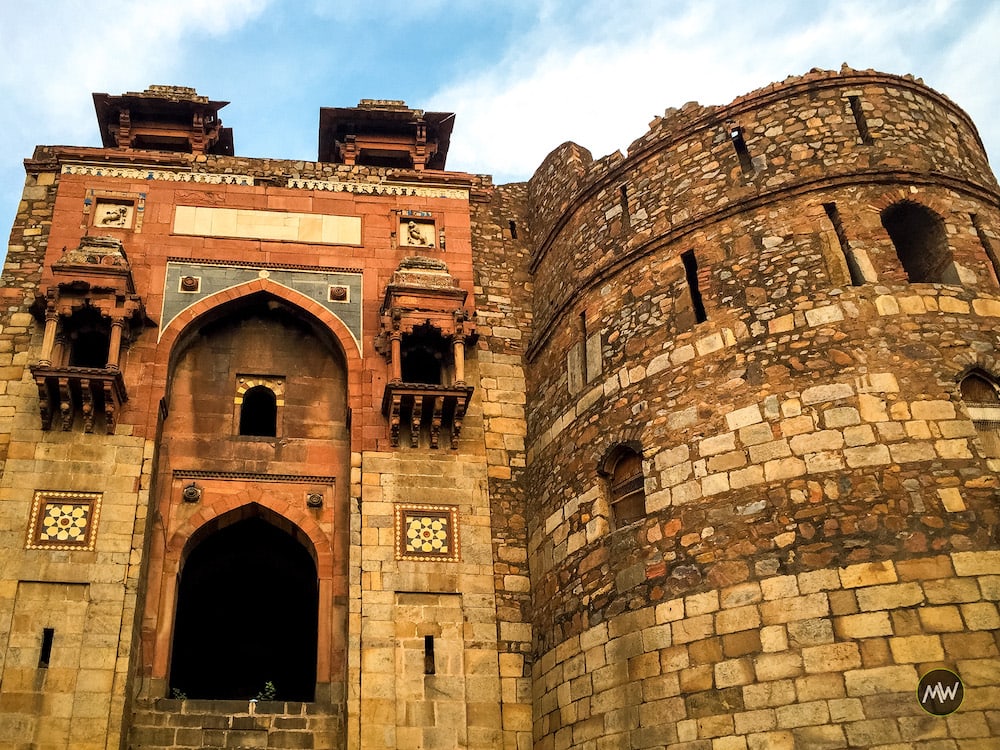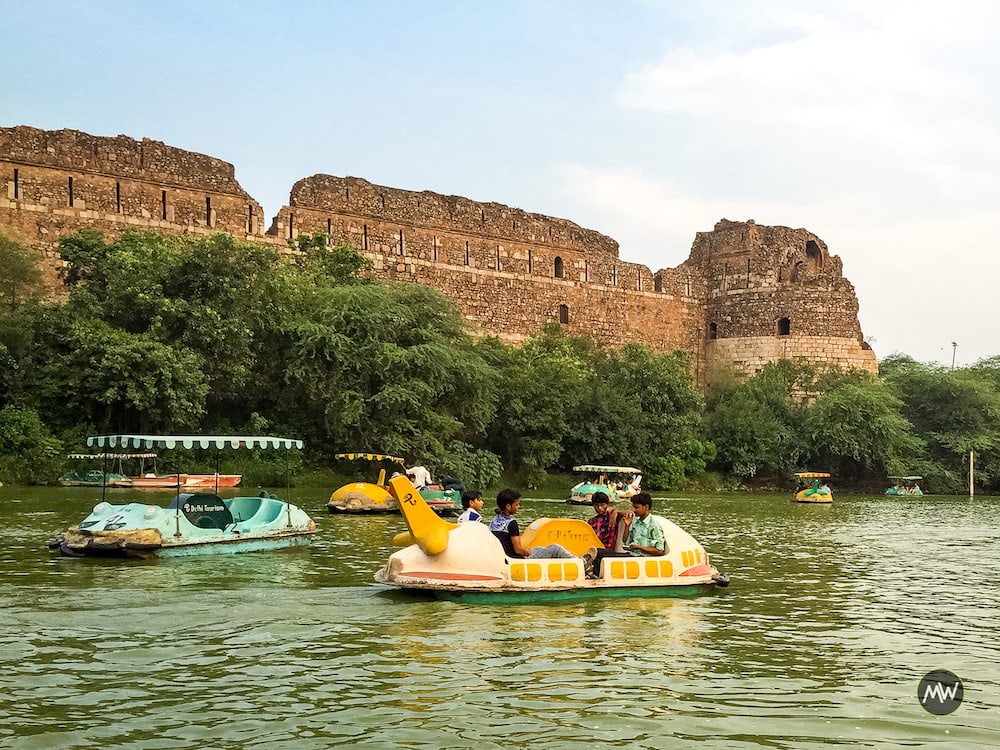 Today the fort has deteriorated, and only ruins remain accompanied by lush green gardens. The complex resembles the past that has gone by but still exists in the present somehow.
You should visit this place if history, architecture, and photography are your thing.
Nearest Metro Station: Pragati Maidan Metro Station (Blue Line)
14. Rashtrapati Bhavan (President's House)
Rashtrapati Bhavan sits on Rajpath, a mere few kilometers away from India Gate, and is home to the president of the world's largest democracy, India.
The Bhavan was designed by the same architect as India Gate and spread over 300 acres of land. Various tourist tours happen. You can check the official website for up-to-date information. Inside there's a vivid representation of flora and fauna; you'll find hundreds of varieties of flowers decorated in such a way that it'll captivate you.
Since it's on a straight road, you can cover it walking from India Gate. When you're inside, be sure to see Mughal Garden, the Museum, and a tour of the main building with various rooms, halls, and offices.
Nearest Metro Station: Central Secretariat (Yellow Line)
15. Jantar Mantar Observatory
The name Jantar Mantar has always startled me unless I paid a visit to it myself in New Delhi. It also fascinates me how curious we humans have been since the start.
In essence, Jantar Mantar is an observatory that gathers data to predict astronomical activities in time, such as the movement of the sun, moon, stars, and other planets. So, if astronomy is your thing, you shouldn't miss this place.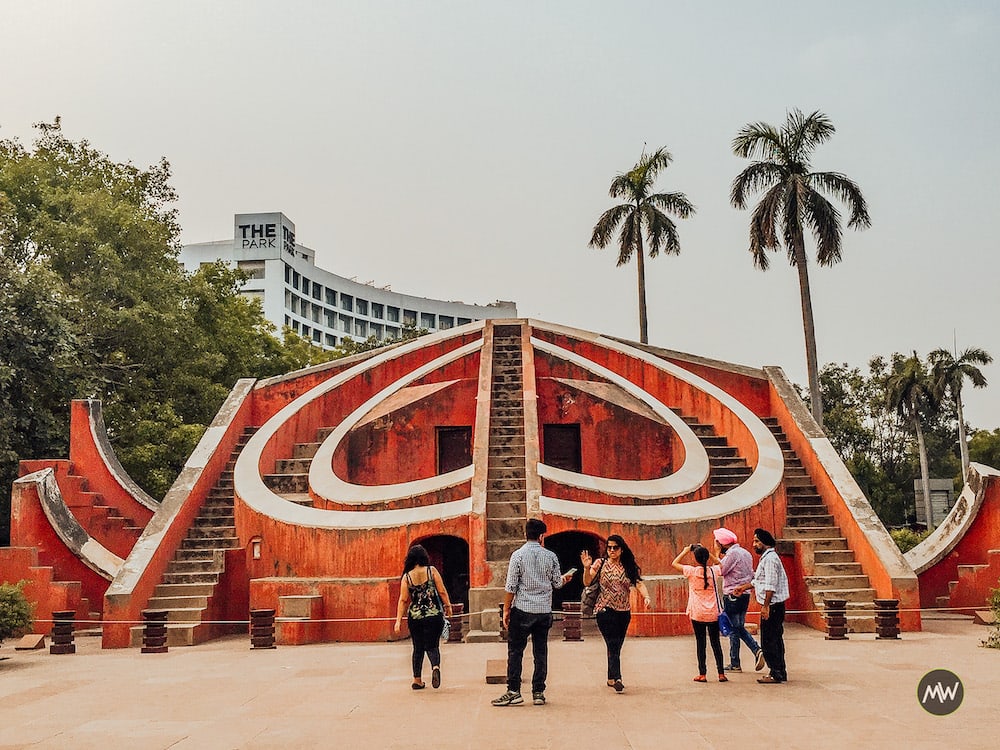 Delhi's Jantar Mantar is one of the five built by Maharaja Jai Singh II of Jaipur. It sits near Connaught Place.
There are many yantras (instruments) that record/observe events present inside. But mostly, everything has deteriorated today. Still, you'll love the reminiscence of past complex exhibits.
Nearest Metro Station: Janpath Metro Station (Violet Line)
16. National Crafts Museum
If you admire India's fine craftsmanship and architectural beauty, you should visit one of India's largest museums, the National Crafts Museum, in Delhi.
Inside, you'll see various examples of India's fine artistry: jharokhas, internal courtyards, open and semi-open passages, roof tiles arches, carved doors, posts, pillars, perforated iron screens, and more!
The complex is filled with everything to reflect India's authentic culture. There's a village complex, exhibitions, crafts demonstrations and shows of local performances. You'll also find a souvenir shop and cafe in the complex.
Nearest Metro Station: Indraprastha Metro Station (Blue Line)
17. Hazrat Nizamuddin Dargah
Nizamuddin Dargah is yet another popular destination for tourists in Delhi. It is the mausoleum of famous Sufi saint Hazrat Khwaja Syed Nizamuddin Auliya. The complex also includes the tomb of renowned poet Amir Khusro as well.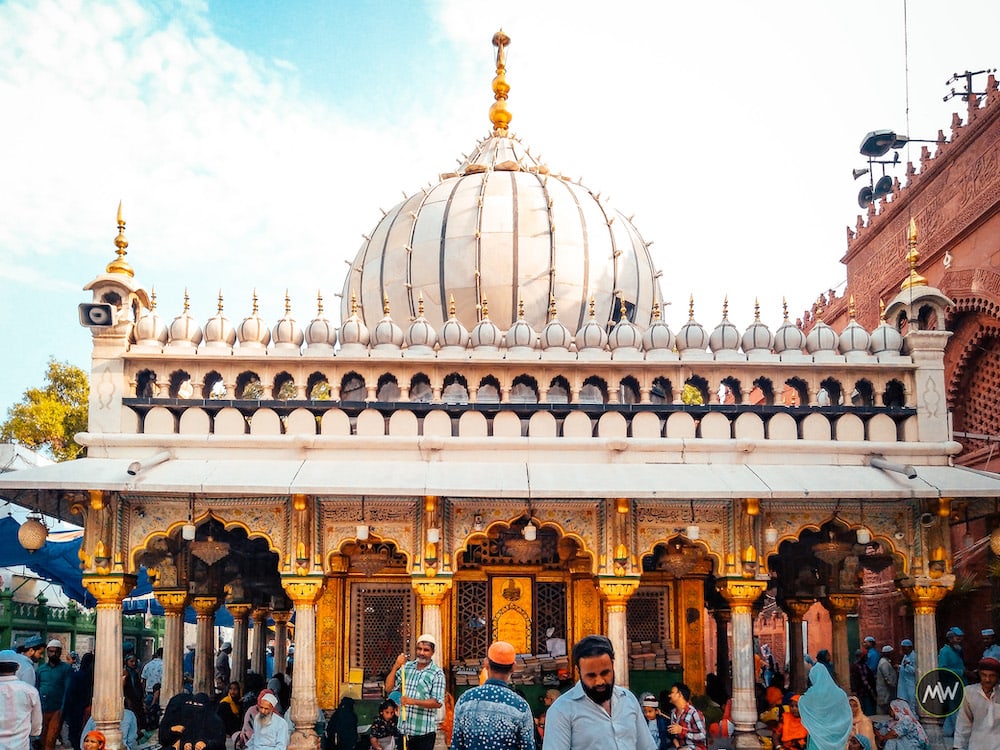 If you have a wish, it is believed that it'll be granted in the Hazrat Nizamuddin Dargah. The place has its own vibe; don't forget to attend the qawwali session, if there's any. It will take you to a whole new level out of this world.
Nearest Metro Station: Hazrat Nizamuddin Metro Station (Pink Line)
18. National Rail Museum
If you love trains and locomotives, and maybe a little bit of history, you're going to love the National Rail Museum in Delhi.
It sits in the Chanakyapuri area of Delhi and exhibits real size models of locomotives of Indian Railways. The Museum beautifully captures over 160 years of heritage of Indian Railways.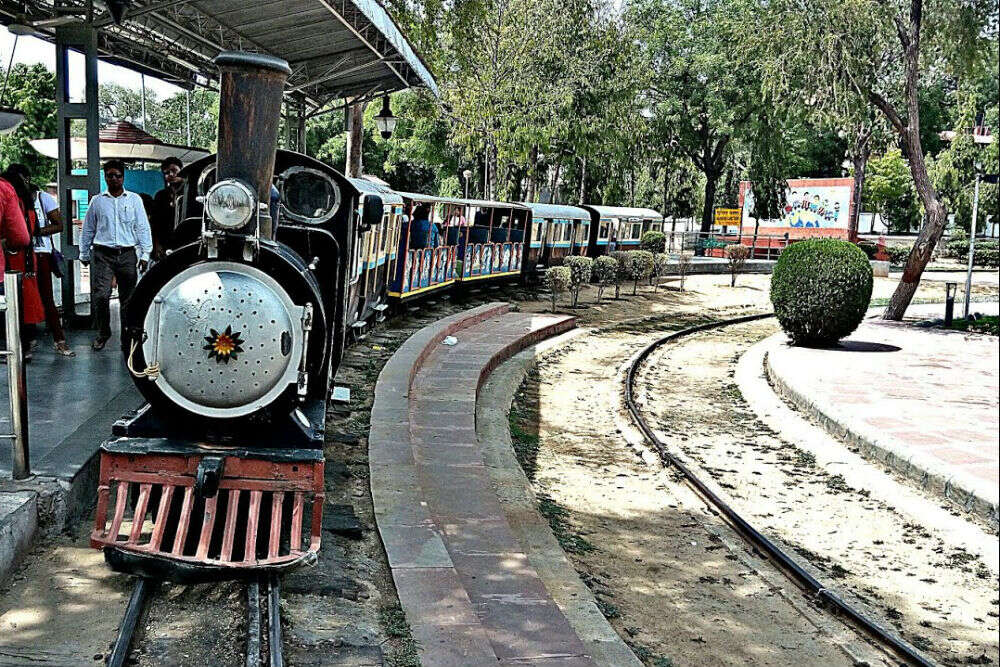 There's a toy train if you come with family and kids. You'll also love the poised and green location of the Museum. There's a restaurant called The Rails, replicating Chhatrapati Shivaji Terminus of Mumbai and souvenir shops.
If you're from India, you know, Indian Railways are the backbone of the transport system in the country. If you're from abroad, you now know how vital Indian Railways is.
Nearest Metro Station: Jor Bagh Metro Station (Yellow Line)
19. Delhi War Cemetery
Established in 1951, Delhi War Cemetery is an underrated and unexplored place in the Delhi cantonment area. Over 1022 commonwealth casualties from World War II were buried at this place.
99 more First World War burials were moved from Nicholson cemetery, Kashmiri Gate, Delhi. This was to ensure their permanent maintenance.
Annual Remembrance day is organized every second Saturday of November by the British High Commission at this place. This event ensures that maybe the time has passed, but the heroes are not forgotten.
The place is peaceful and well maintained. You can sit and remember the heroes of the world war who sacrificed their lives for the good.
Nearest Metro Station: Brar Square Metro Station (Pink Line)
Lastly
For me, Delhi will always hold a special place in my heart. I've spent a significant amount of my student life and meandered through its rustic and busy streets.
You'll see why I said Delhi is much more than a city when you visit it and explore. And in case if you've been to Delhi already, comment your thoughts about this post or let me know what I miss.
An appeal: Please do not throw litter around. Use a dustbin and if you can't find one, take the trash with you and throw it when you find one. Your small steps like this one can make the world clean and green.