Ever imagined yourself playing in the valleys of snow, making a snowman or chilling with your loved ones – all covered in a whitish embrace and with snow peaked mountains all around?
I hate summers. Ever since I was a kid, I'd always loved winters and waited for it to arrive every year. Growing up, it became my fantasy to live in a snow-packed area for at least once in my life.
And then I just did that in Manali.
Snowfall in Manali was a truly blissful experience for me. Just imagine the whole area covered in snow as if foam from a bucket filled with detergent water; the gushing of Beas river; and above all, the snow-capped mountains continuously relishing the eyes.
Snowfall alone made our trip to Manali worth everything. When we were in Kasol, our hearts and minds were set to the snowfall. We couldn't resist and left for Manali after spending a day in Kasol.
Best time to visit if you want to experience snowfall in Manali
January and February are considered to be the best months to experience fresh snowfall. Sometimes it occasionally snows in months of November and December as well. But that's occasionally!
But to roll all the odds in your favor, and also if you want to maximize your chance of experiencing the snowfall (not the fallen snow), I'd suggest you align your trip between January – February.
At other times around these months, the snowfall happens at higher altitudes such as Rohtang Pass and Manali on the other hand seldom experiences the snowfall.
Remember, the last of December days and early January days are new year celebration days and Manali becomes overcrowded at these times. Hotels and other accommodations become highly overpriced. But…
If you plan your trip after these crowded days, you might get the craziest deal ever. Using this AWESOME trick, we got four-star accommodation in just 149 INR per night via Booking.com.
When we arrived at Manali, we were a little disappointed.
As there was no snow or snowfall. The only snow we saw was at the border of the roads. But it was 21st January, that means the month of snowfall…was it cheating, eww?
We were losing hope. Although it was only 22nd January and we'd finished exploring some tourist attractions of Manali like…
Museum of Culture and Folk Arts,
and a few more. Our itch wasn't calmed.
Snow snow snow
I still remember this morning. The morning of 23rd January 2019. When the whole picture got changed.
The trees we saw green yesterday are today covered in white flakes. The path with the red bricks has turned into complete white bedding. The roofs of houses and hostels have turned into a white amalgamation. The beauty has gone beyond my capability to weave them into words.
Everywhere it was snow, snow, and snow. Yes, it snowed all night.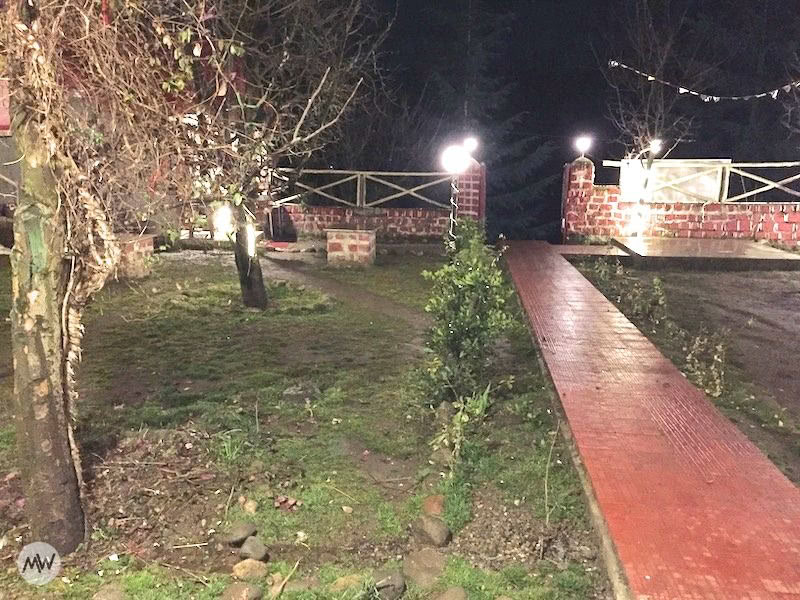 As we woke up first thing in the morning, we made tons of video recordings. And yeah, captured a year's selfie 😜
And since when we were busy in our chores, the white flakes started falling again from the sky. I stretched my arms and faced towards the sky letting every flake melt with the warmth of my skin.
Upon knowing about the snowfall, the whole hostel lit up – people jumped out of their beds; some in slippers, some barefooted. And started shouting outside. Soon we all blended into a tone of togetherness.
It was a joyous moment. So much that I can never forget.
How does the snowfall felt?
If I were a poet, I'd have written a…okay let's try…
O, Snow! My Snow!
There you flow,
And here I glow.
There you fall,
Inside my hall,
And I run to catch you,
Very very far.
Give this poem a rating out of 10. 😆
It was as if someone threw you in a bucket of foam, it was this feeling of eating extra cheesy pizza, it was stupendous, miraculous to the core of the soul, light as a bird's feather and pure as the dew drops in the mornings. In one line…
It was worthy of every trouble we had had in our journeys.
#1 Mistake to avoid if you want to rejoice your experience of snowfall.
Not Wearing Snow Boots. Yeah, it's simple but easily forgettable.
What does it cost to buy cheap and durable snow boots? Only a few bucks. Right?
Let me tell you very honestly my friend, we did this mistake, and so we don't want you to repeat it. Man, our regular shoes are destroyed. *crying in the corner*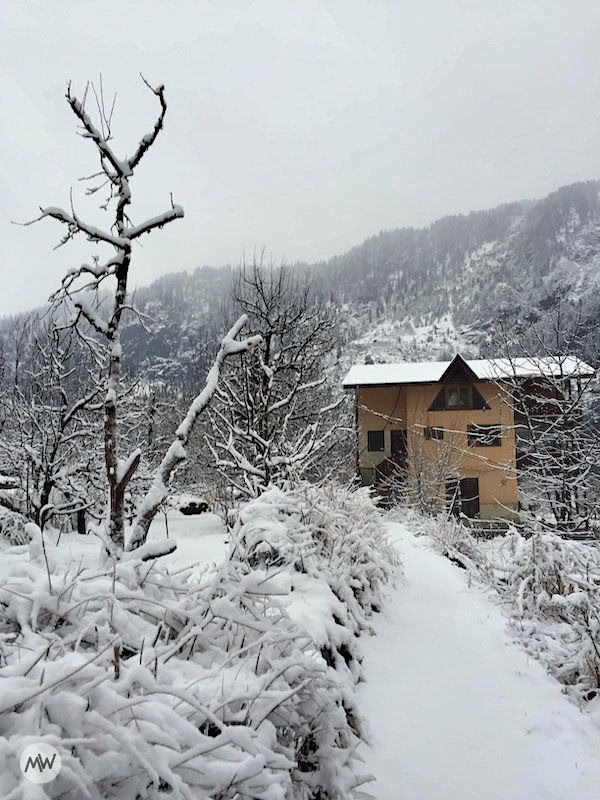 It's better to have suitable boots ready for adventurous activities in the snow. Moreover, if you don't want to buy, there's a provision of getting them on rent (which might cost you the price of the boot at the end, anyway). Ask your hostel for this.
Enclosing words.
I wish I had stayed there for forever. But like we know the rules, all things have to come to an end.
We were leaving on 24th January 2019 but before we set our feet out we wanted to see the white heaven for as long as we could.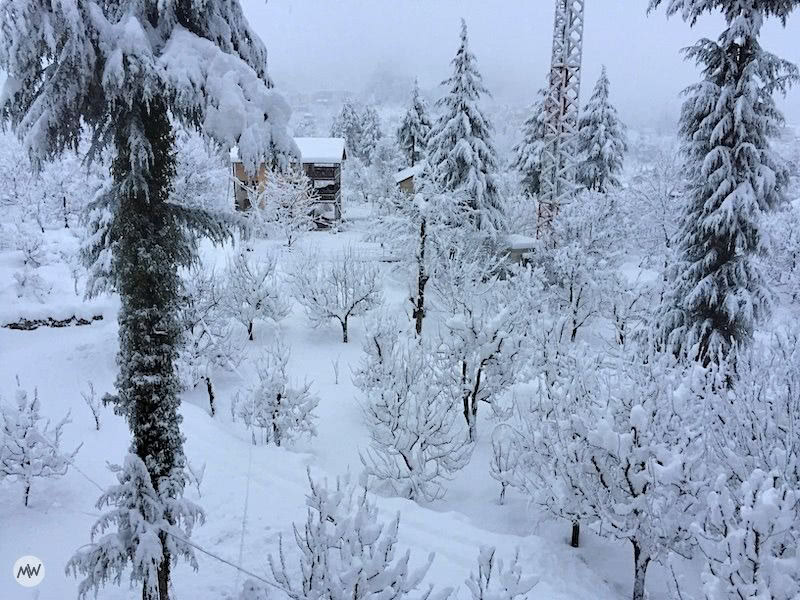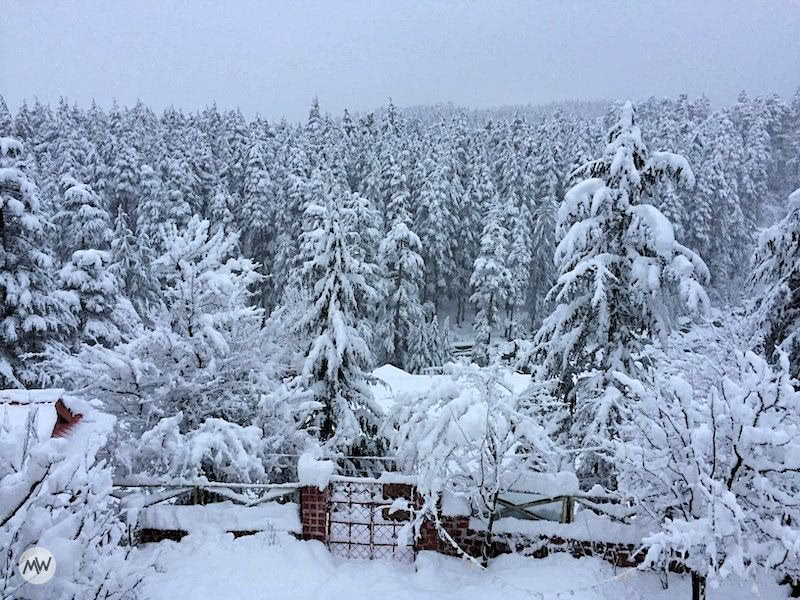 On this morning, the snow on roads touched new heights and now it could easily swallow our half of legs. We were walking on the trails made by vehicles for where else we could easily walk?
The ambiance was so peaceful that we could only hear the rushing of the breeze through the snowy leaves.
Bodies bid adieu to Manali, but our hearts are still wandering there. Such was the experience of the first snowfall.
---