January 2018. The date when I finally took the courage of going on a solo trip. My visit to the Dalai Lama temple was a part of this trip. It was a remarkable point of change in my life and all I had a quest seeking peace and answers to my questions.
We can never obtain peace in the outer world until we make peace with ourselves.

Dalai Lama
These words are enough to power the thought that what you seek is not on the outside, but inside. It sounds magical and a total crap at sometimes, but you find answers only when you're ready to receive them – going deep inside.
My visit to the Dalai Lama temple was a little part of 'awakening' I had in my first solo trip. So, its my duty to caution you ahead, if you're not very spiritual person, this post is not for you.
Reaching The Dalai Lama Temple
Captivated in the settling of Himalayas, The Dalai Lama temple is a monastery and the place of residence of His Holiness Dalai Lama XIV situated in McLeodganj, Himachal Pradesh, India.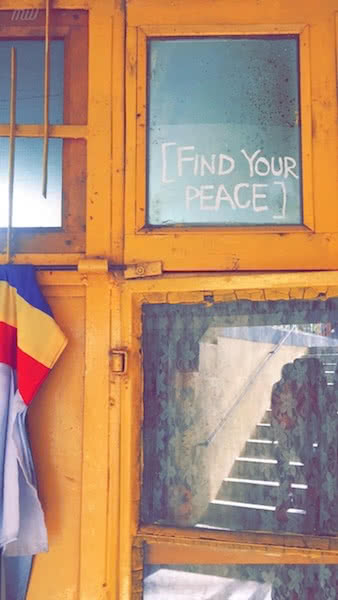 I reached Dharamsala from Delhi's Kashmiri Gate ISBT in an overnight journey in a Himachal Pradesh state government non-ac seater bus. It cost me around 800 INR back then (2018).
Note: The Dalai Lama Temple is also interchangeably referred to as Namgyal Monastery.
Dharmsala to McLeodganj
Dharamsala and McLeodganj are at around 6 km distance. There are government and private buses running frequently between the two places. I stayed in a small guest house in McLeodganj near the main square. On January 1, 2018, I mapped my way from my guesthouse to the Dalai Lama Temple.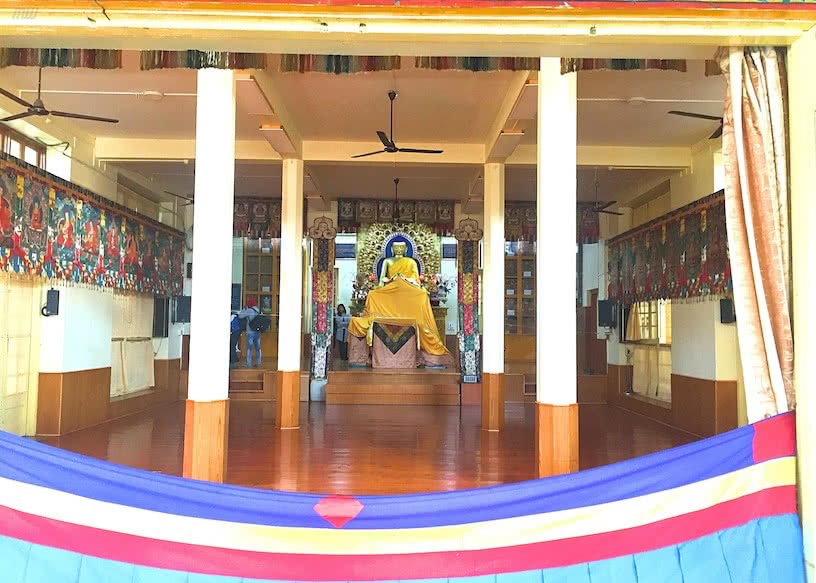 It was a downhill walk of 10 minutes and must have been not more than 400 m, while the main square was only 200 m from my guest house. This means that the temple is around 600 m from the main square of McLeodganj.
Pro Tip: Buses are rarely available after 6 pm in the evening, so please cross-check the information if you plan to arrive after 6 pm. On the other hand, a private taxi/cab can cost you as much as 100-400 INR per cab for just 6 km.
Seeking Peace
I was going through a tough time in my personal life. My relationships with others including my friends and family were distorted, at least it's what I felt. There was deep havoc in my mind. I was only seeking mental peace for some time. And I hoped that I'll get that on my Dharamsala trip.
My solo trip had a deep influence on me and it untangled in me in many ways. It is probably the most important reason why I preach people to go on a solo trip, at least once in their lifetime.
I did nothing but slept, ate, and observed. People, mountains, breeze, livestock. I did the same usual visiting the Dalai Lama temple.
Carving the Way
Gazing through the beautiful streets, and the colorful flags with Buddhist chants written over them, I reached the main gate of the temple. Much to my surprise, the entrance was a just small gate about 10 feet or so. After the entrance, I walked in a narrow lane to get to the point where a security check was being done.
At the security check, they asked me to put my rucksack there and take it back while exiting from the temple. I took out my rucksack with me as I came after checking out early from my guest house and had to leave for Delhi directly after spending a peaceful time at the temple.
The Dalai Lama Temple/Namgyal Monastery
As I entered the temple, there was this hall like structure in the front with thick hollow iron beams supporting it. On the right side of it were the steps to climb to the temple and on the left side, was the residence of His Holiness Dalai Lama XIV.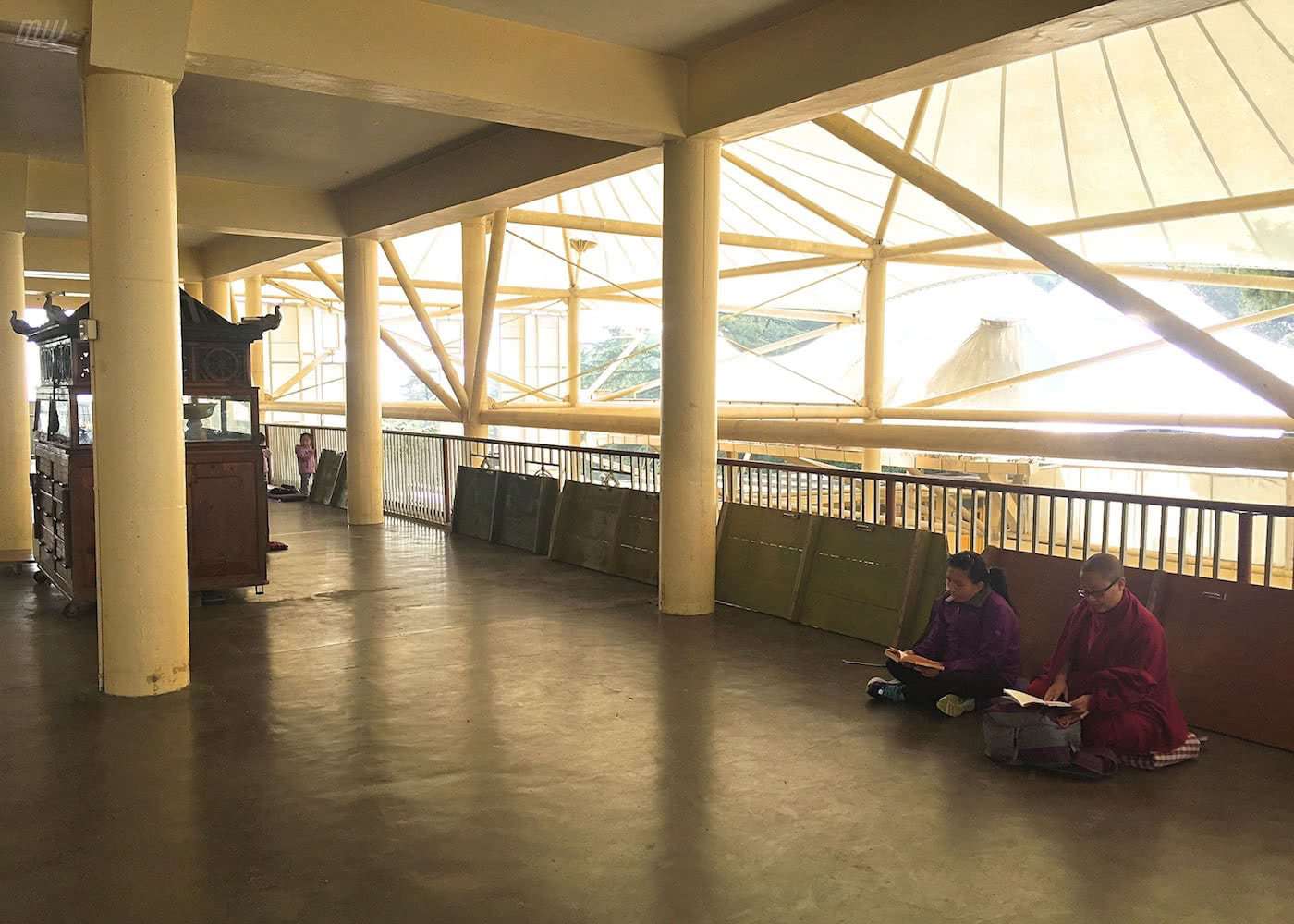 It is very rare that you get to see or meet His Holiness Dalai Lama here, as he is generally out with his political and spiritual duties. I read somewhere over the Internet, that you can track his itinerary with the help of his official website and visit the temple at the appropriate time.
Feel the Nature
Hazy mountains, faraway snow-covered peaks, and natural fresh air were all where my eyes were glued on. The temple was surrounded by natural charisma and untouched beauty. One can sit and spend hours here.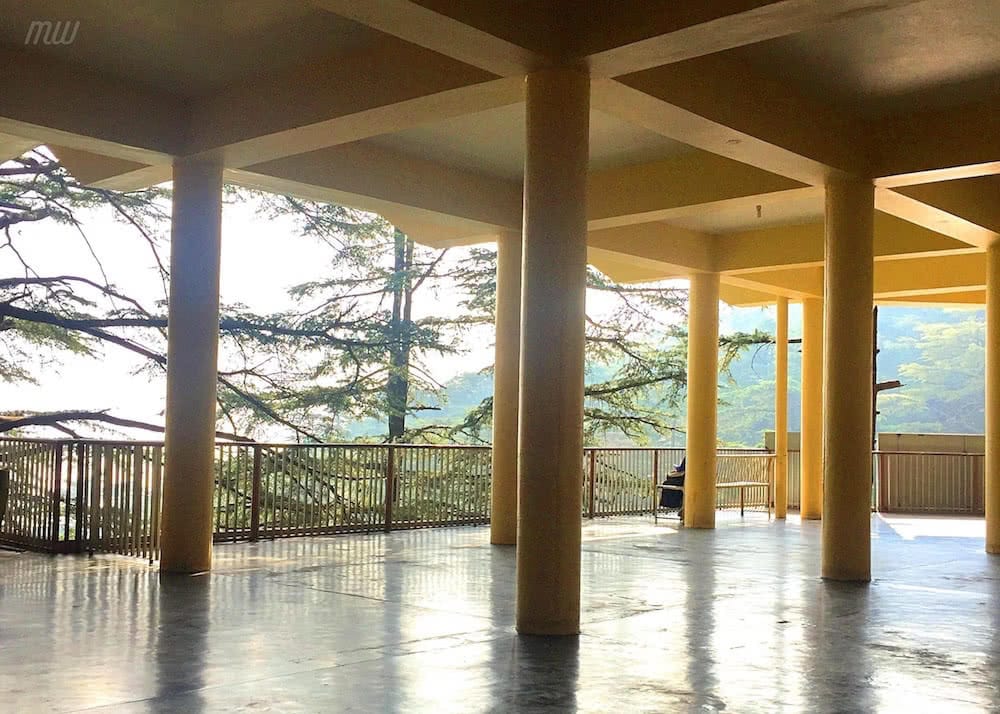 There were seats in front of the temple, but my heart insisted to sit on a concrete floor instead. I wasn't even inside the temple and I spent almost two hours. Sitting all by my endless thoughts and watching monks reciting their prayers, I felt I was not part of this world. Perhaps it was a spiritual experience I was absorbed into.
There was a humming of monks coming from the inside and it made me curious and to stand up and go inside now. I reached inside and saw a huge golden sculpture of Lord Buddha right in the middle of the temple building. I saw some tourists and monks performing the prayers in front of it. For the first time in life, I saw how Buddhism believers perform a prayer.
The Buddhists Beliefs
As I walked more to the side of the Dalai Lama temple, I got to see some more mesmerizing views of the Himalayas. Behind the temple, there were Prayer wheels. In Buddhism, it is believed that rotating the wheel in the clockwise direction for one full rotation is as effective as chanting the mantra. No wonder, it would be really helpful to people who can not read.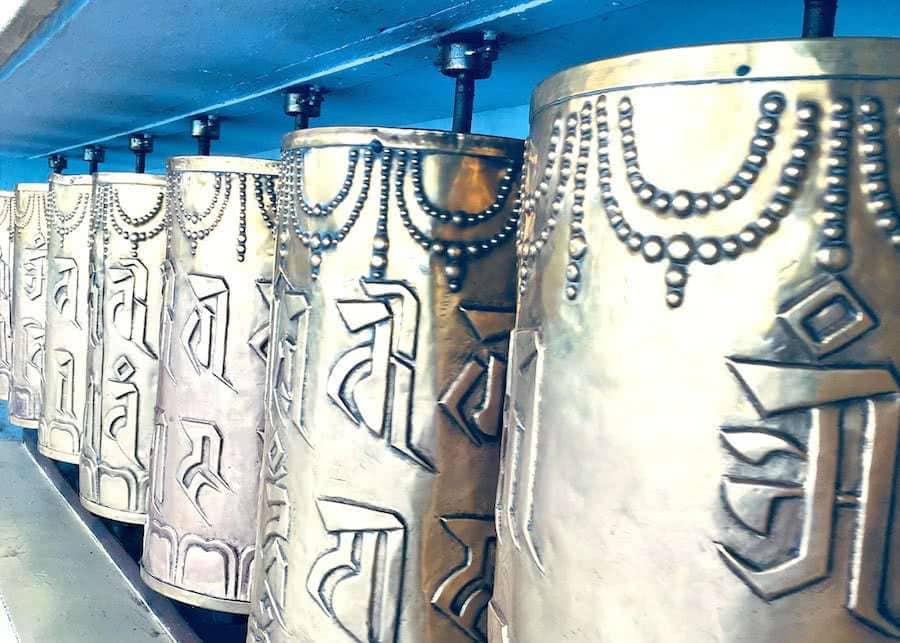 Past rotating the Prayer wheels and reading the Buddha's wisdom written over the walls of the temple, I came back to the same hall near to the entrance of the Dalai Lama temple and devoted myself to the admiration of nature and silence.
As it turned out, it was also the place where all the monks usually sit to recite the prayers. It was vacant and peaceful – just like how I wanted me to be.
Untangling the Mind
In the process of exploring my thoughts, I felt so alive and in the present. There was no one who was for me, neither I was there for someone. Still, it all felt complete. It made me realize how important is to often spend some time with yourself.
The calmness of the Dalai Lama temple was contradicting the crowd inside my soul. I reflected on the problems in my life as I lost myself in the sea of thoughts. I would not say I got solutions to my problems but I'd definitely say I got that belief in myself. That's what the Dalai Lama temple gave me.
Embrace What You Got
After 3-4 hours I left the temple complex to catch my bus from the Dharamsala bus stand. Maybe I was carrying the teachings of Lord Buddha with myself as the biggest gift.
The little things in life, sometimes we forget to embrace them. The breathing, the seeing, the ability to walk anywhere, don't they count? Certainly, they do.
---
Commonly Asked Questions
When does Dalai Lama temple open?
The temple is open from 8 am to 8 pm and people from all religions are welcomed here.
Where is the Dalai Lama temple situated?
The Dalai Lama temple is situated in McLeod Ganj, Dharamsala, Himachal Pradesh – 176219
How to reach Dalai Lama temple?
To reach, Dalai Lama Temple, you have to first reach Dharamsala which is situated in Himachal Pradesh, India. There are many buses from New Delhi's Kashmiri Gate ISBT. The nearest airport is the Kangra Airport, located in Gaggal, which is near the Kangra district of Himachal Pradesh. And the nearest railway station is Pathankot.
---