Note: This is the third part (of total four) of the blog series 'Trip to Dalhousie.' If you haven't read the previous parts, click here to read first and here to read the second part.
Two 'well spent' days have already been passed in Dalhousie and now we're here for Day 3. So far we had already explored some key places of Dalhousie but in an unconventional way. This is the 3rd part of our travel story and we're excited to take you forward in this space.
Time is a funny thing, isn't? It passes like 'swoosh' when you don't want it to but remains stagnant when you want it to be over the most. Today was the day when we had to bid goodbyes to our new friends cum big brothers. And supposedly pack ourselves up to depart the next day. But that's the beauty of life, it has lots of surprises to make us exclaimed at every stage.
Day 3: August 14, 2018
The morning welcomed us with a pleasant rain and cloudy weather. Nature was blossoming like a flower with its vibrant colors spilled everywhere in the atmosphere. Rain does something to humans, just as the music does to a soul.
Yawning and twisting, we left our bed around 10 am (like sloths) and made ourselves fresh for the upcoming day. The rain had embarked a longingness for tea. We went up to the cafeteria to enjoy our tea along with the beautiful weather. We just sat there and did nothing except writing lyrics and quotes on the walls of the cafeteria, promoting our blog by engraving our logo with the help of marker at the same time. It was already 11:30 am by the time when we started to hurl up for our day's venture. As this was the day when our trip partners were supposed to leave for Amritsar, resulting in a contraction in the number of places to visit. Trekking was already out of our league. Nobody wanted to visit Khajjiyar just to witness a grass field (at least that's what we were told by the locals) but a place to experience some exotic feels. The only place left was Kalatop Wildlife Sanctuary.
• Kalatop Sanctuary – A walk in the wilderness
With the help of our hostel staff, we booked a Tata Sumo for the purpose. It should not come as surprise, with us being sloths, that we left around 1:30 pm from our hostel. The dusky vehicle wasn't much of a comfortable ride and it required us to hold the headrests for the support. All the way to Kalatop, we were again blessed with mesmerizing views of nature. It was as if an untouchable gift of nature.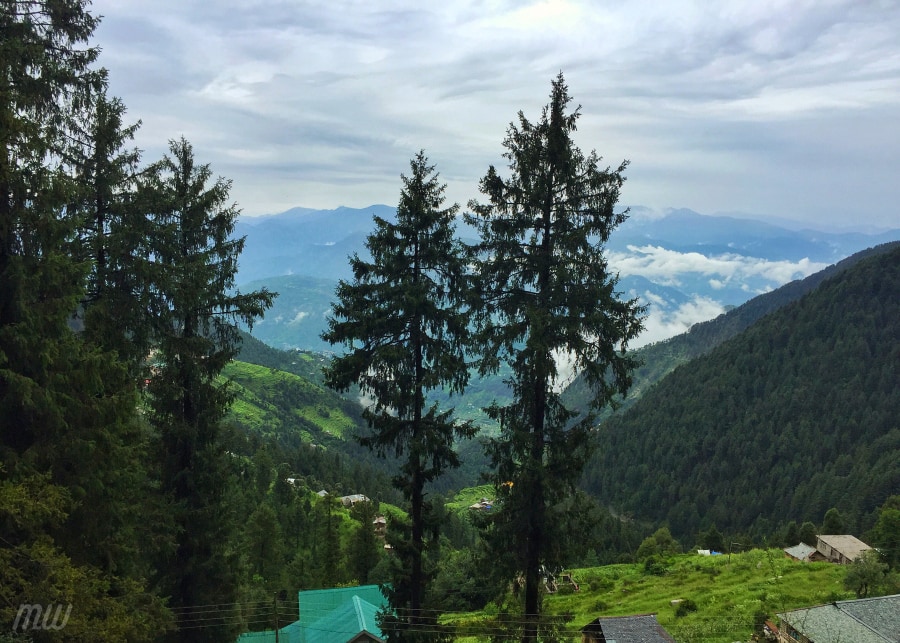 We stopped mid-way to get some more pics with our heads gazing at the vastly spread mountains and the whitish clouds patching them. Even we saw a deer roaming deep down in the forest on our way. It was an hour ride or so, to reach the entrance gate of the sanctuary. Our driver parked the vehicle and told us that he'll be waiting right there.
Quick Info: Kalatop, which is situated around 12 km from Gandhi Chowk, is a 30 square kilometers spread forest inhabiting bears, leopards, marten, mountain cats etc,. Also holding picturesque spots on the top.
As we marched through the gate, an unknown silence was there in the environment. There was a closed souvenir shop, no humans could be seen, and the only greenery all around with tall deodar trees. After a stroll of 10-30 m, we saw a little cafe serving various snacks such as Maggi, coffee, tea etc. From beside the cafe, there went a way to reach to the 'top point.'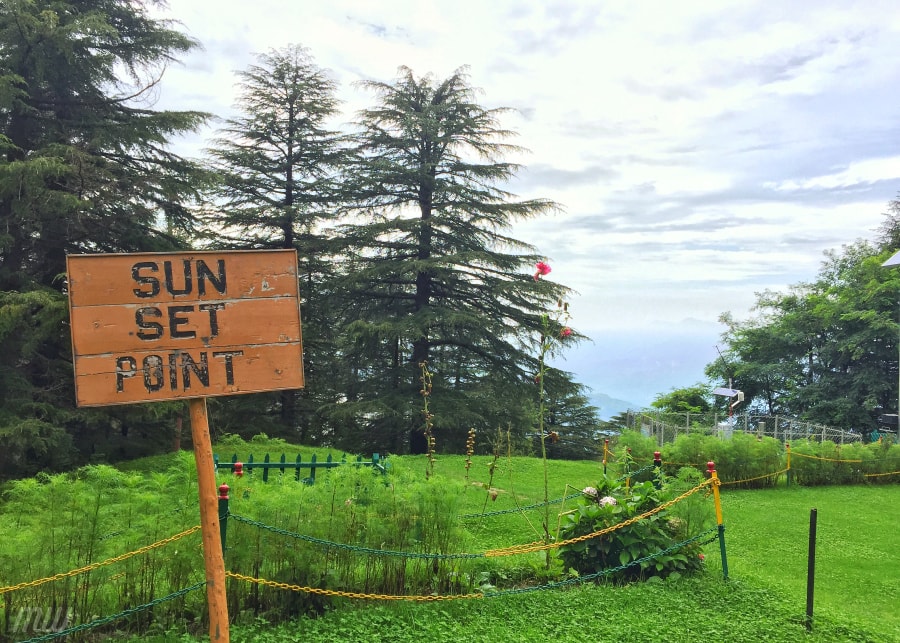 There was a small resort nearby, a sunset point and some old village huts laying impelling a local feel of a village. There was also an option of adventure activities which was quite expensive as compared to other places we'd been. And we didn't go for that, for obvious reasons. The view from the top was astounding and gave us the feels of heaven. We could see the depth of nature, and the greatness it laid in front of our eyes. And it all made us feel how we're a single flake of snow in a large snow-covered mountain. Even if we're small, we still are as beautiful as our beautiful nature.
Quick Info: Kalatop is also a starting point for the famous trek Khajjiyar-Kalatop, 12 km on foot from Kalatop sanctuary.
After spending an hour in the photography session and a fascinating walk in the wilderness of deodar trees, we all went back to our vehicle as Mohit, Mahender and Amit had to catch a bus for Amritsar, Punjab.
Around 4:15 pm, we reached Gandhi Chowk bus stand. It was time for us to bid goodbyes to our brothers. We shook hands and hugged each other, asking them to inform us when they reach. They left by 4:30 pm on a bus, and now only we were there. We made plans of gazing at nature's beauty and sleeping when we reach the hostel. But when do plans really succeed?
We reached our hostel, Zostel, by 5:00 pm by the same vehicle which took us to Kalatop. It was indeed a feeling of emptiness that could be felt due to those three people leaving. We reached the hostel's reception with the intention to order something to eat, but were exclaimed to see that the cafeteria was being decorated for the occasion of Independence Day!
• A new friend, from the neighboring city
As we saw the bubbly environment of the cafeteria, all the positive vibes got soaked inside our bones. We met the girl there with whom we had had introductory talks on the previous day. Her name was Nikita, and she was the critical part in helping the Zostel staff with the decorations. As we met again, we also joined the venture of decorating Zostel with our tricolor. Balloons, ribbons, tricolor stripes, and some soulful patriotic music had woken up our patriotism. Zostel served us free coffee and snacks in the meantime. After our combined efforts, of four hours or so, with the help of the staff, we completed the decoration around 9:30 pm.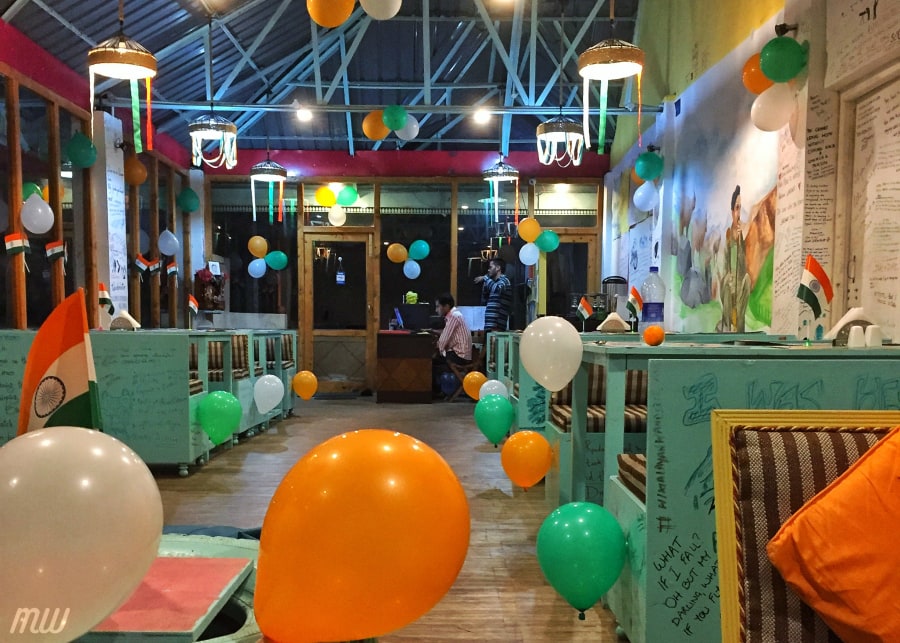 Our talks with Nikita got deepened varying from topics on feminism to siblings as we sat for dinner together in the cafeteria. Even after the food was swooshed from our plates we kept on talking for hours. That night, we all sat in the common area talking late at night about our lives and travel inspirations. She was on her first solo trip and was enjoying every bit of it. She was so moved by the idea of traveling and following one's passion that she'd made her mind to quit her accountant job. She also shared some travel and blogging tips from her own travel and life experiences. Coincidentally she was from the neighboring city from where we came and so she gradually detected our dialect. We talked in our local dialect and laughed out of our hearts and a connection was felt. After the long soulful talks, around 2 am, we gradually slid into our own beds. And oh, it was already our Independence Day!
So that's how Day 3 came to an end, with missing some friends and making a new one. The next day i.e., Day 4 had already come but its story is yet to start. Excited? Even, we are! Stay connected.
Follow us on Facebook and Instagram for more travel-ly stuff and life philosophies.
© 2018 An original creation of Misfit Wanderers