"Mai Apni Jhansi Nahi Dungi" (I will not give my Jhansi)

Jhansi ki Rani, Laxmi Bai
Every time you hear these words, you feel a vibrant flow of energy and enthusiasm. It was said by Maharani Laxmi Bai, an inspiration for millions of people like us. And today, we're going to take you on a short trip to her land – Jhansi.
Jhansi was our next stop after covering beautiful beaches in Goa and exciting places to visit in Pune.
Without further ado, let's take you on the virtual tour of Jhansi. In this travel guide, we'll tell you the Jhansi visiting places, foods & eateries, activities you can do, and how you can reach Jhansi.
---
---
Notice: This post may contain a few links which might earn us financial support when you buy or make any reservations through them. They're in no way affect our opinion or the information presented here.
Jhansi Visiting Places: Top 4 Places You Can't Miss
The fierce bravery and courageous stories of queen Laxmi Bai fill your heart with pride. As an Indian, visiting her land to live her story is the best thing you can do.
Once upon a time, even the mightiest king was bowing down to British rule in India. At that time, Maharani Laxmi Bai Ji single-handedly fought the British.
You are welcome on her land. Here's Jhansi visiting places list (top 4):
Jhansi Fort
Rani Mahal
Government Museum
St. Jude's Shrine
Let's see them one by one.
1. The Grandeur Fort of Jhansi
This fort should be #1 in your list of places to visit in Jhansi
It was first built on Bangra Hill in 1613 AD by the Bundel king Bir Singh Ju Deo. Being at a height, you can view the entire city from here. Later, this fort was occupied by the Bundels, Mughals, Marathas, and the British.
The Maratha ruler Narushankar made changes to this fort in 1729–1730. In the revolution of 1857, while fighting with the British, Maharani Lakshmibai lost her life. After that, this fort went under the authority of British rule.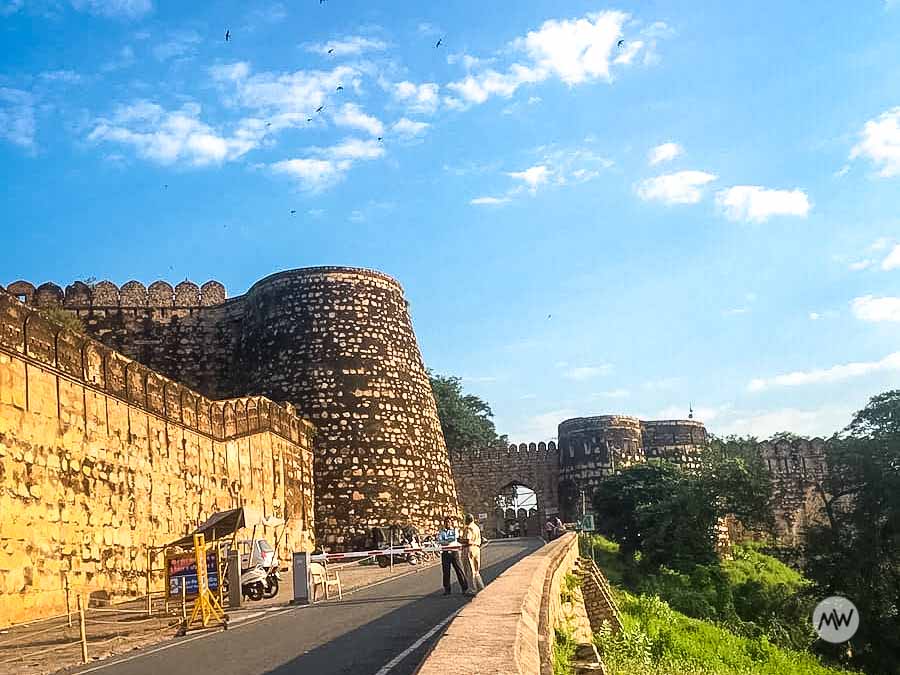 The fort spans over 15 acres, with 22 bastions and two sides of the defense moat. The city wall had gates called Khanderao, Datia, Unnao, Orchha, Bargain, Laxmisagar, Sainikar, Bhander, and Jhirna.
Within the fort, Baradari, Panchmahal, Shankargarh, Memorial Semantry, Kaal Kothari, hanging pillars, and Ganesha Temple and Shiva Temple, centers of the regular worship of Rani Ji, are typical specimens of Maratha architecture.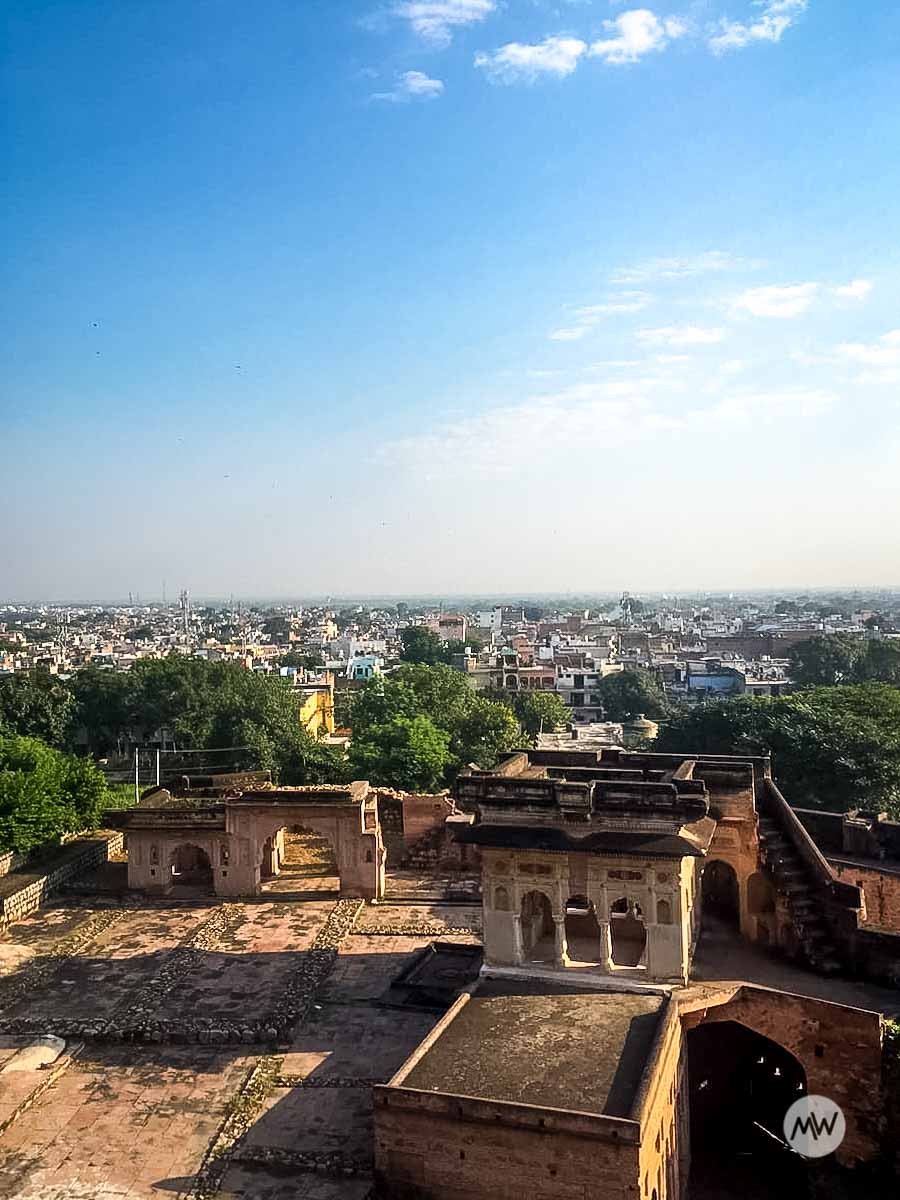 The graves of Lakshmibai's notable associates Ghulam Gaus Khan, Khudabakhsh, Moti Bai, the thunder lightning, and cannons named Bhavani Shankar are worth seeing here.
The major tourist attraction is the "Kudan-Sthal," or the jumping spot. Popular beliefs say that Rani Lakshmi Bai jumped out of the fort from this point on a horse and with her adopted son during the battle.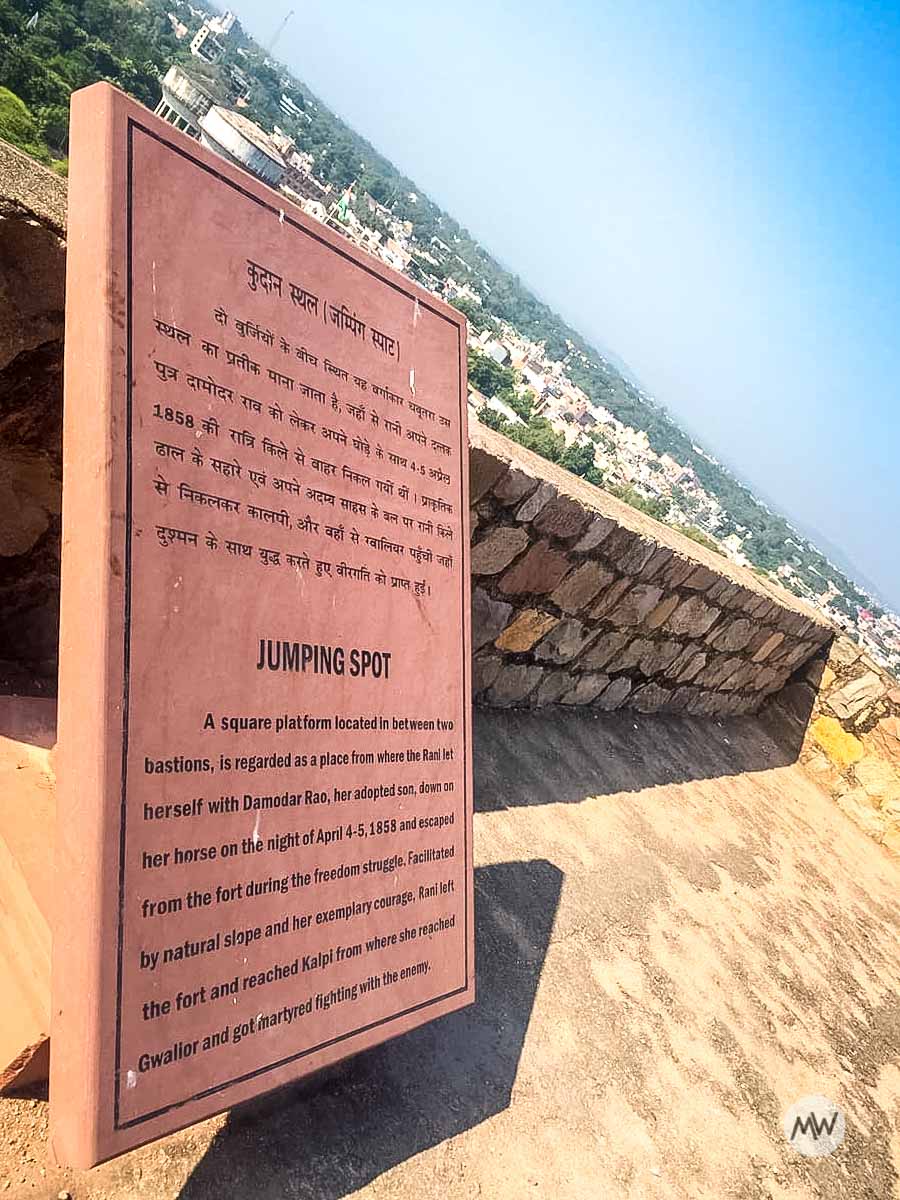 Every day a free documentary is depicted in the fort, the details of which are as follows:
8:30 am – in Hindi
9:30 am – in English
11:30 am – in Hindi
1:30 pm – in English
3:30 pm – in Hindi
The entry ticket price (in Oct 2019) was INR 25 for Indians and INR 300 for foreigners.
2. Residence of the Brave Queen: Rani Palace (Rani Mahal)
Rani Mahal is 500 meters from Jhansi Fort, and you can reach here on foot easily, 10 minutes walk. It is one of the best Jhansi visiting places.
Since it's near the city center, you will find a stir here all the time. It is a simple two-story building, but the things and artwork inside will overwhelm you.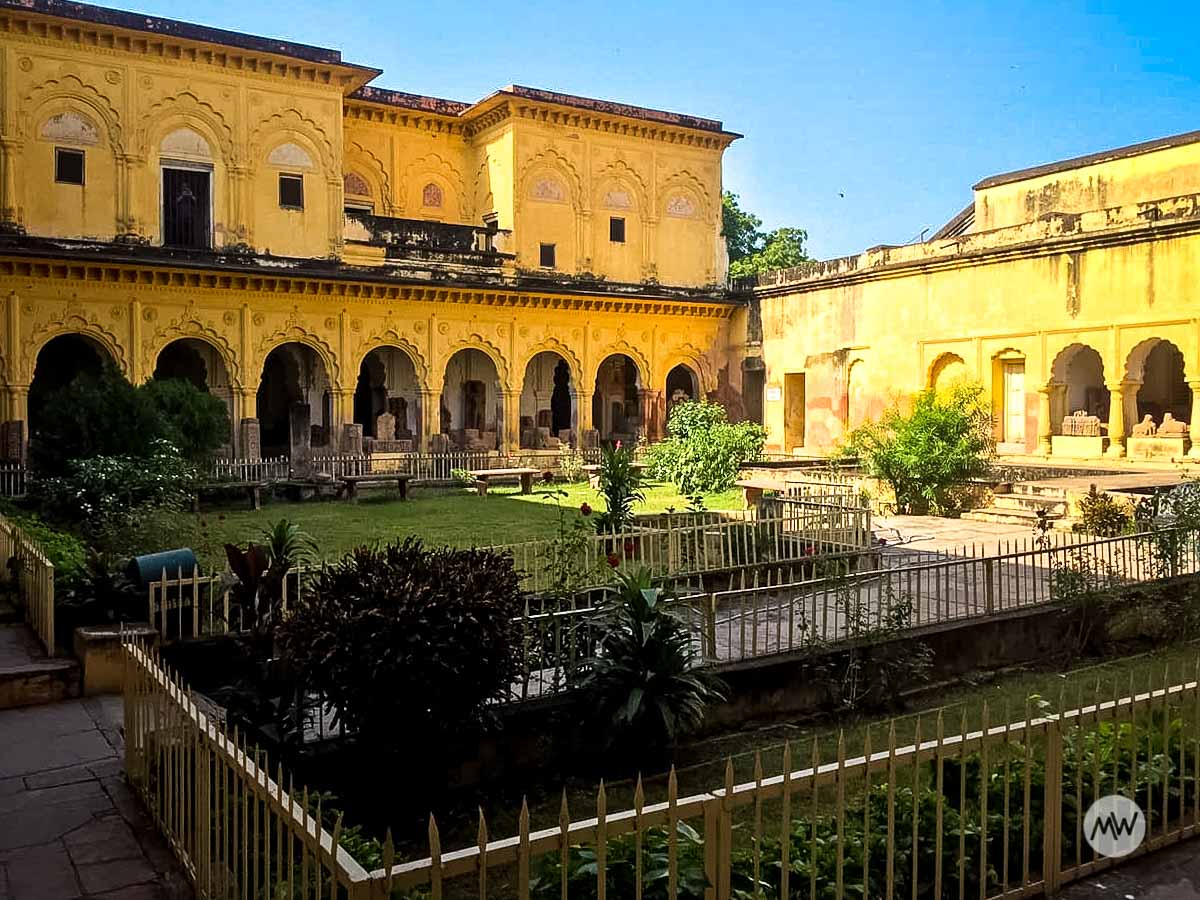 Raghunath Rai II built the Rani Mahal, which was later converted as the residence of Rani Laxmibai.
It is a rectangular building with a courtyard in the center and miniature well and fountains. There are some small rooms and halls inside the Mahal.
On the ground floor, rooms are kept full of ancient statues excavated from nearby sites. According to the Archaeological Survey of India, these statues are from the Madanpur, Chandpur, and Barua Sagar sites under Lalitpur, Jhansi district, respectively.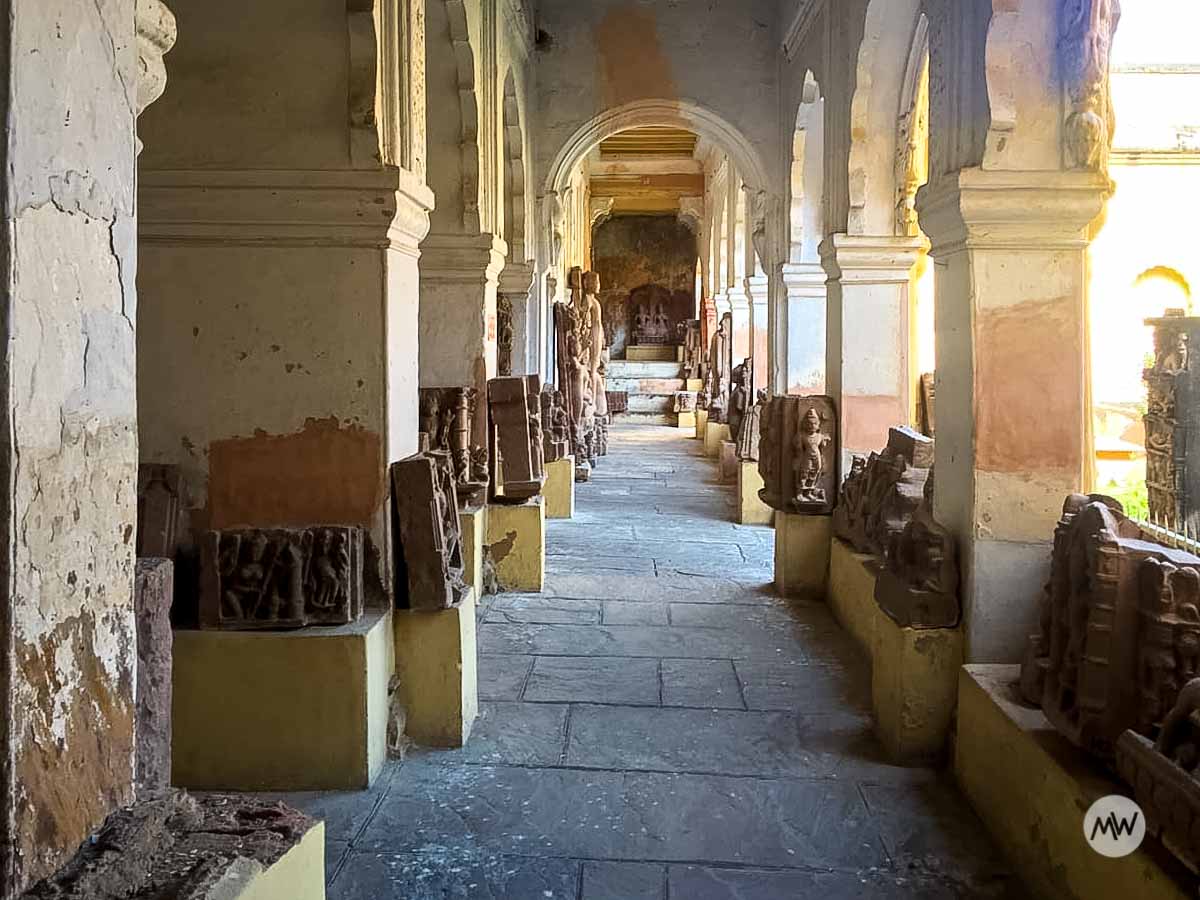 As soon as we reached the hall above, we saw colorful artwork on the walls and roofs – and the results? We couldn't take off our eyes.
3. National Museum
The museum's distance from Jhansi Fort is just 450 meters, which you can do on foot or via an auto-rickshaw.
The museum has a collection of terracotta, bronze, weapons, sculptures, manuscripts, paintings, and gold, silver and copper coins.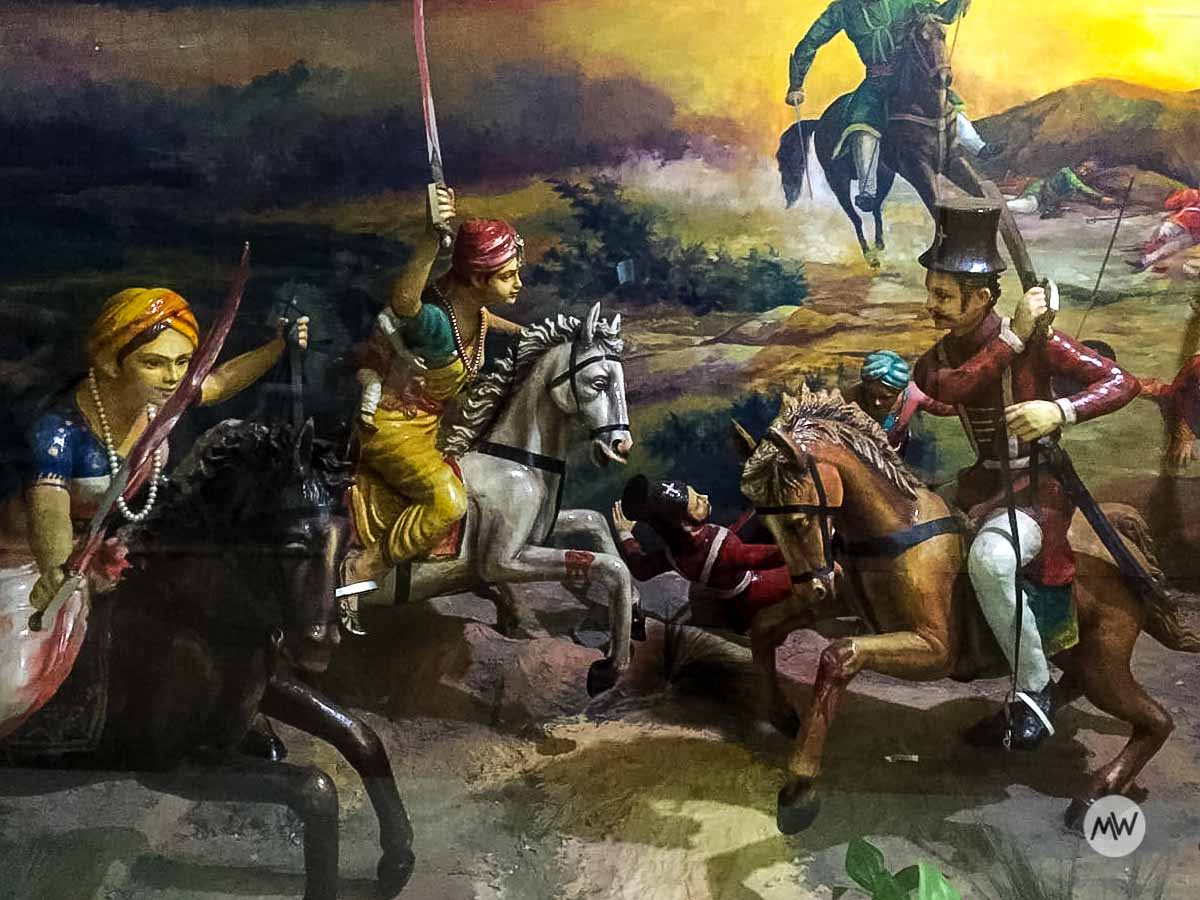 This museum will not disappoint you if you wish to know more about the First Freedom Struggle. Every single incident in Jhansi during the freedom struggle is well depicted. This is easily one of the best Jhansi visiting places for history lovers.
This museum is dedicated to Maharani Laxmibai and therefore sings the brave & heroic stories of her life, the Indian Mutiny, and the sacrifices made by our martyrs.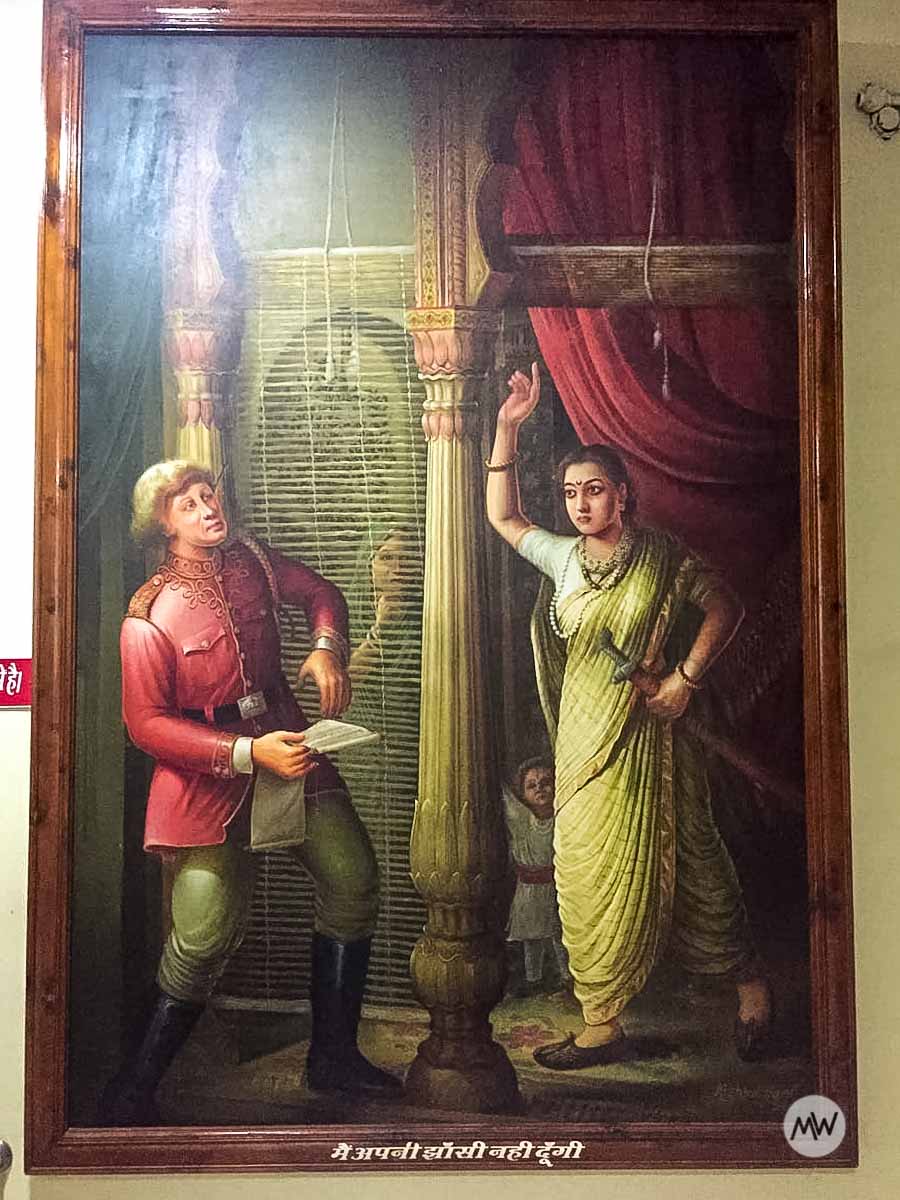 Note: Except every Monday and on the second Sunday of each month, you can visit this museum on any day from 10 am to 4:30 pm.
4. St. Jude's Shrine
This church is 2 km from the city center. It is a Roman Catholic Church and one of the main Jhansi visiting places for predominantly Catholic Christians.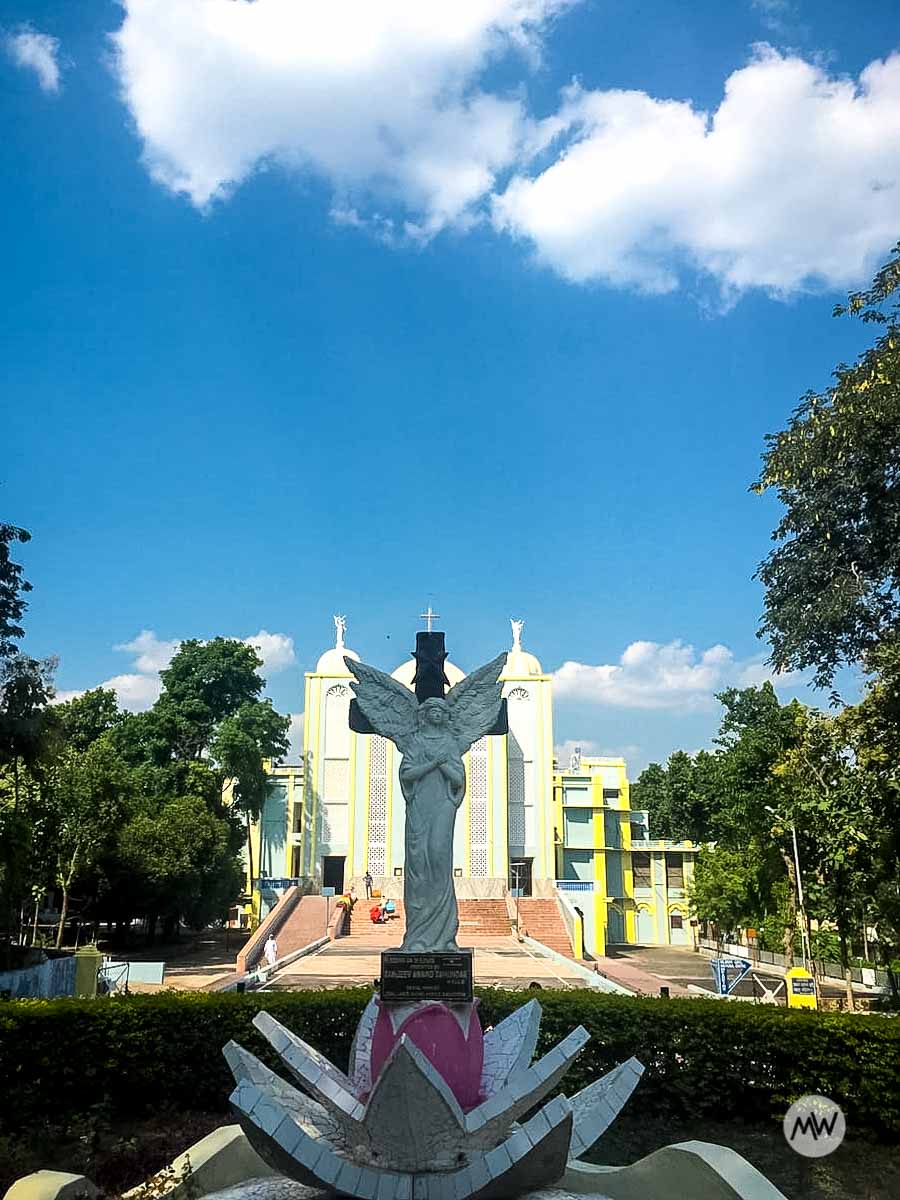 The St. Jude Shrine is dedicated to St. Jude Thaddaeus and is an integral part of the Roman Catholic Diocese of Jhansi. Beliefs have it that the bone of St. Jude is in the foundation of this building, buried. The sculptures in the complex depict the remarkable story of Jesus Christ.
A large fair is celebrated with great enthusiasm every year on 28 October in St. Jude's Shrine, which attracts many people from far and wide.
Jhansi visiting places: Tasting Local Cuisine
Jhansi comes under the Bundelkhand region so that you can see the predominance of Bundelkhand flavors here. The city is famous for its street food. People savor tea, samosas, chaat, pakoras, and lassi with enthusiasm.
| Food Item | Where Can You Have It? |
| --- | --- |
| Chai (Basand Yadav's Tea) | Sipri Bazaar |
| Dau's Kadhi Samosas | Near Jhansi Fort |
| Narayan Chaat | Sadar Bazar |
| Shrinath's Pav Bhaji and Pulao | Sadar Bazar |
| Delhiwala Chaat Store (Panipuri & Chaat) | Manik Chowk |
| Other snacks and street food | Sadar Bazar and Sipri Bazar |
Apart from this, some prominent places to eat are Jainac, Shilpi Hotel, Samrat Hotel, Haveli Restaurant, and Navbharat Restaurant.
What to do in Jhansi?
What more can you do after exploring all Jhansi visiting places? Here are some ideas to spend your spare time in Jhansi.
1. Be a part of Jhansi Mahotsav
Jhansi Mahotsav is a city-level festival that happens in February each year. The event is organized by the state government and showcases the cultural heritage of Bundelkhand. Also, handicraft and other competitions are organized.
2. Visit the Vegetable and Flower Exhibition
Every year in February, an exhibition of vegetables and flowers happens in the State Garden Narayan Bagh. Farmers from different regions come here to show their fruits and vegetables. In this three-day event, you can learn about flora and fauna and see the intricacies of farming.
3. Feel the aura of the Revolt of 1857
We all know that Jhansi has made a significant contribution to the Indian Independence Movement.
You have been listening to the saga of the bravery of Maharani Laxmibai and her contribution to the revolt. Inside the National Museum and Jhansi Fort, you can relive those moments of the Indian Mutiny in 1857.
4. Go on a Self-guided City Tour
If you have spare time, the best way to understand a city is to travel like a local. So hop onto the slippers, new jeans, or pajamas and go on a self-guided tour of Jhansi. Visit some local markets, shops, and savor street food delicacies.
Souvenirs to Buy in Jhansi
While you're scouring Jhansi visiting places and foods, don't forget to take some souvenirs back to your home.
There's no other thing other than the souvenirs which you can buy as a remembrance of a particular place. You can buy bangles, handicrafts, jewelry, brass items, and clothes of colorful designs as souvenirs from Jhansi Uttar Pradesh, India.
Here are the local markets of Jhansi which you should try:
| Market Name | Items You Can Buy |
| --- | --- |
| Sadar Bazaar | Branded clothes from many outlets |
| Sipri Bazaar | Bangles, handicrafts, jewelry, brass items, clothes, shoes, and slippers |
| Manik Chowk | Pot, jewelry, and electronics |
Public Restrooms and Sanitation
We spent a whole day in Jhansi and here's our conclusion. All public places and attractions have a public restroom facility. Along with this, we also liked the cleanliness of the city.
You get to see the Bundelkhandi glimpse in the speaking of the people here.
Mode of Transport and Distance Between Attractions
In Jhansi, you will easily find tuk-tuk and e-rickshaws to reach from one attraction to another.
Nonetheless, all of the Jhansi visiting places not too far away from each other. You can see the map below for further information:
How to reach Jhansi?
Where is Jhansi located? Jhansi is in the Uttar Pradesh state of India. You can reach here using railways, airways, or roadways. Here how:
Railways
Veerangana Lakshmibai Jhansi is an essential station on the rail route connecting Delhi to the Chennai route. There are trains from every corner of the country for here.
Roadways
Government and private buses operate daily from metro cities like Delhi, Lucknow, Khajuraho, and Agra.
Airways
Jhansi does not have an airport — the nearest airport is Gwalior (103 km) and Khajuraho (175 km). Both the airports have flights from major cities of India.
Best Time to Visit Jhansi
If you want to get the best of all Jhansi visiting places, foods, souvenirs, and more, it's a good idea to come in a favorable month.
The best time to visit Jhansi is during winters between November and March. The weather is pleasant during this time.
The sun is scorching, giving unbearable heat during the summer. It becomes difficult to walk on the roads during the monsoon due to rain.
The perfect time to visit Jhansi is probably in February, as Jhansi Mahotsav and many other notable events happen during this time.
Number of Days and Budget
The list of Jhansi visiting places isn't long; only a few places you can see.
If you're interested in visiting history and museums, you must devote at least two days to the attractions and the other day to the local cuisine and markets.
If you want to see only the essential attractions in the list of Jhansi visiting places, even one day is enough.
The budget also depends on the type of travel you are doing. Well, here's one typical budget.
For one day: INR 1,500
For two days: INR 2,500
Accommodation Options in Jhansi
There are options available for every type of traveler in Jhansi. If traveling on a budget, you can choose cheap accommodation such as hostels, lodges, and guest houses. There are also better 3-star hotels available for luxury travelers.
Apart from this, Rahi Veerangana Tourist Bungalow operated by Uttar Pradesh Tourism Department, is also available.
Practical Travel Tips
If you reach early in the morning then you can cover all Jhansi visiting places in a day. Two days is enough to fully enjoy the city.
If a plan is made in the month of February, then definitely attend the Jhansi Mahotsav. Vegetable and flower exhibition is also held in the same month.
If you're coming in the summer, bring light clothes, a hat and a water bottle with you. Be sure to bring light woolen clothes in winters.
Jhansi Fort, Rani Mahal and National Museum can be covered on foot as well. All are located only a few meters away from each other.
You can also go to Orchha from here, which is another beautiful tourist destination. The distance between Jhansi and Orchha is 15 km. You will frequently get bus and private cabs for there.
There is a Tourist Information Center at Jhansi Railway Station, where you can get more information about travels and heritage of the city.
Some FAQs Related to Jhansi
What are the best places to visit in Jhansi?

The best places to explore in Jhansi are Jhansi Fort, Rani Mahal, the National Museum, and St. Jude's Shrine.

Jhansi Location – Is Jhansi in Madhya Pradesh (MP) or Uttar Pradesh (UP)?

Jhansi lies in Uttar Pradesh shares its boundaries with Madhya Pradesh. It is 478 km from Delhi and 314 km from Lucknow.

How to reach Jhansi?

Jhansi is connected very well through rail and road networks to major cities in India. Gwalior (98km) is the nearest airport to Jhansi and Jhansi itself, a railway station connected to Delhi.

How far is Orchha from Jhansi?

The distance between Jhansi and Orcha is 17 km.

Is Jhansi safe for solo travelers?

Yes, you can solo travel to Jhansi whether you are a male, female, or others – avoid going out at night. Jhansi is safe compared to other major cities of India, with a crime rate of 26.92 (low), according to Numbeo.

Who is Jhansi ki Rani?

Jhansi ki Rani, Queen Laxmi Bai, is a strong female figure from Indian history known for her courage and fearlessness. She played an essential role in the Indian Mutiny of 1857.
---
Last Few Words
We hope you'd like this experiential travel guide for Jhansi visiting places, foods, souvenirs, and everything you need to know. If you're a history or architecture buff, visiting Jhansi should be on your list.
Further, if you liked this article, one share is all we need. If not, we want to make it best for you; please drop your suggestions and comments.
What are your experiences with Jhansi? Please share a few!
---
An appeal: Please do not throw litter around. Use a dustbin and if you can't find one, take the trash with you and throw it when you find one. Your small steps like this one can make the world clean and green.