I was standing by the roadside looking at the orange hoarding of Zostel. It had these lovely rainbow stairs to it's paradise. I carefully got down the stairs and started looking around, trying to figure out the place. I saw group of guys discussing something and enquired them about reception. Once I found it, I cleared my due payment for the booking I made. Thereafter, I kept my bags in my locker and started exploring place.
DAY 1: Soak in the view!!
It was in the middle of the day and place was all covered in fog. There was no view. As I was too hungry, I ordered my lunch. While eating in the lovely cafeteria of Zostel, which had these large windows, I glanced through them and saw magic. It was clear outside, fog and clouds were all gone, just within few minutes. AND THE VIEW!! My eyes were wide opened. I knew Dalhousie would be beautiful, but this beautiful? I was stunned with the beauty of nature and couldn't believe what I was looking at. I was on cloud 9 and it was pure heaven.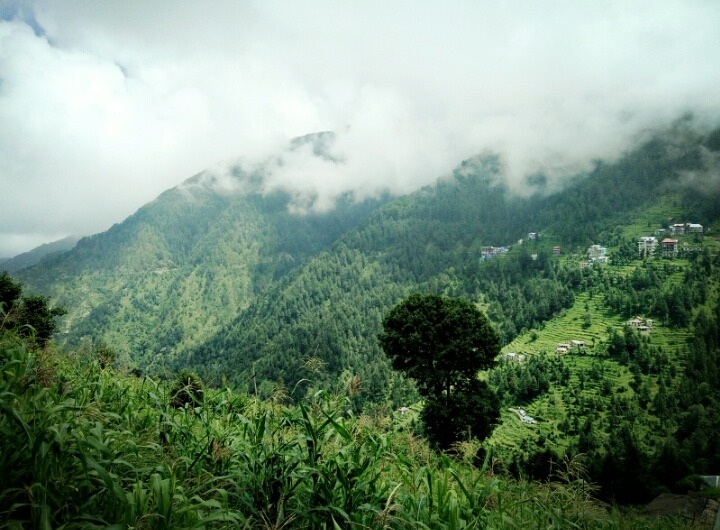 I sat there for longest of time and just stared outside. Later, I walked in to this open terrace to get a closer look. I sat there in complete silence and just kept looking at the beautiful mountains and trees around. As I was tired after the whole journey, so decided to rest. I slept for so long that by the time I woke up, it was already dark and Zostel was full of people. I sat in the balcony right outside my dorm, with my book and plan was to read. But the place was little too loud for that. So I dumped the plan.
I met the same group of four, whom I had asked the way to reception in the afternoon. Then I met two girls from Delhi, a couple from Mumbai. We sat in cafeteria and started playing "Uno". I was new to it, playing with pro and lost it big time. But it was so much fun. We all chatted, ate, laughed and played like long lost friends. That's the beauty of Zostel. POSITIVE VIBES!!
We sat there until midnight. It was time for cafeteria to be closed.. But no one wanted to call it a day. So we went to balcony outside of our dorms downstairs and started talking about anything and everything. Though it was completely dark outside and we couldn't see anything, it was nothing less magical to hear that sound of water coming from nearby water body.
It was getting cold outside. So we decided to continue our chatting in common area, which was already little crowded. We talked more, listened to music, then talked little more and decided to go to sleep, so as to start the next day with all our energy.
I came back to my dorm only to find my blanket missing. I remembered, there were few guys in common area, who were gathering blankets from every dorm, for themselves. But I never expected mine to be gone. This wasn't happening.
I was too cold and had no blanket. But there was nothing that could've been done in that moment. So I decided to try and sleep without a blanket. It was already 2:30 am and I kept trying to sleep for another hour. With great difficulty, I somehow managed to sleep for two hours. Why couldn't I have a day without a challenge ?
Day 2: Trekking in the woods..
It was 5:30 am and it was all bright again. I could've slept until 10 in the morning, if and only if I had my blanket. But as I was already too cold to sleep, I got ready to welcome the new day with smile rather than nagging over something. I was out in the balcony and decided to check around.
There were these stairs going down in to the valley. So I got down those stairs and in the few minutes.. I was in the middle of huge crops of corn. I kept moving down in to the valley, and met this local lady, who was curious about the girl roaming around alone this early in the morning. We chatted for a while, when I bid her goodbye and moved on to explore the place.
It was drizzling and place was slippery. I went till the plane area, where there were two small houses. Every view was so beautiful, and I was so happy. I sat there for a while. It was starting to rain little heavier, so decided to head back.
After coming back to Zostel, I went to cafeteria, had my breakfast and just soaked in the peace of the place. Everyone was up by this time and cafeteria was crowded again. Group of four friends was leaving today, so we clicked pics, exchanged numbers and laughed little more. I planned to go for trekking to Kalatop and the couple and Delhi girls decided to join in. So after bidding goodbye to the group of four, we arranged for the guide for our trek and were all set for it.
We were 6 people in the trek, and 4 were unfit for it. The two person who were fit, comprised of our guide himself, who was literally done with us. This was in the beginning of the trek itself. We were struggling.. To climb up, to keep our balance and to not slip. We started playing songs on our Bluetooth speaker and started chatting to keep each other engaged.
We walked through forest, roads, denser forest and kept moving upwards. We stopped every now and then, as weren't used to of walking this much of distance and were tired easily. But the view paid off for every pain and our company kept us strong. After walking for God knew how long, we reached Kalatop and went to this small cafe where we had coffee and 'pakodas' with amazing views.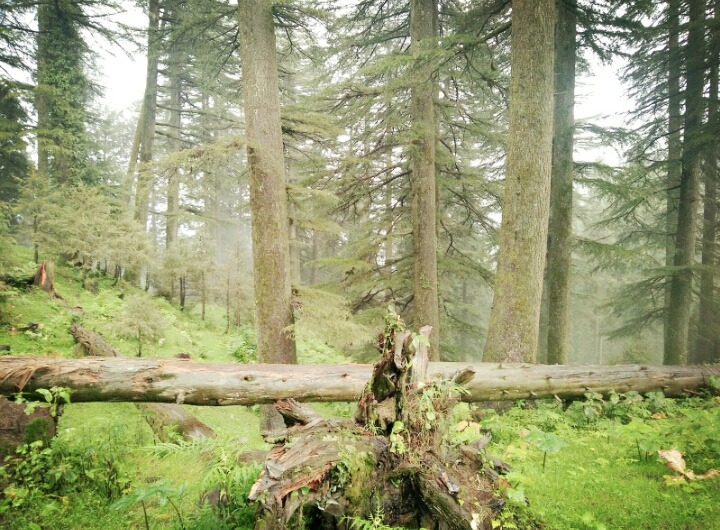 Trek wasn't about reaching at the top, but moving together, enjoying the journey and the view, more like life. It made me learn things, it showed me how it wasn't about the race, and so much about slow and steady process of trying and not giving up. And how all the efforts made were paid off with the taste of victory or say coffee in our case.
Delhi girls were having bus back to Delhi at night and it was already evening, so we decided to take cab back to Zostel. On the way back, we saw prestigious Dalhousie Public School. Once we reached Zostel, it was again time to bid goodbye to newly made friends. Thereafter, I came back to my dorm, and decided to chill with my book. I started reading and never realized when I dozed off. I slept like a baby, after tiresome but seriously awesome day.
DAY 3: Preparations for Independence Day..
I woke up around 6 am to the beautiful view again. I was famished, as I didn't have any dinner day before. So I got ready and reached cafeteria again. Ordered some 'paranthas' and coffee. The best part of getting up early was to get the entire cafeteria for myself. As if I owned it and it was all my place. I savored my breakfast and started reading again in the cafeteria itself.
I read for quite long, when couple showed up for breakfast and told me it was their time to leave. I was little sad. It was too fast to say goodbyes to so many amazing people, in such a short span. Well! It was my solo travel, but made friends on the go. I talked to them for sometime. Exchanged pics of the trek, told them how amazing it was to meet them and the feeling was mutual. They left to get ready and pack their stuff and I resumed reading. In couple of hours, I said goodbye to another set of friends.
So made 8 friends in two days and it was just me on third day. I was feeling bit low to be honest, wasn't much of a good feeling, as I am really bad at saying goodbyes. But you always cherish the memories you make.
I was reading again and was in to my book, when I heard people discussing about their destination for the day and just so you know, they were the same set of people who were gathering blankets that day. One of them was trying to convince the cab driver to charge less and the way he was doing it, was hilarious.
They were talking about the place to go. So I suggested Kalatop, as that was the only place I had been to and they hadn't been to. I told them beforehand, that it was more about the view on the route than on the top, and suggested them to stop in between to get some lovely views and pics. And they left for Kalatop.
Now it was me, my Zostel cafeteria and my book AGAIN. Zostel staff was busy with some arrangements, when my guide from yesterday trek came over and told me, that they were going to decorate cafeteria for Independence Day Celebration. I was asked to help and guide them in the decorations. I said yes with the excitement, I never had for anything else.
There were ribbons, flags, balloons, everything that we needed for decor and I had people who were willing to follow my guidance. What else do you need in life. One thing that I missed to tell you about this cafeteria is it's music. It always stays vibrant with the music that keeps playing there and messages that people have written everywhere in and around it. So, I played some of my favorite patriotic songs to set the mood and started with the decorations.
We started with balloons and divided team to compete against each other and I lost. Ah! Then I assigned the duty of balloons to the more efficient person, my guide, fittest of the all. Till then I was invited by another staff to play "Jenga" with them, and I was new to this one too. I lost first game and but I understood the trick and won two. Not bad. Balloons were set by then. We made set of three in tricolor. Everyone started with the decorations, and now windows were covered in flags and balloons.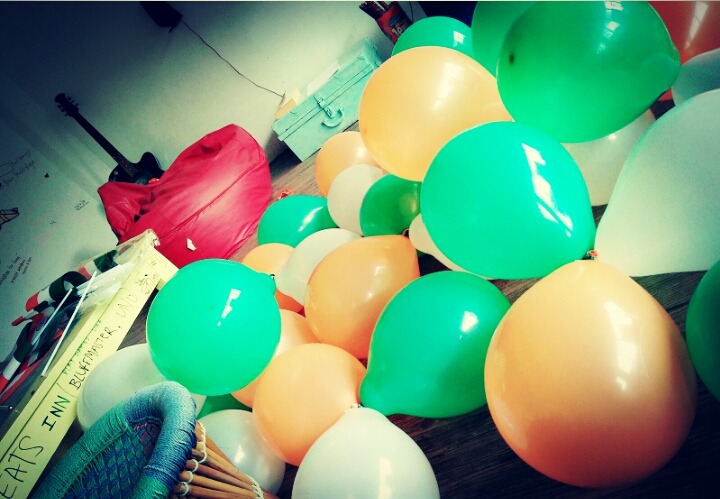 By this time, two more people joined us, Vipin and Abhishek. That's where I met them for the first time officially (had seen them couple of times before that in Zostel) and they were part of the blanket stealing group and were back from Kalatop. Their other gang members had already left for Delhi. So as they had nothing else to do, they joined us in decorations and now I had more manpower. Now the only thing I needed to do, was to be creative and to command.
We worked until late and then ordered dinner. We ate together and talked about our native places. We were from the same place and bonded over it. Topic varied from work, family, travel and many more things. It was getting super cold, so we decided to resume our conversation in common area.
Once we went out of cafeteria and looked towards the sky, we were spell-bounded. This was the clear night without a cloud, and sky was all covered with stars. This was the best end to our trips, and we were thankful to the mother nature for bestowing this blessing upon us.
We resumed our conversation, and discovered this common passion towards travel. I told them about my favorite travel channel, and we shared stories. It was late and we decided to resume our conversation after the interval. So we wished "Happy Independence Day" to each other and called it the day.
Day 4: Happy Independence Day !! In true sense..
I got up early as usual, and as this was my last day of the trip, I wanted to make most out of it. This was my Independence day celebration. I got ready and left for cafeteria, as we still had few arrangements to make. Vipin and Abhishek joined me again and we started giving everything the final touch. It was all set in couple of hours. We had breakfast and chatted again.
There was this "Vriksha Ropan" ceremony held by Zostel, and we all went to plant trees in the forest. It was a noble cause and made me feel even more grateful for this trip. Vipin and Abhishek were supposed to leave in the afternoon and it was again me bidding goodbye to newly made friends. SIGHS! It wasn't fair. I tried convincing them, to stay until evening but in vain. So we took pics and shared numbers and promised to stay in touch. Well !! We are.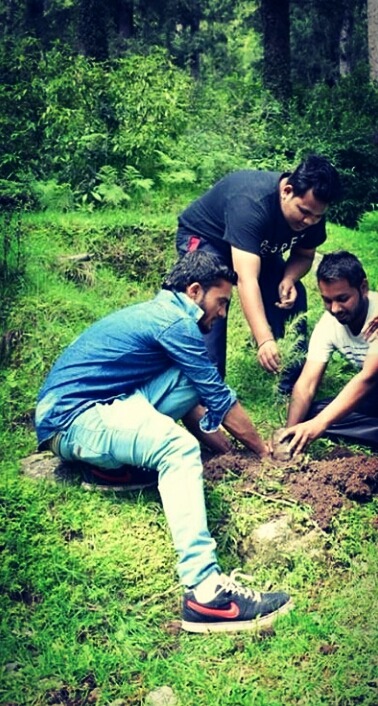 Now it was me in the cafeteria again. Zostel staff invited me to join them in yet another new game for me "Bluff" and I was happy again, though my happiness wasn't long lasting as I lost badly.
New guests were all signing in. So it was the busy day for Zostel, yet they made sure I was always accompanied and never bored. They told me interesting stories about guests and those who were still in touch. It was a happy feeling. They invited me again for next trip in winters and I promised them I will. Not yet happened.
I had to travel at night, so decided to rest for couple of hours and went back to my dorm to sleep. When I got up, I was fresh and energetic. Packed all my stuff and got ready for going back to the old life, but with new energy and hope.
I carried my bags to cafeteria, ordered some snacks and asked them to clear my bills. They requested me to stay for one more day, and to celebrate with them and cut cake for the celebrations. I was touched with the affection, but travel comes with the condition of saying byes more often than you wish to. And that's the beauty of it. You look forward to see them again, until next time..
So with the hopeful heart, I looked around one last time. Tried to memorize each and everything about the place, the view, the people, the friends I made, the peace I felt. And saved it in my memories forever. This was my time to leave. So I thanked all the staff for their warm hospitality. With the promise of coming back again, I left Zostel Dalhousie !! Those stairs I took to enter the paradise, showed me way out of it. But with the promise of doing it all over again and again and again !!
My cab was waiting outside and one of the Zostel staff (my guide) was with me, to drop me to my bus to Delhi. They made sure I boarded the right bus and was on time. So here came the end of my trip. I boarded the bus from Dalhousie at 8 pm, and reached Delhi at 6 am next day. I slept throughout my journey, as the bus "Indo Canadian" was too comfortable and the seat next to me was empty.. So I occupied both, Yay !! So, I was back to Delhi and it was time again to go for work, but this time mountains were not in my wallpaper.. They were in my heart!!