Do you know that Agra existed even before the Mahabharata period?
Yes, you read that right. Agra was once known as Agraban. It gets mentioned in the sacred Hindu texts dating back before the Mahabharata period.
And today, we're going to tell you about the places to visit in Agra in one day and more. Once the strongest and world-renowned city still holds its position in terms of grandeur and architectural beauty.
Without further ado, let's explore Agra.
---
---
Places to Visit in Agra in One Day
Although it's hard to cover the whole of Agra in one day since there are many places to visit in Agra, you can get the gist of the city. We are assuming that you can spend a total of 8 hours traveling, excluding the time spent in commute.
So, on average, you can expect you'll need at least 10-12 hours to cover the top places and experiences that we are suggesting here, including chores like commute, eating, etc.
Here are the top places that you can visit in Agra and the things you can do in Agra in one day:
Time Required: ~3 Hours
Do you know that more than 7 million people visit the Taj Mahal per year! This white marble mausoleum of Mumtaz Mahal, Emperor Shah Jahan's beloved wife, will leave you in awe of its beauty.
The architecture is considered one of India's finest, depicting its rich history, and is a UNESCO World Heritage Site. The hard work of 22k laborers overtime gave it today's form.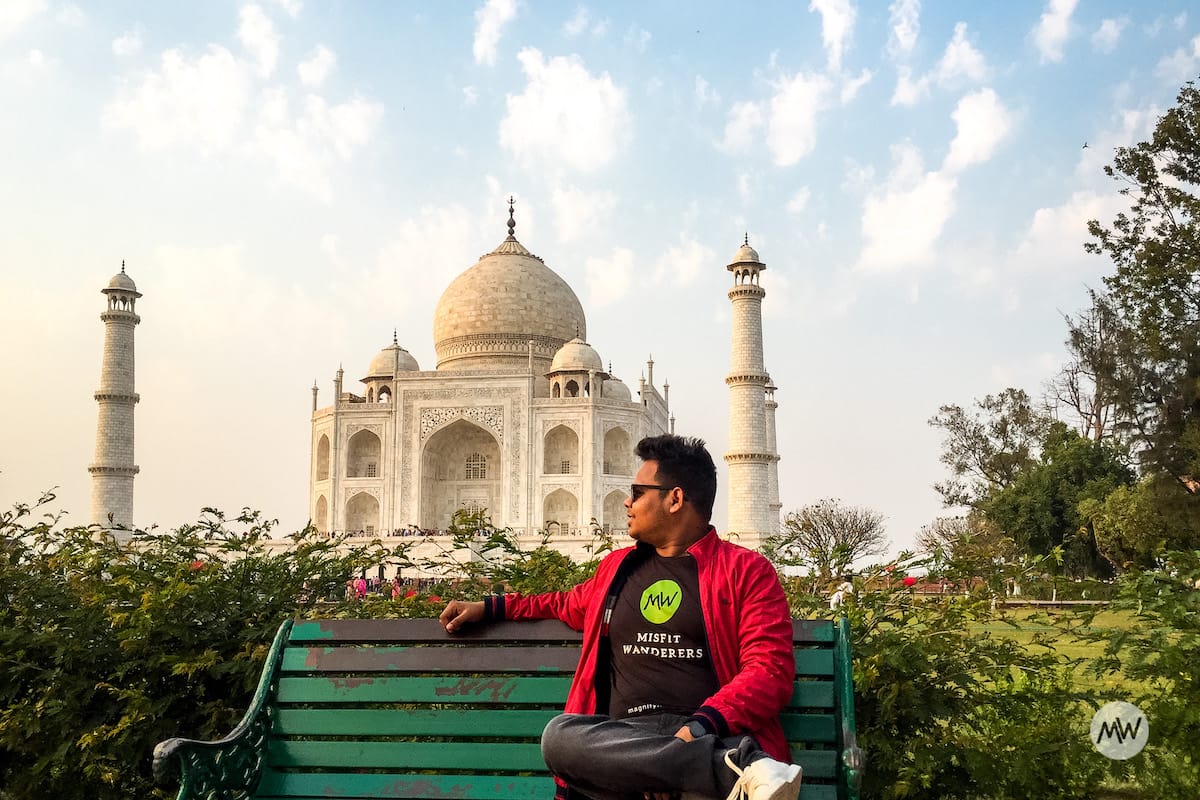 People call it the epitome of love because it depicts the eternal love between Shah Jahan and his wife, Mumtaz Mahal. He built the Taj Mahal in the memory of his wife and used to gaze at it until his last breath.
There's no question of not visiting the Taj Mahal, let alone be the reasons. If you love architecture, monuments and have a knack for history, a visit to the Taj Mahal is a must. It is the #1 of all places to visit in Agra.
Time Required: ~2 Hours
Agra Fort is a massive red-sandstone fort of the Mughal Era. Only about 25-30% of the fort is accessible to the general public, and the rest is under the Indian Army. And it lies about 4-5 km apart from the Taj Mahal.
The grandeur and the credit for its construction go to Mughal emperor Shah Jahan. However, its history dates back to the 11th century when a Rajput king named Badal Singh built this fort out of bricks named it after his name as 'Badalgarh,' which remained so until Akbar's arrival.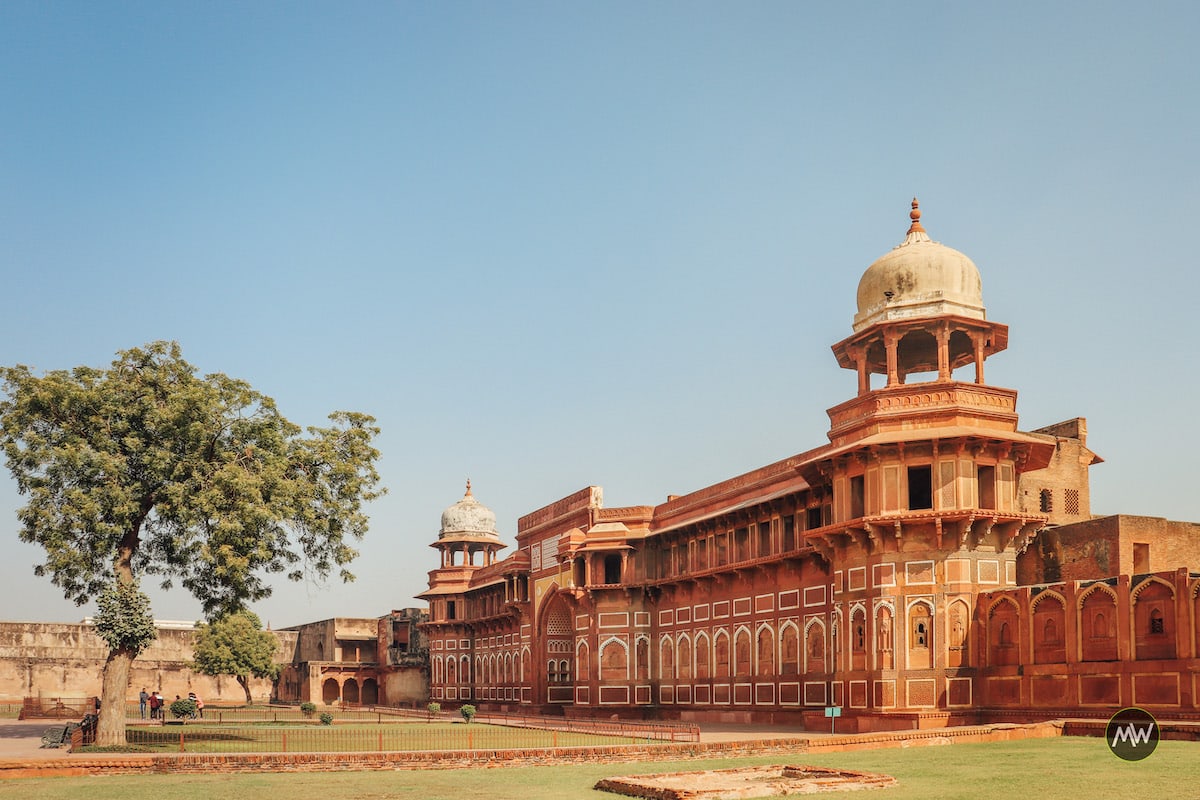 Back then, it was just a basic brick structure, but now it is enough to entice your love for architecture. There are 16 palaces inside the fort, namely Sheesh Mahal, Jahangir's Palace, Diwan-e-Aam, Macchi Bhawan, etc.
Inside the fort, you'll come across a tower building named Musamman Burj. It is the same place where Aurangzeb kept his father, Shah Jahan, held captive under his last breath. And from this spot, Shah Jahan used to gaze at the Taj Mahal in the memory of his beloved wife.
The story, beautiful architecture, and thrilling history of Agra Fort make it one of the best places to visit in Agra.
3. See The Baby Taj, Tomb of Itmad-Ud-Daula
Time Required: ~1 Hour
This white marble monument is yet another beautiful Mughal Architecture. Sometimes referred to as the "Baby Taj," this jewel-box-shaped architecture is the mausoleum of Mirza Ghiyas Beg and his wife, Asmat Begum. They were the grandparents of Mumtaz Mahal and served in Jahangir's court as well.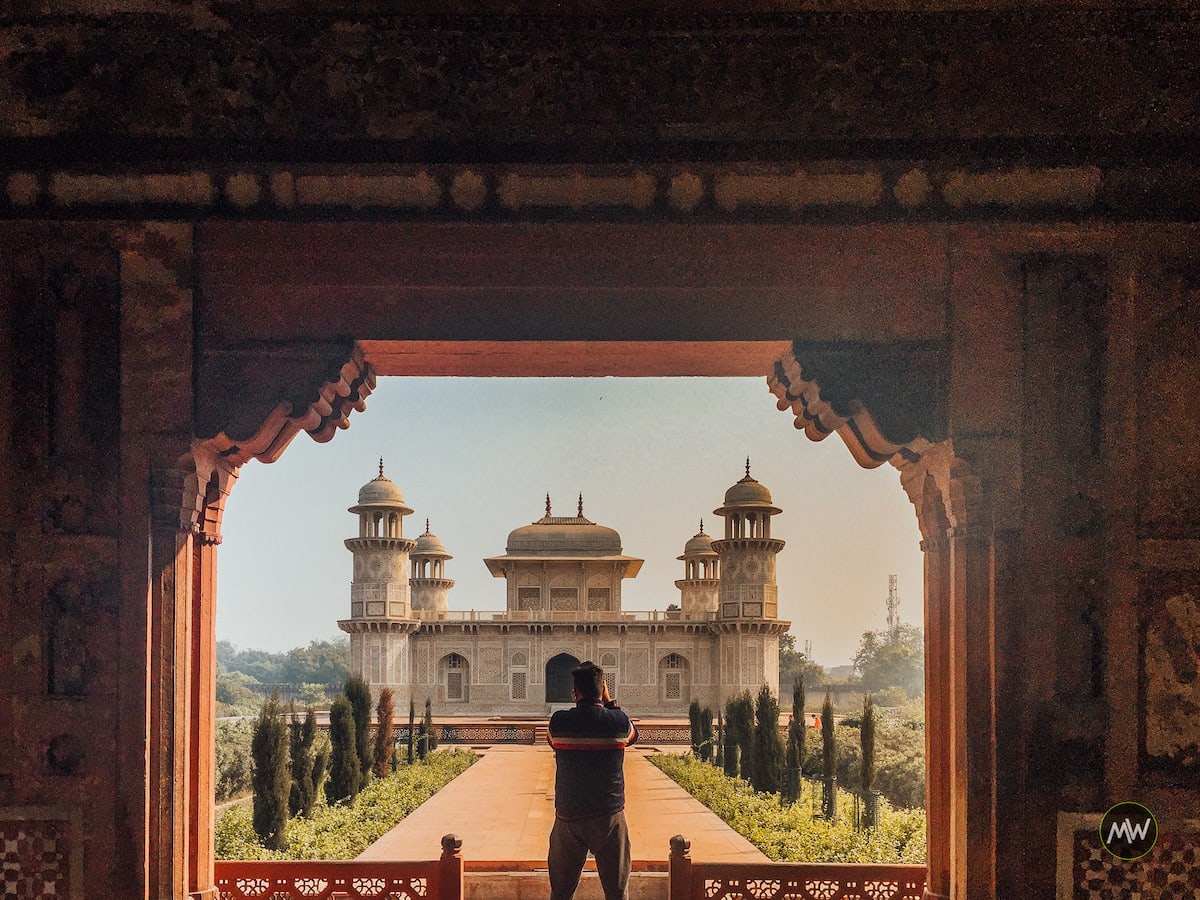 When you enter the monument complex, you'll pass through a red-sandstone door and arrive in front of the tomb. With whites shining on the surface, it'll hook you with its beauty. You'll also see lush greenery around the architecture.
Further at the back, you'll see the holy Yamuna River passing by the architecture. If you're lucky, you'll see some local kids cliff jumping into the river.
If you're photogenic, be prepared with your creative poses, as this is one of the best places after the Taj Mahal to snap! Moreover, it's an excellent place to pause in the bustling city of Agra.
4. Witness the Chinese Architecture at Chini Ka Rauza
Time Required: ~30 minutes.
Our next pick is for all the architecture buffs. Situated at a distance of about 1 km from the Baby Taj, Chini Ka Rauza is the tomb of Afzal Khan Shirazi, a poet, and scholar who served in Jahangir's and Shah Jahan's reign.
As you might question, does Chini Ka Rauza have something to do with China? Probably. The facade of the monument possesses glazed tile works which originated in China. And in the Mughal era, this work was called Chini or Kashi.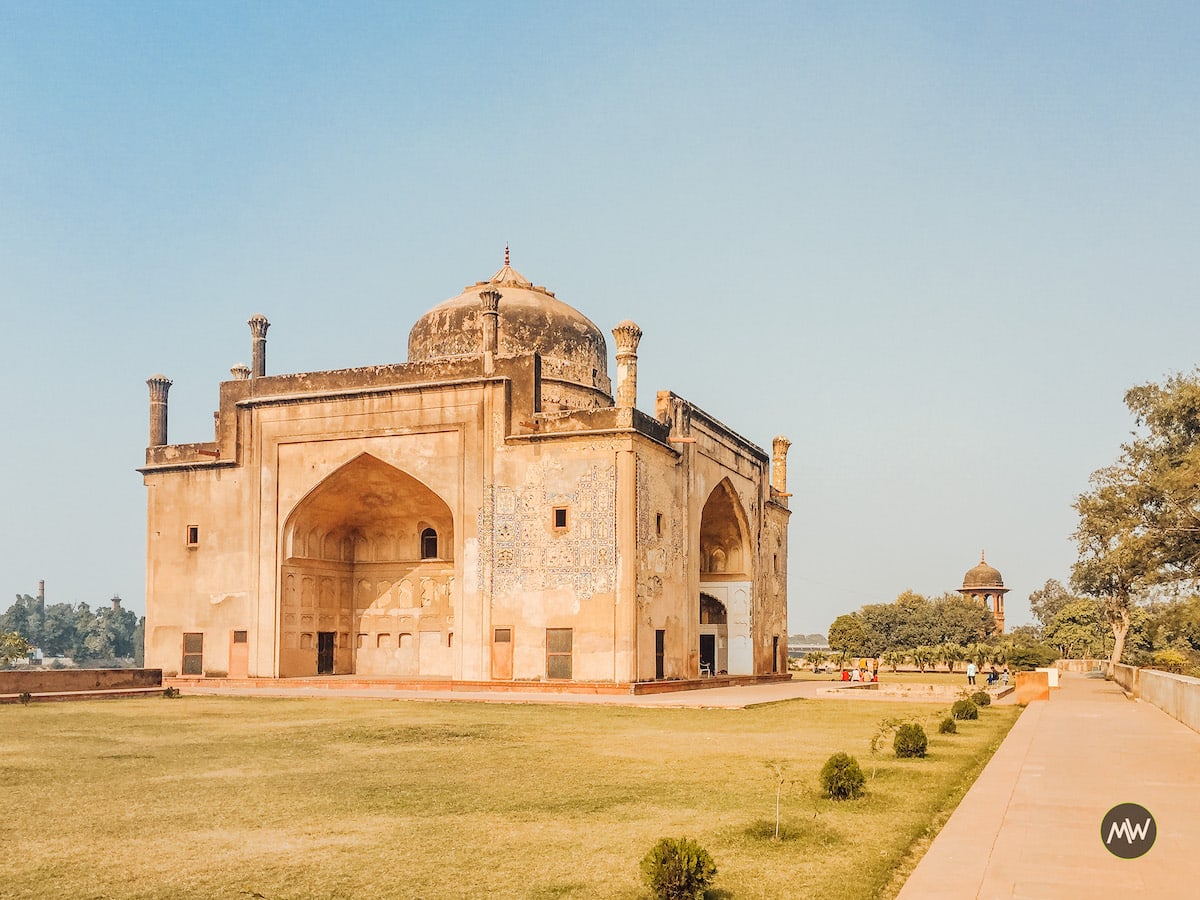 The monument is a standing building inside a small garden. The surrounding area is residential, and you could even find families having picnics or kids playing in the park. Similar to Itmad-Ud-Daula's tomb, it is also situated next to the Yamuna river's bank.
If you have an innate interest in history and architecture, a visit to Chini Ka Rauza will be a short yet fun trip. However, keep in mind that this building sits in a non-spacious locality, so you should be better off with your foot.
More Things to Do in Agra (if You've 2-3 Days)
Okay, so you have seen what places to visit in Agra if you've just one day. Next up on the list are the places you can explore and things to do in Agra if you have more than a day.
These experiences will add a sense of exploration to your trip, and you'll get to know Agra beyond the Taj and the conventional.
5. See The Making of Agra's Sweet Dish, Petha
After the Taj Mahal, Agra is better known for its sweet dish called Petha. This sweet is slightly delicate, aromatic, and feels so good in the mouth when engulfed wholly.
You can buy it in many flavors, such as Chocolate, Orange, Grape, Gulab Laddu, Doda Barfi, Paan, Saffron, and the classic one.
The main ingredient of the Petha is a local fruit named Ash Gourd. To witness the making of Petha, you should ask your local guide or a Petha shop.
Alternatively, you can also go to the "old lanes" of Agra – around Jama Masjid near the Agra Fort station. There, you can easily find shops with an in-house process of making.
The magnificent and grand gate at the entrance of Akbar's mausoleum in Sikandra will mesmerize you. This architecture was the most beautiful thing we've seen in Agra.
Akbar was known for his respect towards every religion and skilled and strategic rulership. When he was alive, he chose his burial place to be at Sikandra. The area was known as Bihistabad once upon a time, but after Alexander Lodi's invasion in Agra, this place became Sikandra.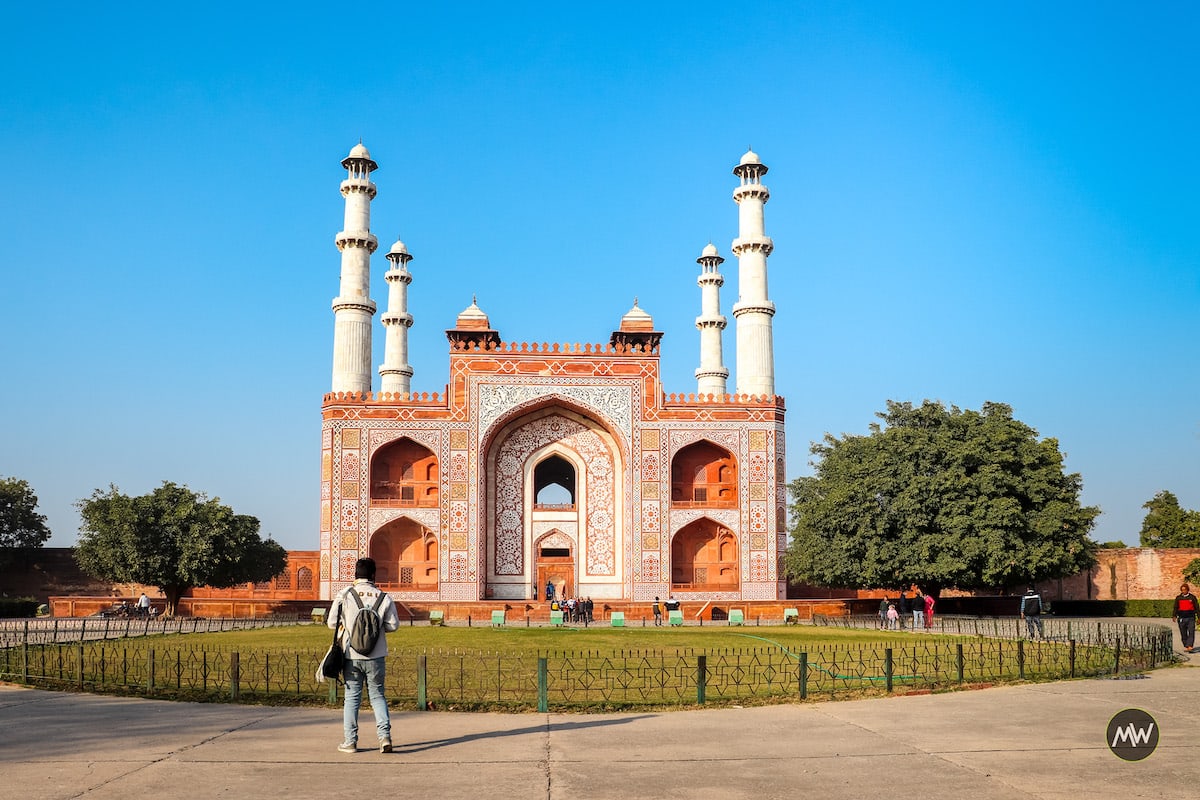 After Akbar died, his son Jahangir completed his mausoleum into what you see today.
As soon as you enter the magnificent gate, you'll see the mausoleum resting in between, surrounded by lush green gardens from all sides. You can even see animals like deer, antelope roaming freely.
When you reach here, take a pause, sit for some time and embrace the natural as well as human-made beauty. It's not very often you'll find such a beautiful amalgamation of architecture and natural beauty. It's this unique thing that makes Sikandra one of the best places to visit in Agra.
Akbar had everything but a son. He longed for years to have a son but never birthed one unless he met Salim Chisti, a Sufi saint from a small village named Sikri. With his blessings, Akbar had a son and relieved himself from prolonged, groaning pain.
In joy and gratitude, he converted the Sikri village into a town filled with marvelous architecture. Today, UNESCO recognizes Fatehpur Sikri as a World Heritage site, and therefore it is one of the best places to visit around Agra if you're a heritage lover.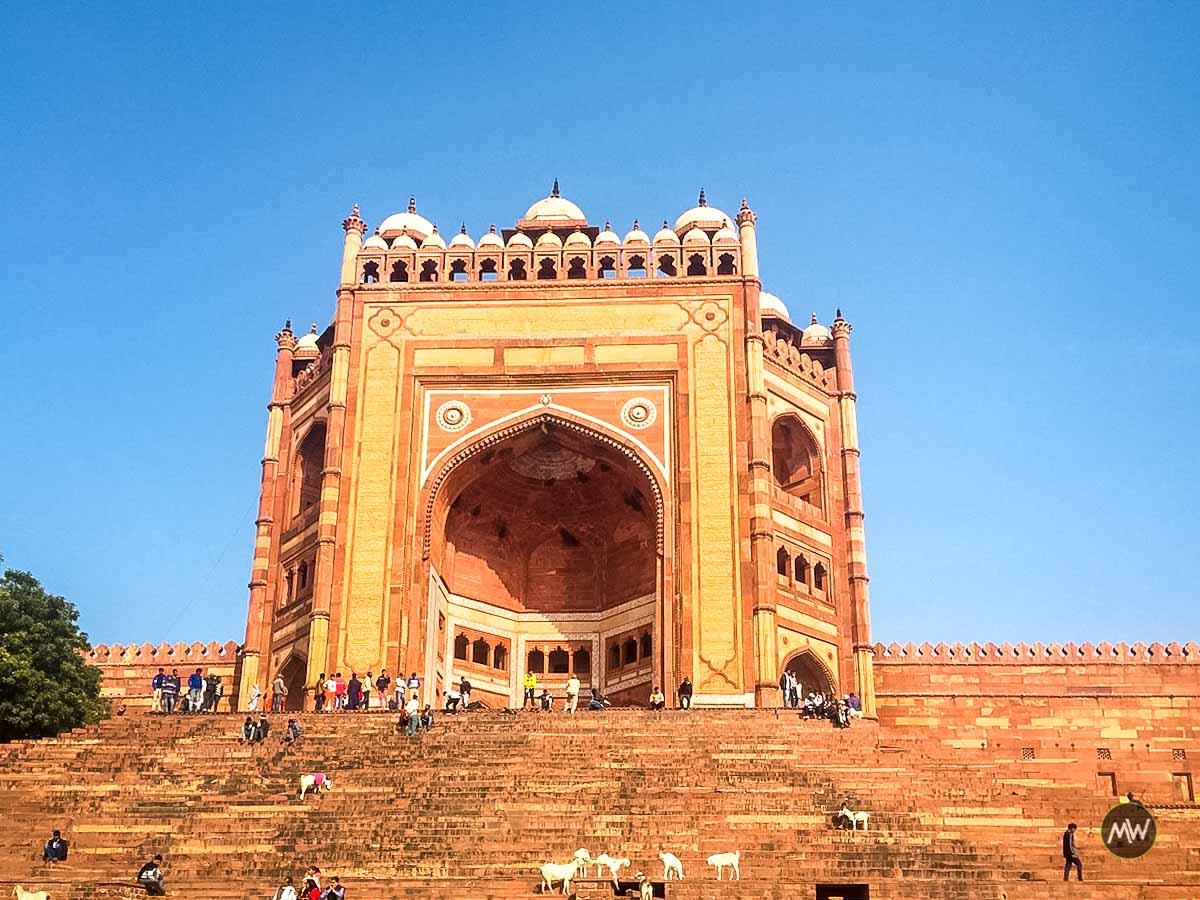 The world's highest gateway, Buland Darwaza, perches high, touching the blue sky, and sits proudly as the entrance gate of Salim Chisti's tomb. The grandeur imposed on you once you stand in front of the Buland Darwaza is genuinely bewildering.
Come here and explore this whole town. Fatehpur is ~36 km from Agra, and it'd take more than half of your day to explore every monument inside. Jodha Bai's Palace, Panch Mahal, Turkish House, Anoop Kund are some of the exciting buildings you'll see inside.
FAQs
What are the places to visit in Agra?
Taj Mahal, Agra Fort, Itmad-Ud-Daula's Tomb, and Chini Ka Rauza are the top places to visit in Agra.
What are the places to visit around Agra?
How to reach Agra?
You can reach Agra via road, rail, or airways. The city lies on plains and is well-connected to every major city of India. 
How far is Agra from Delhi?
Agra is approximately 232 km from Delhi. You can travel via road, rail or airways.
How is Agra Petha made?
Agra Petha's main ingredient is a local fruit named Ash Gourd. The fruit is cut into pieces, boiled, and then soaked in molasses to become Petha. There are various flavors of Petha available that you can buy in Agra.
---
Lowering The Curtains
Agra is a must-visit for every traveler and enthusiast. The city has one of the seven wonders of the world, the Taj Mahal. And if you look beyond Taj, you'll fall in love with Agra even more.
The imprints of colonial rule, mesmerizing Mughal architecture, sweet dish Petha, and mouth-watering street foods are some of the memorable experiences you'll have in Agra.
As you come across it, you'll know that there are more places to visit in Agra after the Taj. And to wholly cover Agra, you'll need more than just one day.
See you there at the Taj!
---
An appeal: Please do not throw litter around. Use a dustbin and if you can't find one, take the trash with you and throw it when you find it. Your small steps like this one can make the world clean and green.