"Mai Apni Jhansi Nahi Dungi" (I will not give my Jhansi)
Every time these words of Maharani Laxmi Bai touches my senses, I feel a vibrant flow of energy and enthusiasm. She's an inspiration for millions of people like us. And today we're going to take you on a short trip to her land – Jhansi.
As soon as you enter Jhansi city, it will seem like unique energy is flowing inside you. Why it should not? You are setting foot on the land of a heroine who gave a befitting reply to the Britishers in the Indian revolution of 1857.
Returning from our Pune-Goa expedition, Jhansi was our last stop. Beliefs go like this – if you don't want to behold of the brave land of Maharani Laxmi Bai and her stories, visit Jhansi, to live her story.
At the time, even the mightiest king was bowing down to the British rule, at that time Maharani Laxmabai Ji single-handedly fought the British.
So let's go on a historic city tour with me today as I take you on a short journey to the deepest parts of Jhansi.
---
Some FAQs Related to Jhansi
What are the best places to visit in Jhansi?
The best places to explore in Jhansi are Jhansi Fort, Rani Mahal, National museum and St. Jude's Shrine.
Is Jhansi in Madhya Pradesh (MP) or Uttar Pradesh (UP)?
Jhansi lies in Uttar Pradesh, shares it's boundaries with Madhya Pradesh.
Where is Jhansi located?
Jhansi is located at a distance of 478 km from Delhi and 314 km from Lucknow.
How to reach Jhansi?
Jhansi is connected through rail and road networks very well to major cities in India. Gwalior (98km) is the nearest airport to Jhansi and Jhansi itself a railway station well connected to Delhi.
How far is Orchha from Jhansi?
The distance between Jhansi and Orcha is 17 km.
---
Places to Visit in Jhansi
1. The Grandeur Fort of Jhansi
Since we reached Jhansi in the morning, we walked without any delay to our first stop which was, obviously, Jhansi Fort. There were only a few movements in the city in the morning.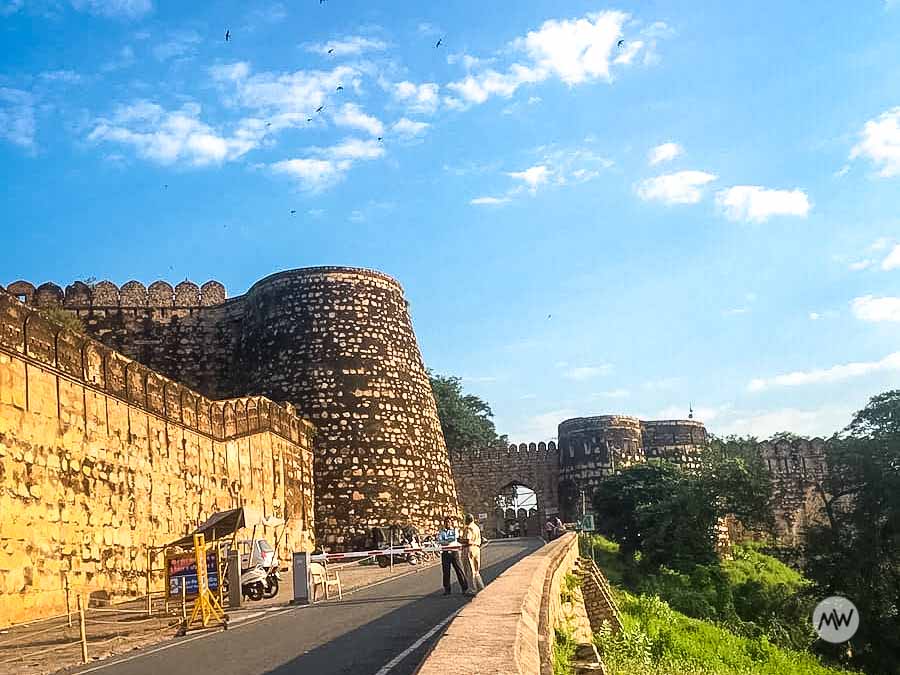 As we stepped in, after buying tickets, we were a bit surprised. It was revealed that a documentary was being shot.
Ticket price (in Oct 2019) was 25 INR for Indians and around 300 for foreigners.
Glimpses of History of Jhansi Fort
This fort was first built on a hill called Bangra in 1613 AD by the Bundel king Bir Singh Ju Deo. Being at a height, you can have a view of the entire city from here. In later times, this fort was occupied by the Bundels, Mughals, Marathas and the British respectively.
The Maratha ruler Narushankar made some changes to this fort in 1729–1730. In the revolution of 1857, while fighting with the British, Maharani Lakshmibai lost her life. Thereafter, this fort went under the authority of the British rule.
The Inside View of Jhansi Fort
The fort is spread over 15 acres, with 22 bastions and two sides of the defense moat. The city wall had gates called Khanderao, Datia, Unnao, Orchha, Bargaon, Laxmisagar, Sainikar, Bhander, and Jhirna.
Within the fort, Baradari, Panchmahal, Shankargarh, Memorial Semantry, Kaal Kothri, hanging pillars, and Ganesha Temple and Shiva Temple, centers of the regular worship of Rani Ji are typical specimens of Maratha architecture.
The graves of Lakshmibai's special associates Ghulam Gaus Khan, Khudabakhsh and Moti Bai, the thunder lightning and cannons named Bhavani Shankar are worth seeing here.
The major tourist attraction is the "Kudan-Sthal" or the jumping spot. According to the people, during the war, Rani Lakshmibai, riding on a horse, jumped out of the fort with her adopted son.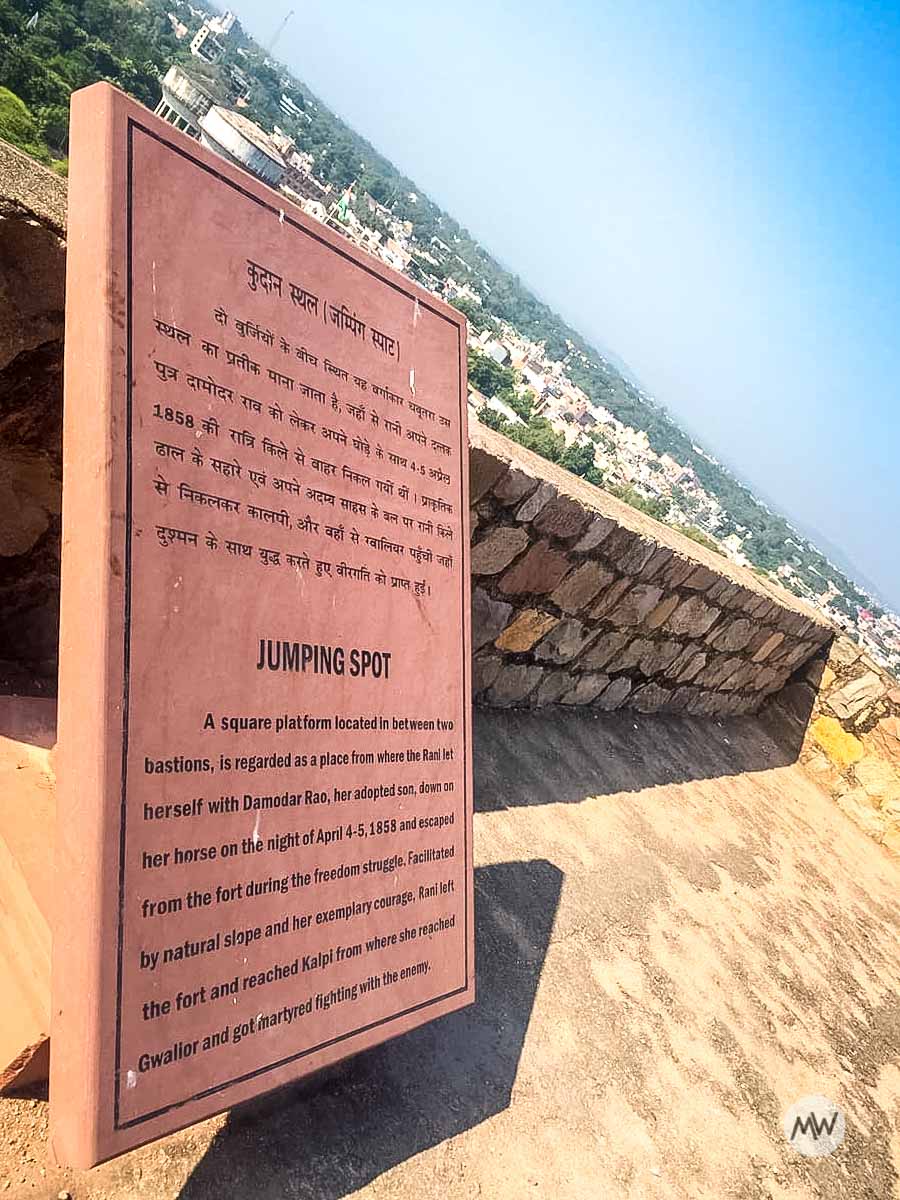 Every day a free documentary is depicted in the fort, the details of which are as follows:
8:30 am – in Hindi
9:30 am – in English
11:30 am – in Hindi
1:30 pm – in English
3:30 pm – in Hindi
Due to the shooting going on in the fort, the documentary was not portrayed that day, so we were deprived of it. If you have the charm, please share your experience in the comment box below.
Information – I am especially requesting the younger generation that please do not write anything on our historical buildings, this is our heritage, we should understand its importance. People from abroad come to visit our unique architecture, how are we giving them the image of our heritage? It is our duty not to mess up this legacy of ours. Some writings in the Baradari of Jhansi Fort gravely disappointed me.
---
2. Residence of the Brave Queen: Rani Palace (Rani Mahal)
Rani's palace is located at 500 meters from Jhansi Fort. You can also easily go by walking. Due to the Rani Mahal being in the middle of the city, you will find a stir here all the time. When viewed from the outside, it looks like a simple two-storey building, but the things and artwork inside will overwhelm you.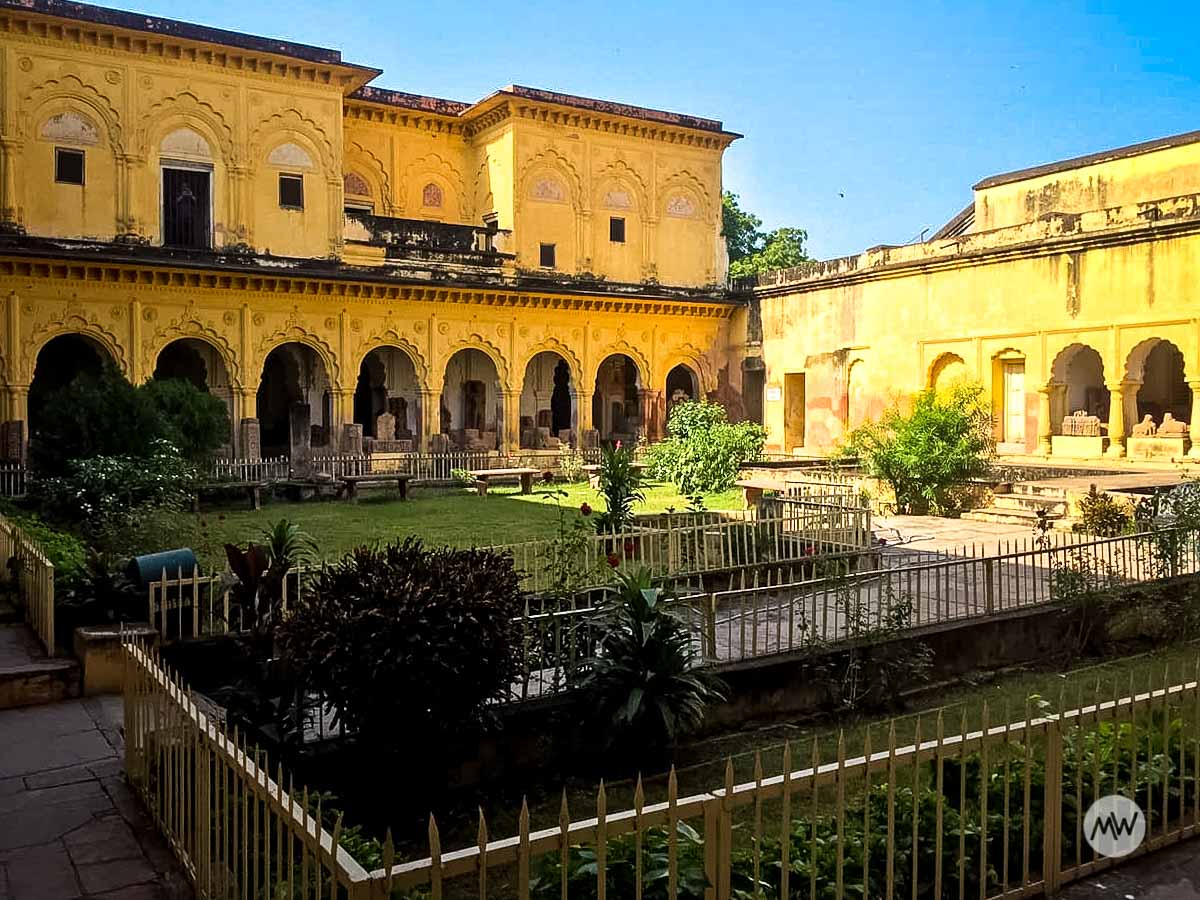 The Rani Mahal was built by Raghunath Rai II, which was later converted as the residence of Rani Laxmibai. It is a two-storey rectangular building with a courtyard in the center, with a miniature well and fountains. There are some small rooms inside, some big rooms (halls). Stairs are towards the east, near the hall.
On the ground floor, rooms are kept full of ancient statues excavated from nearby sites. The idols are so unique that you will keep staring at them. According to the Archaeological Survey of India, these statues have been obtained from the Madanpur, Chandpur and Barua Sagar sites under Lalitpur, Jhansi district respectively.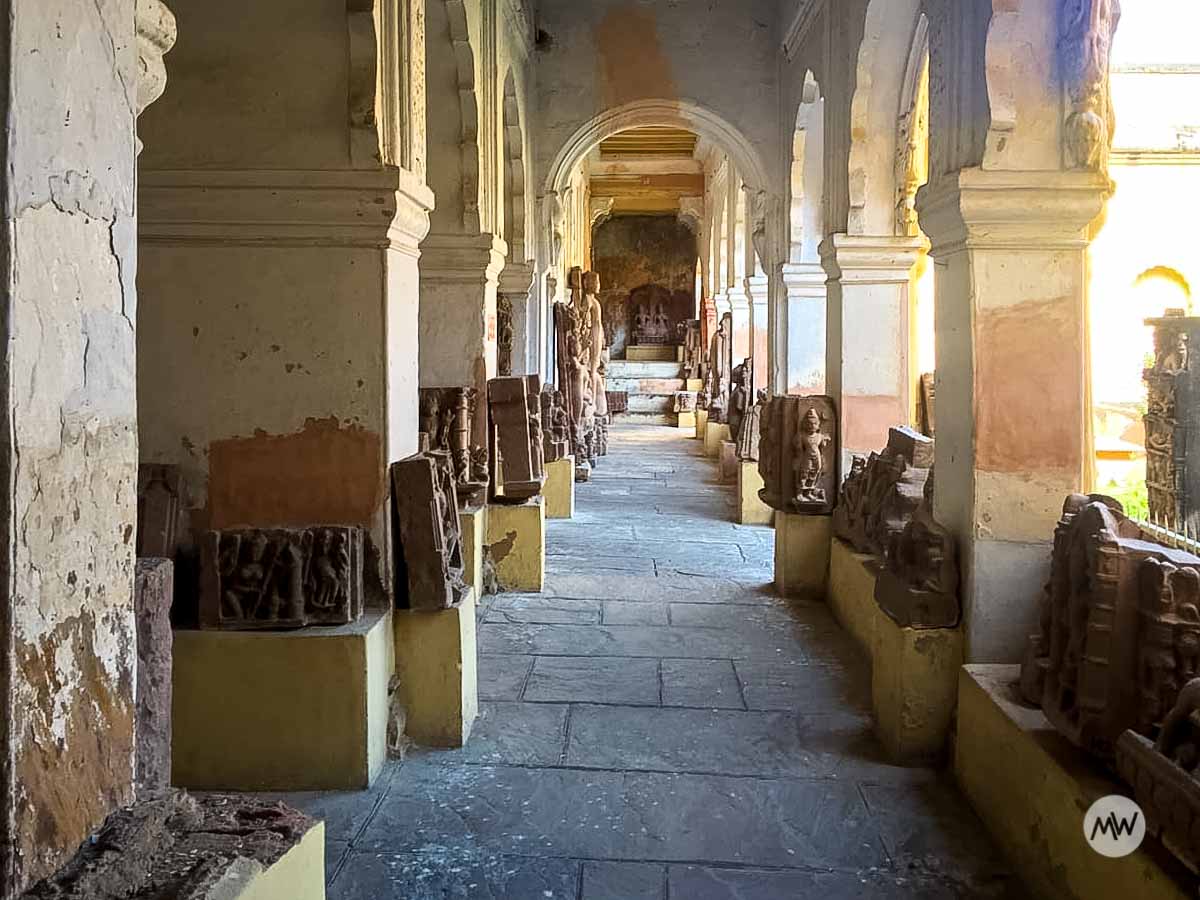 As soon as we reached the hall above, we saw colorful artwork on the walls and roofs, which mesmerized us to the core – and the results? We couldn't take off our eyes.
---
3. National Museum
The distance of the museum from Jhansi Fort is just 450 meters, which can be done on foot or by auto-rickshaw.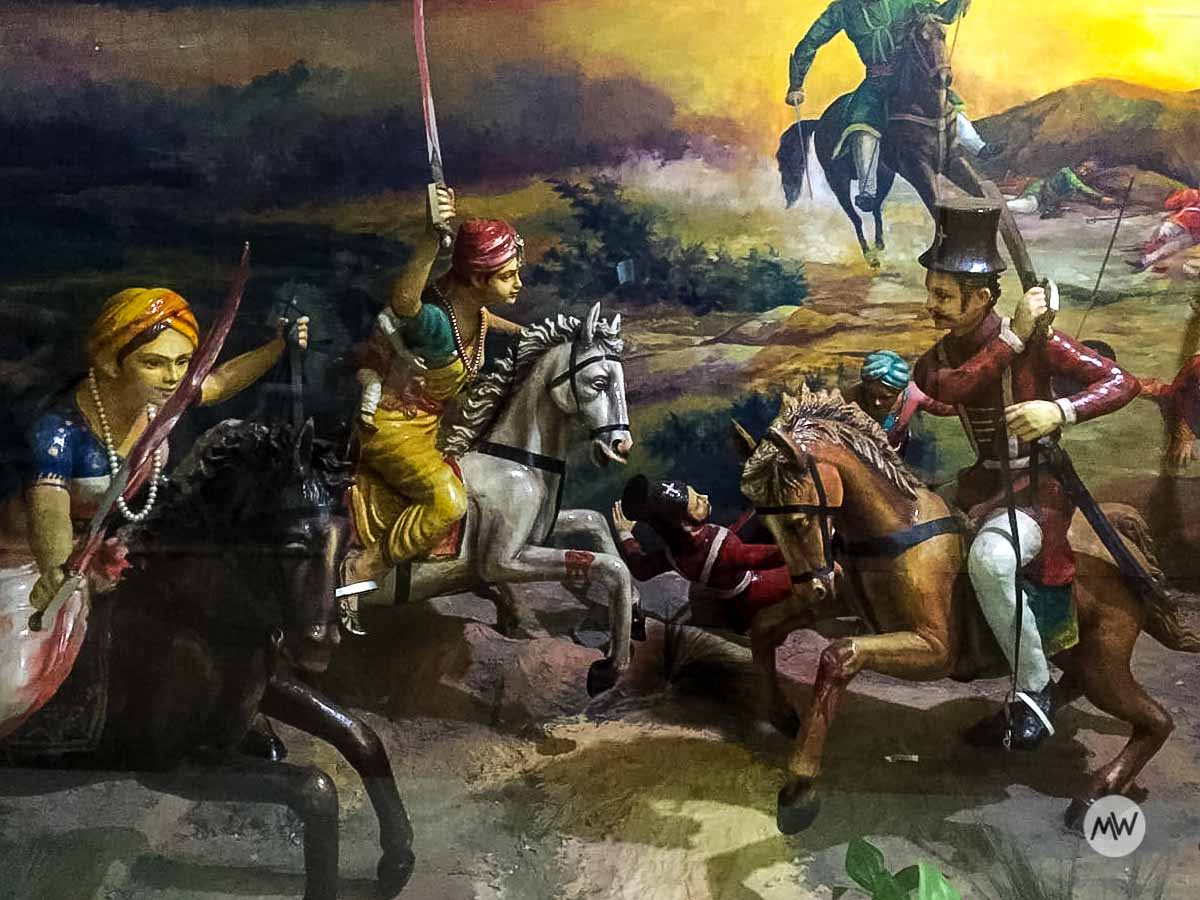 The museum has a good collection of terracotta, bronze, weapons, sculptures, manuscripts, paintings and gold, silver and copper coins.
If you wish to know more about the First Freedom Struggle, then this museum will not give you a chance to be disappointed at all. Every single incident in Jhansi during the freedom struggle is well depicted.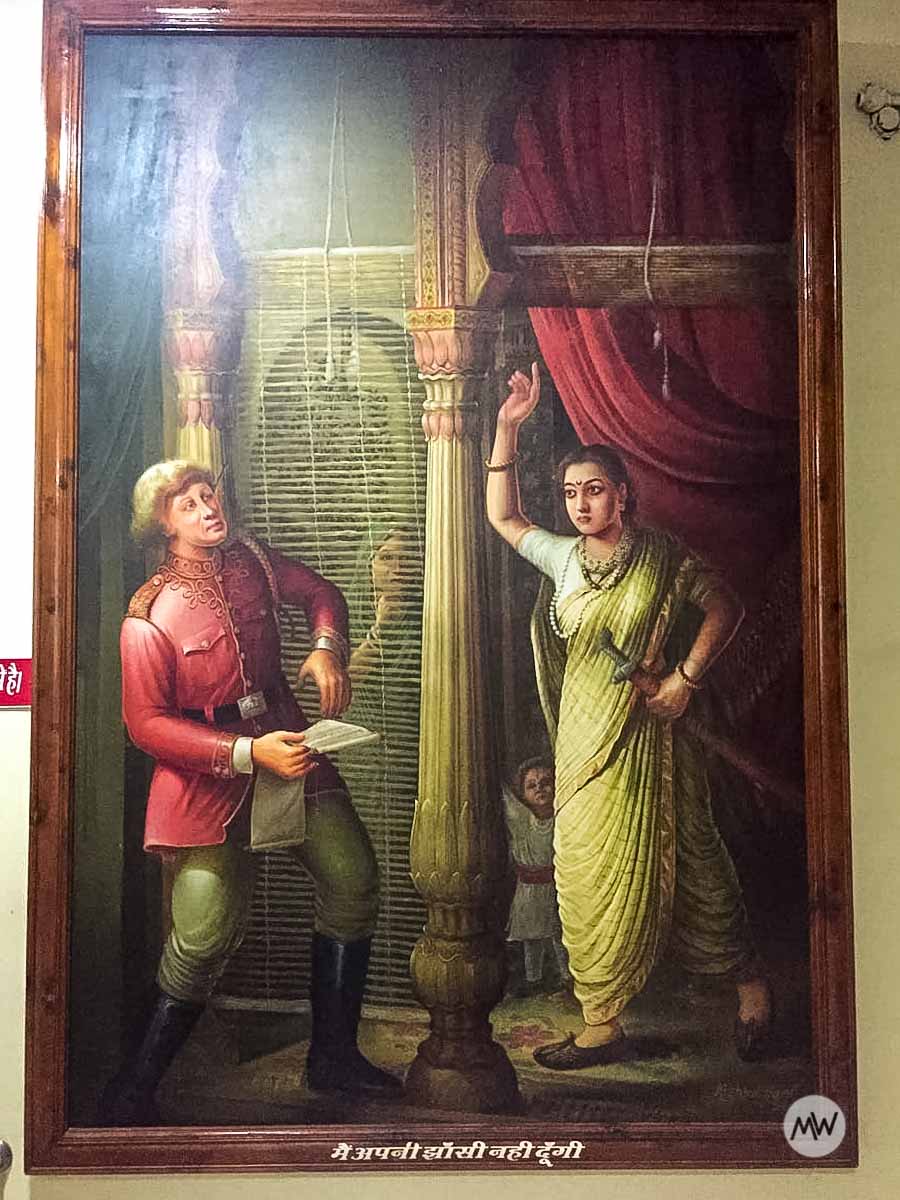 This museum is dedicated to Maharani Laxmibai and therefore sings the brave & heroic stories of her life, the Indian Mutiny and the sacrifices made by our martyrs.
Information: Except every Monday and on the second Sunday of each month, you can visit this museum on any day from 10 am to 4:30 pm.
---
4. St. Jude's Shrine
This church is located just 2 km from the main city. It is a Roman Catholic Church. It is one of the main places in Jhansi for predominantly Catholic Christians and one of the popular places to visit in Jhansi.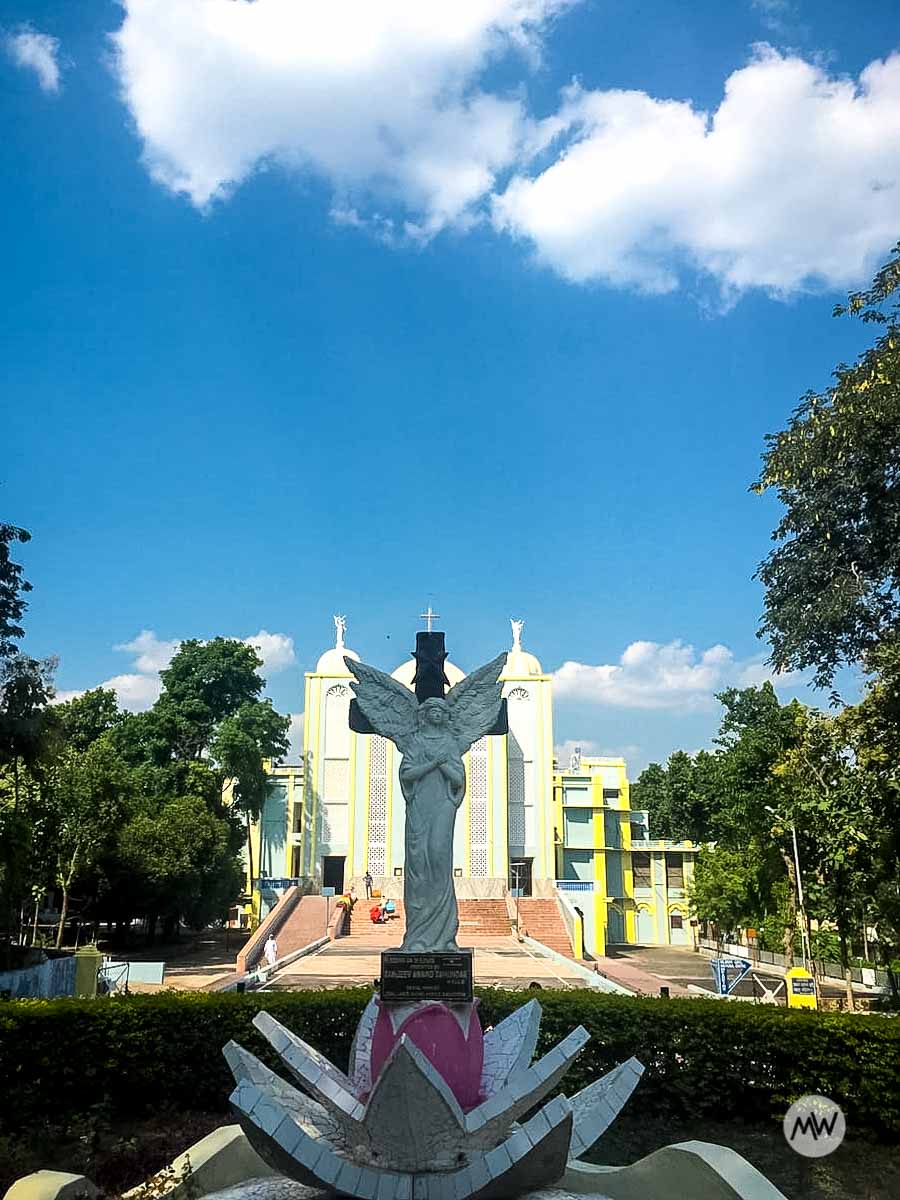 The St. Jude Shrine is dedicated to St. Jude Thaddaeus and is an important part of the Roman Catholic Diocese of Jhansi. It is believed that the bone of St. Jude is buried in its foundation. The sculptures depicted in the complex depict the great story of Jesus Christ.
A large fair is celebrated with great enthusiasm every year on 28 October in St. Jude's Shrine which attracts a large number of people from far and wide.
After praying there we found that the church was being decorated. Asking a passerby, it was known that the grand event is going to be held from next week itself.
---
The trip to Jhansi was such a great experience for me. I have been listening to the stories, poems of Rani Lakshmibai since childhood. For the first time, I got a chance to see the historical background which was really memorable.
What are your experiences with Jhansi? Share a few, we're all ears.