Lucknow is associated with two famous sayings – 'Pehle Aap' meaning you first and 'Muskuraiye Aap Lucknow Me Hai' meaning smile because you're in Lucknow. These show how welcoming and respectful the city's environment bestows to its visitors and travelers.
With this post, you'll learn about Lucknow best places to visit, food, activities, souvenirs, budget, and more.
In case you are not aware, Lucknow is one of the best cities in India if you want to taste the local street food and authentic Awadhi cuisine. Perhaps this is why the city is also known as the city of kebabs.
---
---
Notice: This post may contain a few links which might earn us financial support when you buy or make any reservations through them. They're in no way affect our opinion or the information presented here.
Lucknow — the city of Nawabs and kebabs!
And perhaps this is why 3.58 million people of this city call themselves Nawabs and savor long discussions over Sharma's Tea.
Ranked India's second happiest city, the country's potential street food capital, Lucknow, is often overlooked by travelers and tourists.
Therefore, we aim to show the unique facets of Lucknow to the travelers which include Lucknow best places to visit, delicious foods, souvenirs, the best time to visit, and more.
Lucknow Best Places to Visit in 2022
Here are the top 15, Lucknow best places to visit:
| Place Name | Admission Cost in INR (as in 2019) |
| --- | --- |
| Bara Imambara & Bhul Bhulaiyya | 50 for Indians, 500 for foreigners |
| Chota Imambara | Included in Bhul Bhulaiyya (Combined Pass) |
| Rumi Gate | Free |
| Hussainabad Clock Tower & Picture Gallery | Free; Included in Bhul Bhulaiyya (Combined Pass) |
| British Residency Buildings | 25 for Indians, 300 for foreigners |
| Dilkusha Palace or Kothi | Free |
| La Martiniere College | Free |
| Saadat Ali Khan Tomb | Free |
| Shah Najaf Imambara | Free |
| Chatter Manzil & Farhat Baksh Kothi | Free |
| Begum Hazrat Mehal Park | Free |
| Aminabad Market | Free |
| Chowk | Free |
| Riverfront & Marine Drive, Gomti Nagar | 10 for admission + Camera charges extra might apply |
| Ambedkar Park | 10 for entry + Camera charges additional might apply |
If I tag this place #1 in our list of Lucknow best places to visit, this shouldn't come as bewilderment.
Built by Nawab Asaf-Ud-Daula in 1784, Bara Imambara is a mourning place for Muslims and an epic piece of architecture. Its hall is enormous, made in a china-plate shape, standing without any pillars and beams. Amazing, no?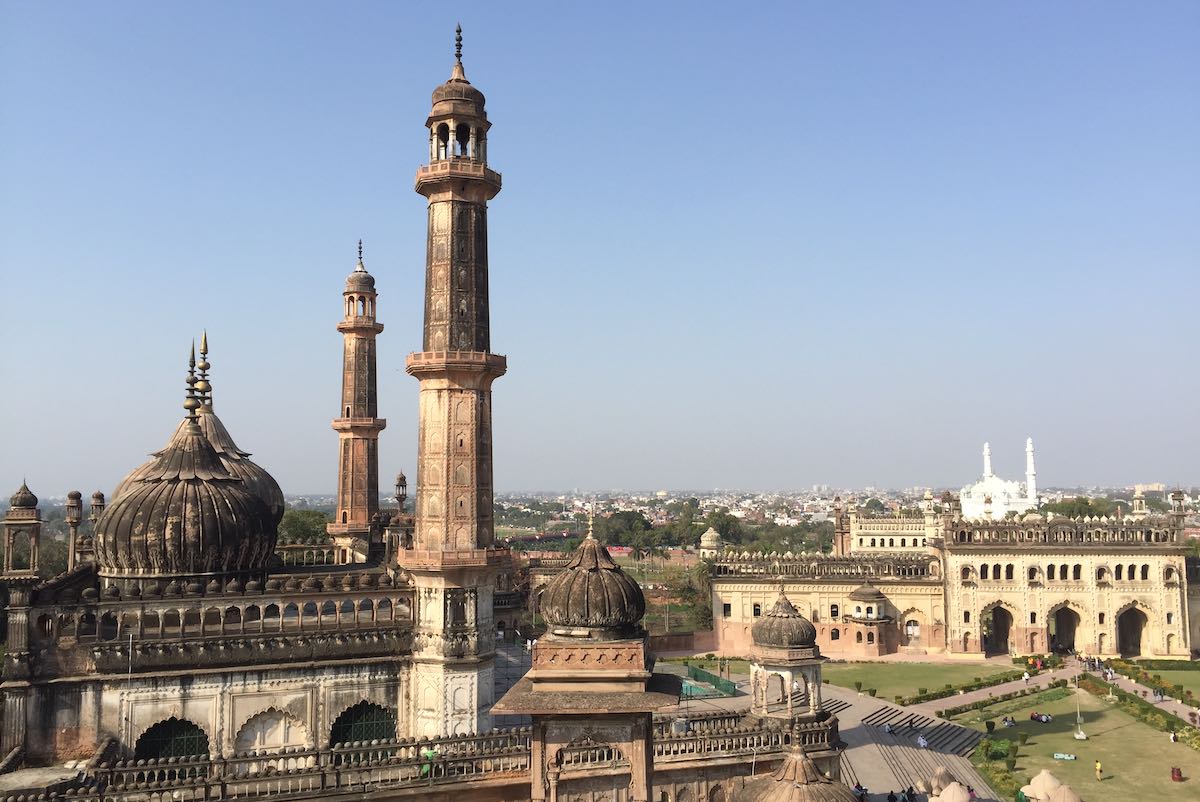 Above Imambara, a labyrinth (Bhul Bhulaiyya in Hindi) is made. It's a maze and was mainly created to block the entrance for unwanted people back in the time of Nawabs.
Bhul Bhulaiyya has over one thousand doors, and out of every four-door, only one is correct. So it becomes a difficult task for a new person to find out the right way on their own.
Therefore, it is advisable to go with a local guide.
In addition, the Bhul Bhulaiyya complex consists of four significant buildings: Bhul Bhulaiyya, Bara Imambara, Shahi Baoli, and Asafi Mosque.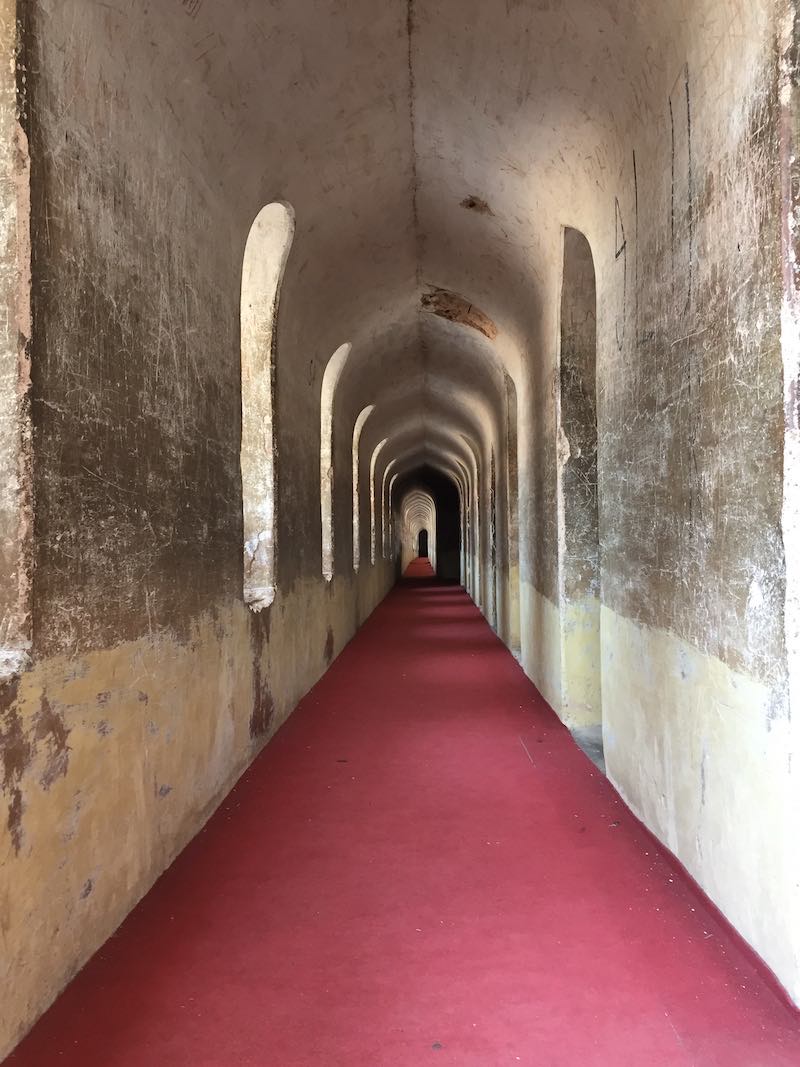 Furthermore, each one has its uniqueness which could be sensed by the table above.
The combined pass bought at Bhul Bhulaiyya is valid for all these four places, including Hussainabad Clock Tower, Chota Imambara, and Picture Gallery.
| Inside Bara Imambara Complex | What's so unique? |
| --- | --- |
| Bara Imambara | It has the largest hall standing without any pillar or beams. |
| Bhul Bhulaiyya | It has many identical doors, which makes a person forget the right door; Hollow walls make one voice perfectly audible at another far end of the wall. |
| Shahi Baoli | A stepwell is believed to be still connected with the nearby Gomti river. |
| Asafi Mosque | It is the 5th largest mosque in the world. |
Timings: Sunrise to Sunset, Opens 1:30 pm on Fridays, closed on Mondays
Photography: Allowed
2. Chota Imambara
Also known as Imambara Hussainabad Mubarak, this is a small (therefore 'Chota') Imambara perched at around 400 meters away from the Bara Imambara.
Nawab Muhammad Ali Shah built it in the year 1838 and was to serve as a mausoleum for himself and his mother.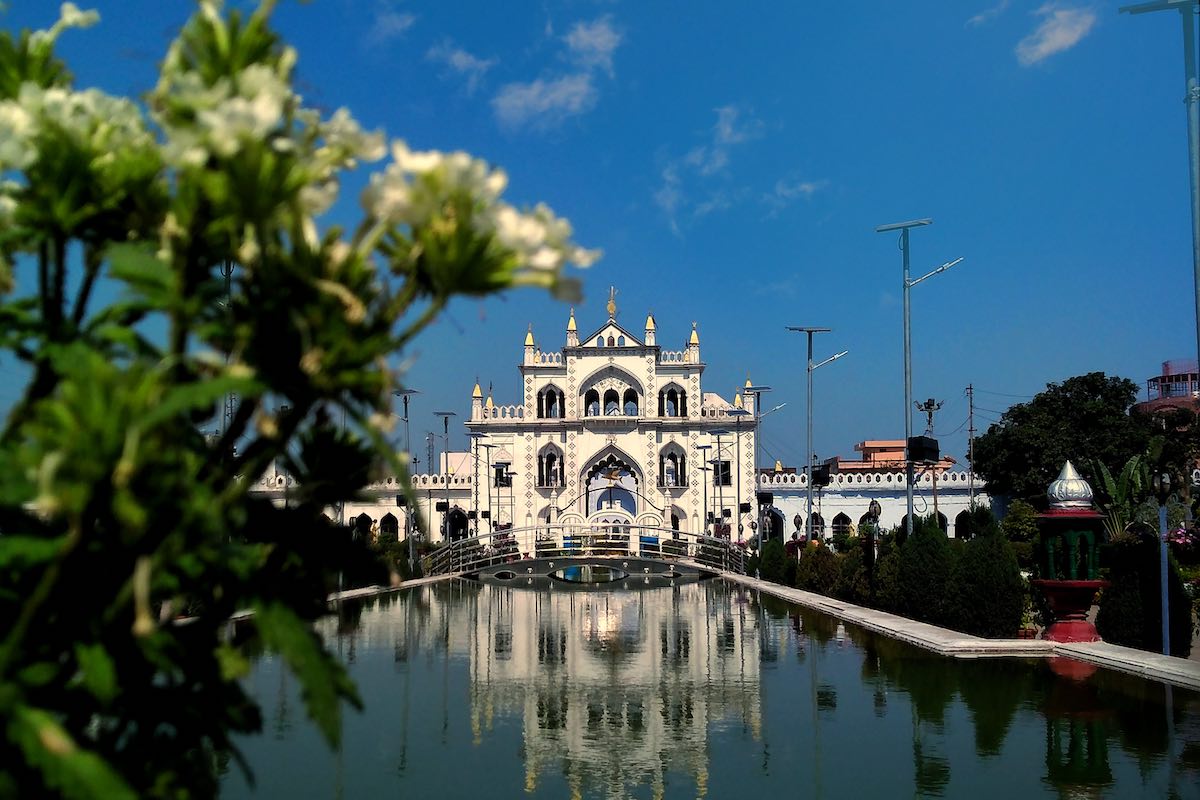 On one side of the Chota Imambara, there is a tomb of Princess Zinat Asiya and on another side is the 'reply' building.
The Imambara and tomb are pretty picturesque, and you could spend a decent amount of time here!
Timings: Sunrise to Sunset, Opens 1:30 pm on Fridays, closed on Mondays
Photography: Not allowed inside.
Rumi Gate is perhaps the most iconic building in the city. It serves as a gate to the city and is standing on the busy road of Bara Imambara. It's next to the Bara Imambara complex.
You're advised to halt at this gate's front side and gaze at its intricate architecture.
Pro tip: An evening in Gulab Vatika which is next to Rumi Gate will serve as a memorable experience in your life.
Timings: 24/7 open
Photography: Allowed
Hussainabad Clock Tower is entitled as one of the tallest clock towers in India. It's an accurate replica of Big Ben in London.
People locally refer to this as 'Ghanta Ghar.' It's worth visiting if you like symmetrical architectures.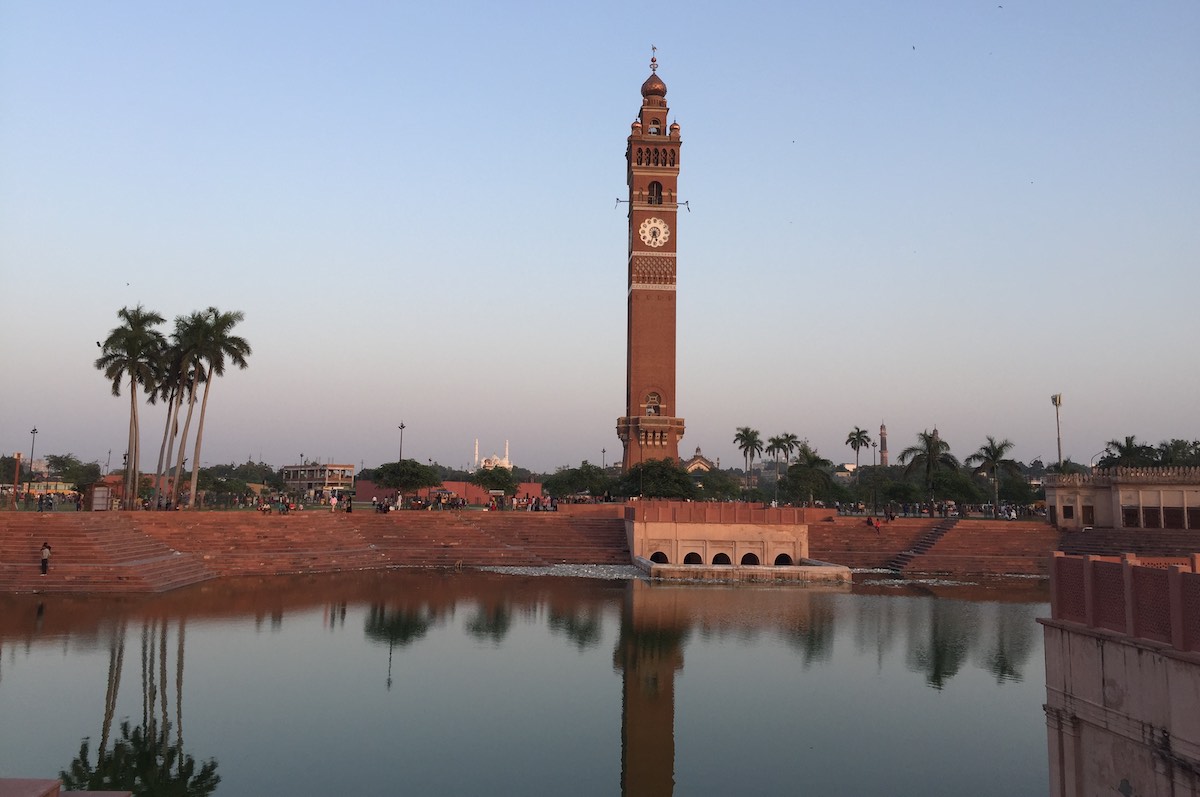 Next to the clock tower, the picture gallery consists of mystical paintings of Nawabs of Awadh. Mystical? Because few images appear to be looking at you no matter where you go!
Timings: Clock Tower – 24/7 Open; Picture Gallery – 10 am to 4 pm
Photography: Allowed at Clock Tower; Not Allowed in Picture Gallery
British Residency is perhaps the most visited attraction in Lucknow. This place beholds a grand historical event during the mutiny of 1857 by freedom fighters.
Every building inside Residency is destroyed and lays without any roof except one mosque, which is still in good condition.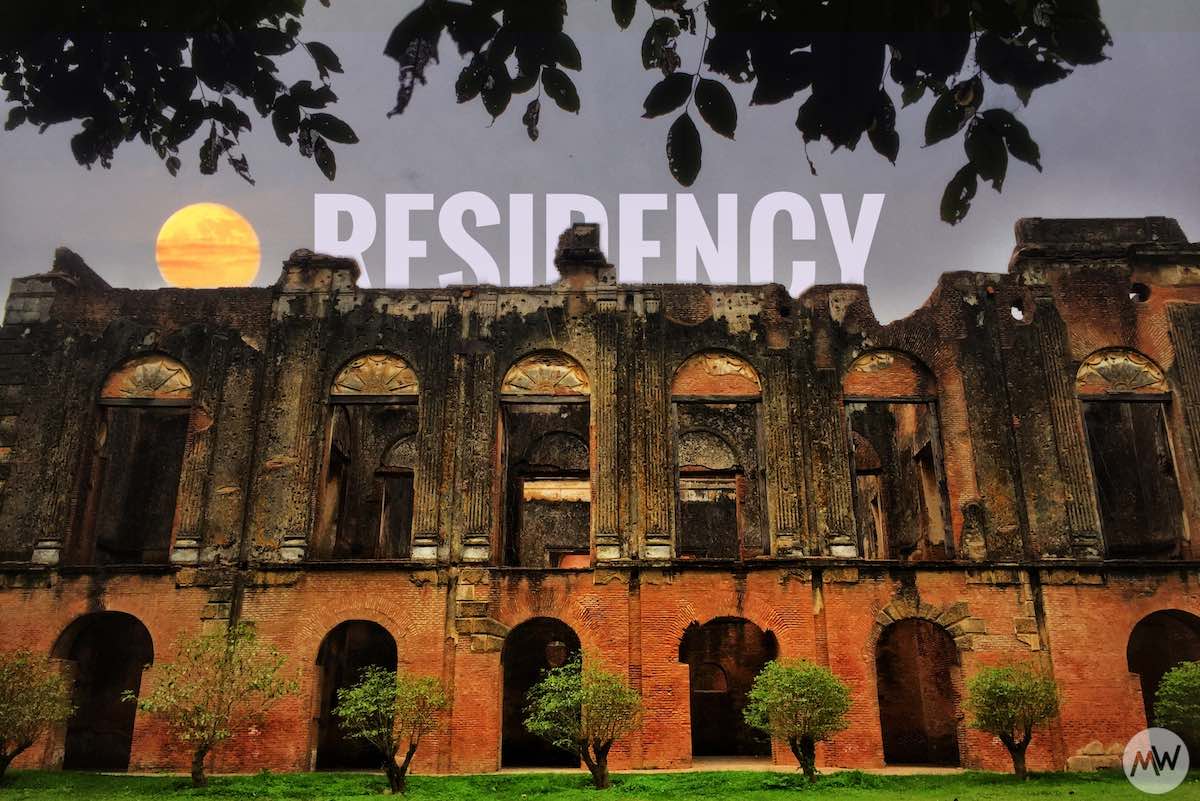 The walls of those buildings still have deep marks of bullets that fired during the mutiny.
If history is your thing, you should not miss this place. The 1857 Memorial Museum inside the Residency complex conducts regular shows (at an interval of 30-60 minutes) in English and Hindi, showing this place's history.
Timings: 10 am to 5 pm, closed on Mondays
Photography: Allowed, camera charges apply (Please note that you can't take tripod, monopod or any camera accessory inside the premises)
Dilkusha Palace, or more locally Dilkusha Kothi, is a monument perched in the offbeats of Lucknow. Although Lucknow Charbagh railway station lies just a few kilometers away, this place is amazingly one of the peaceful places of Lucknow.
Gore Ouseley built this building as a hunting lodge for Nawab Saadat Ali Khan. But Nawab gradually started it using as a summer place.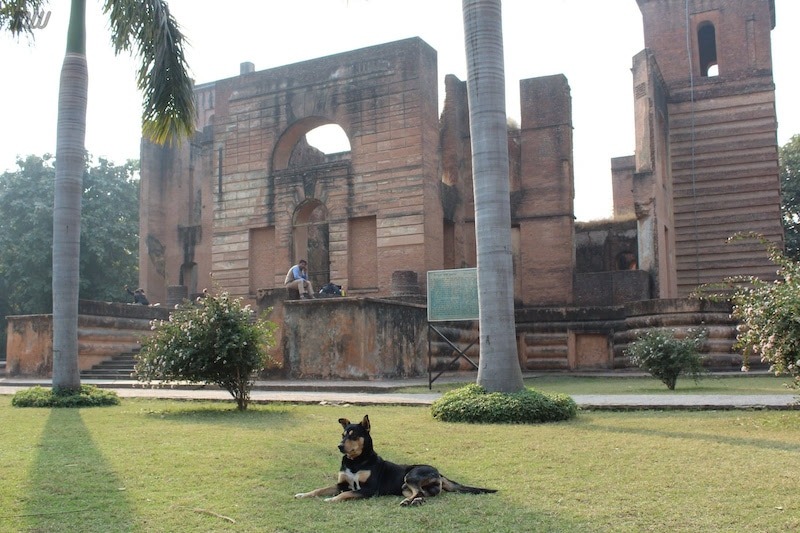 One exciting story behind this is that when British actress Mary Linley Taylor visited Dilkusha Kothi, she was so amazed that she decided to name her house' Dilkusha.' The actress then called her home' Dilkusha,' in the Jongno district of Seoul, South Korea.
It might not be the most recommended place from a photographer's eye, but hey, creativity has no limits.
Timings: 8:00 am to 6:00 pm, all days of the week.
Photography: Allowed
So, our next destination in the list of Lucknow best places to visit is something special. It's a college in the present day.
The country's college, which has produced many famous personalities such as Priyanka Chopra, K. Raghunath, and Muzaffar Ali, is esteemed in education-giving and blessed with eye-catching architecture.
La Martiniere Boy's College of Lucknow is a perfect example of French architecture. Frenchman Claude Martin, who lived in Lucknow at the time of Nawabs, erected this building.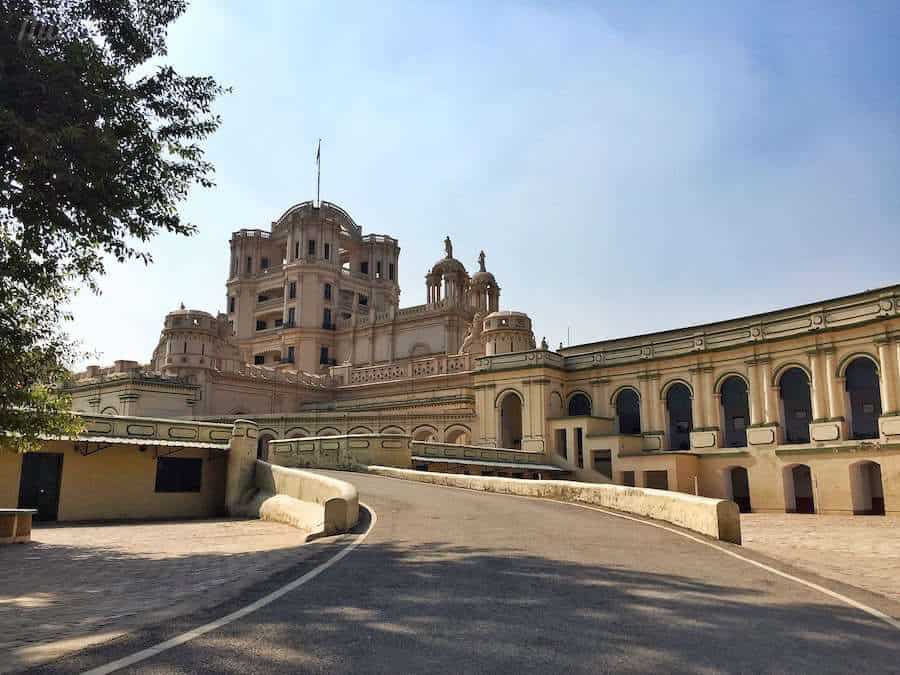 However, originally this place was meant to be the summer place of Claude Martin but was converted into a school as per his last wish after he died early.
Timings: Visit during school hours, Sunday closed
Photography: Allowed
Saadat Ali Khan was the 6th Nawab of Awadh, and this tomb was erected by his son Ghazi-Ud-Din Haider.
As you enter, you'll find two tombs inside — one of Saadat Ali Khan and the other of his wife, Khurshid Zadi. These buildings are made of Lakhauri bricks, lime mortar, and plaster to give the fine edge.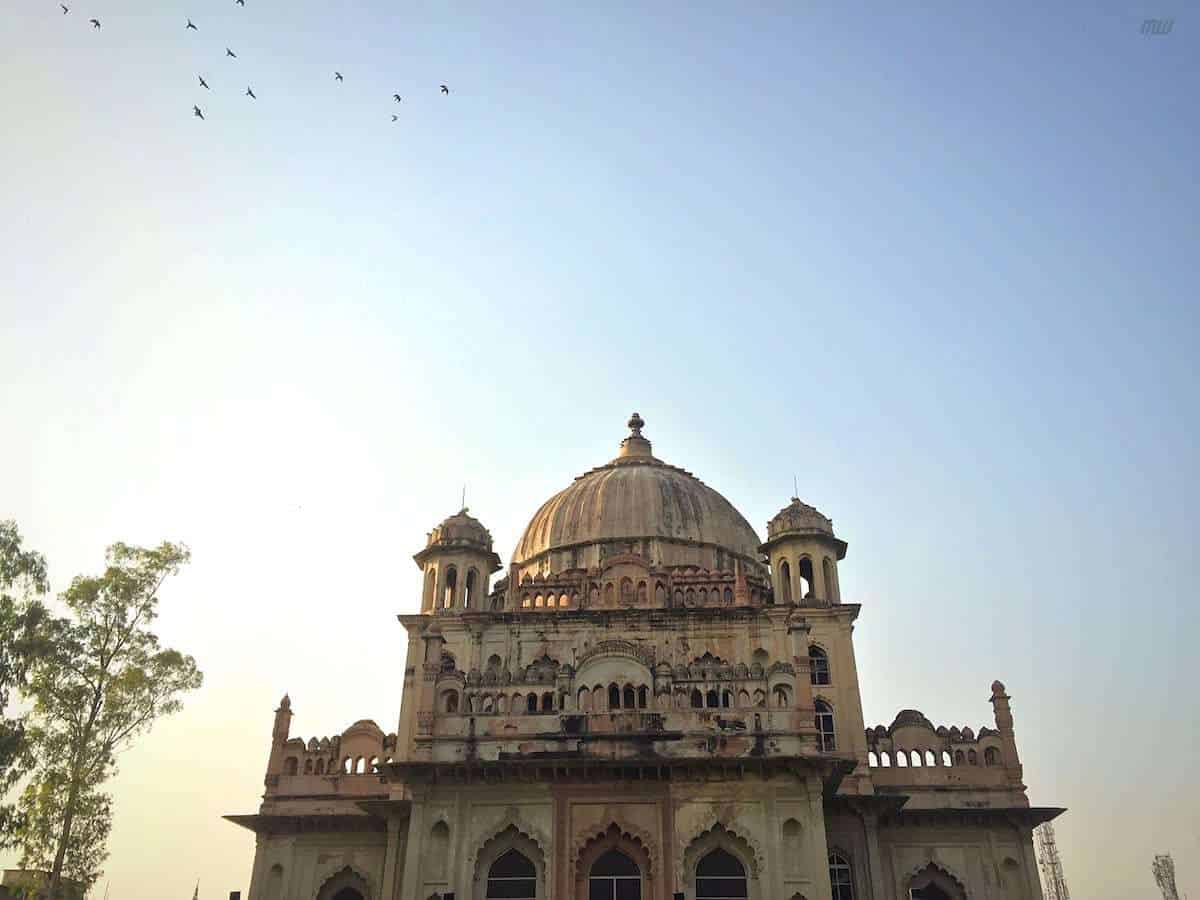 Also, the place is full of lush greenery and fine gardening, which concludes that this place is photogenic. Photographers, this is your bait!
In addition, we admire its beauty, and in our conscious opinion, it is one of the most beautiful buildings in the city.
Timings: Sunrise to Sunset
Photography: Allowed
The city of Imambaras holds many Imambaras of which people know only a few. Imambaras are the holy places built for the avatars of Allah and used for mourning by Muslims.
Shah Najaf Imambara, built by the first 'king' and last Nawab of Awadh Ghazi-Ud-Din Haider, is a replica of Hazrat Ali's burial at Najaf in Iraq.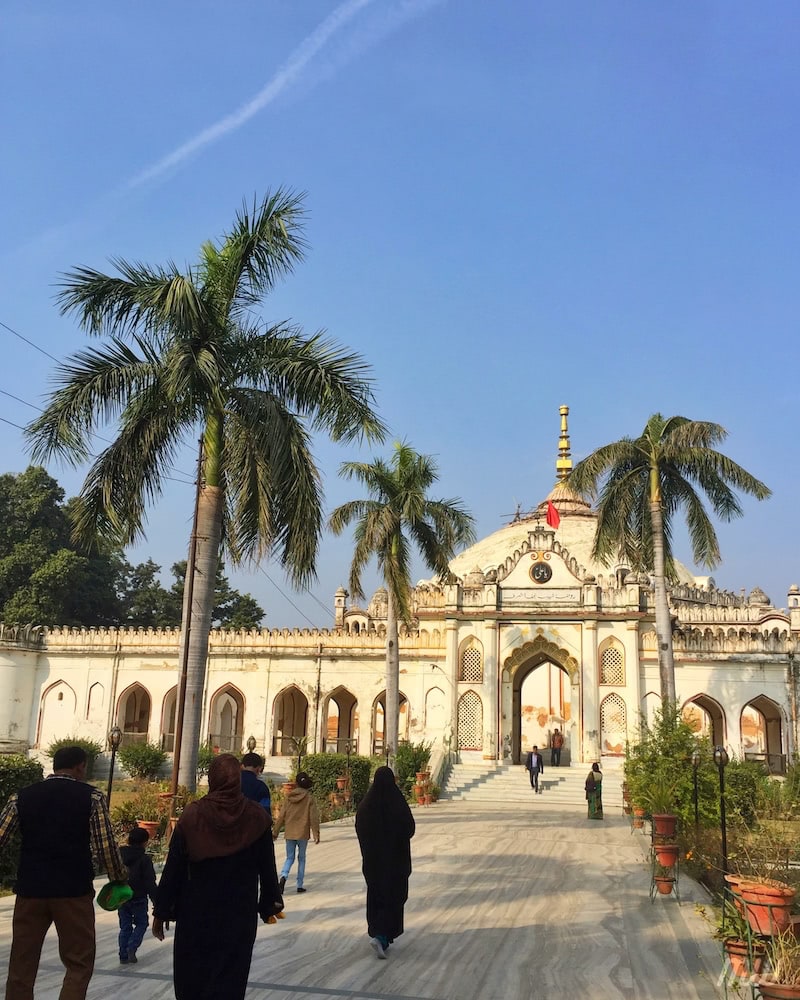 Timings: Sunrise to sunset
Photography: Not allowed inside Imambara
Farhat Baksh Kothi was built in 1781 by Frenchman Claude Martin as his place of residence. But later, as he died in 1800, Nawabs bought the site and started living in it unless Nawab Wajid Ali Shah built Qaiserbagh Palace (a destroyed building).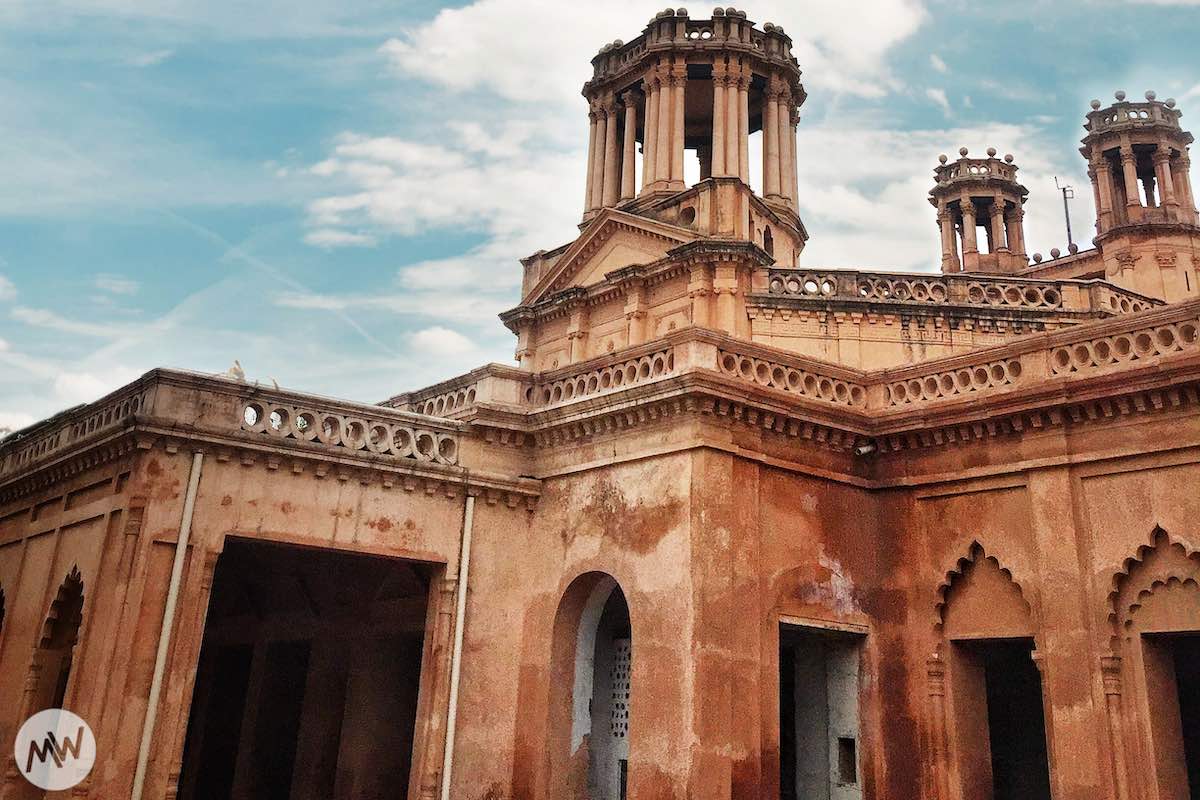 However, Chattar Manzil is just an addition (and a little bit of modification) to Farhat Baksh Kothi. The construction was started by Ghazi-Ud-Din Haider and completed by his son Naseer-Ud-Din Haider.
Also, Chattar Manzil was used as a place of residence for the wives of Nawabs. Chattar means umbrella, which the building possesses at the top. And therefore, it is also known as Umbrella Palace.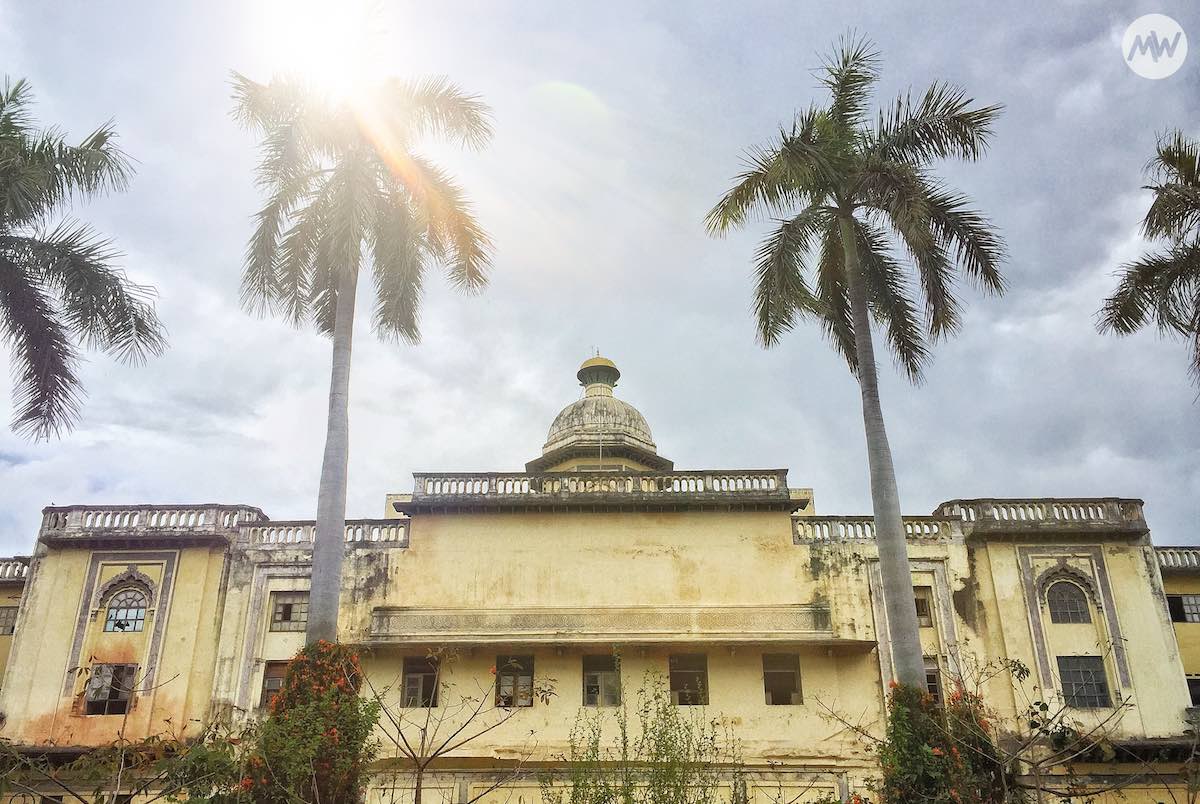 Most noteworthy, both buildings suffered greatly during the 1857 siege of India. Furthermore, both the state and the central government are continuously working on restoring its maximum possible glow as of now.
Again, history lovers should pay a quick visit here!
Timings: Sunrise to Sunset
Photography: Allowed
11. Begum Hazrat Mahal Park
Begum Hazrat Mahal was the wife of the last Nawab of Awadh, Wajid Ali Shah. She's best known for her support during the mutiny of 1857 in India from the Awadh region.
Therefore, this park is dedicated to her. Furthermore, a marble memorial is made inside the park by the Indian government for honoring her contribution.
It lies near Saadat Ali Khan's tomb within walking distance. Above all, it is a go-to place for peace seekers.
Timings: Sunrise to Sunset
Photography: Allowed
12. Aminabad Market
So, Aminabad Market or, locally, Aminabad Bazaar is one of the oldest and busiest markets in the City of Nawabs. The market is famous for wholesale and retail buying of clothes, artificial jewelry, stocking, and wedding decorations.
Most noteworthy, the world-famous Chikankari, i.e., Chikan embroidery clothes, are available here at affordable prices. The Chikan embroidery is the symbol of Lucknow, and it should be at #1 in your souvenirs from Lucknow.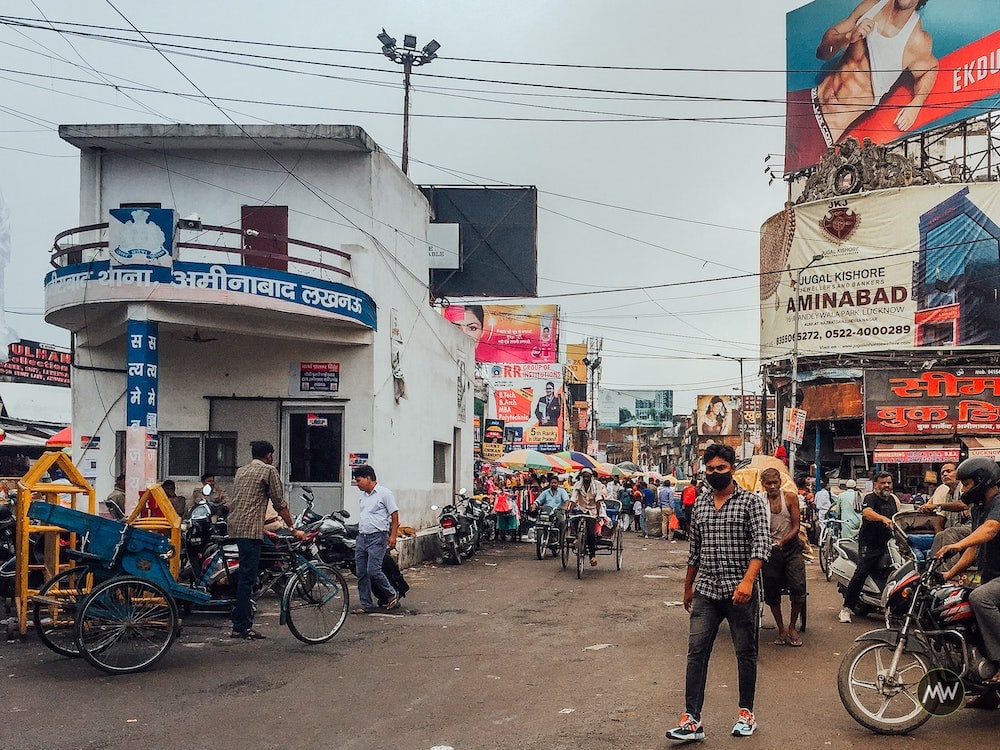 World-famous Tunday Kebabi's main branch exists here in the bustling market of Aminabad. A must-have experience in Lucknow – eating kebabs at the Tunday Kebabi should not be missed as its taste is unforgettable. And yes, it's for non-vegetarians only.
Similarly, Biryani lovers have got their luck too. Also, the world-famous (seriously) Wahid Biryani is just around the corner of the Tunday Kebabi.
In addition, vegans can try another favorite thing – Prakash ki Kulfi (kulfi is a sweet Indian dish). Just look out for it on maps or ask a local for help.
Timings: Market is closed on Thursdays
Photography: Allowed
13. Chowk
Chowk is yet another market that exhibits the old-age vibes of Lucknow. Be it Chikan kurta or sari, you'll find everything here.
Moreover, from famous Azhar Bhai Ka Paan to Rahim ki Nihari or the taste-rich Idris ki Biryani – you'll get a real treat here if you're fond of non-veg food.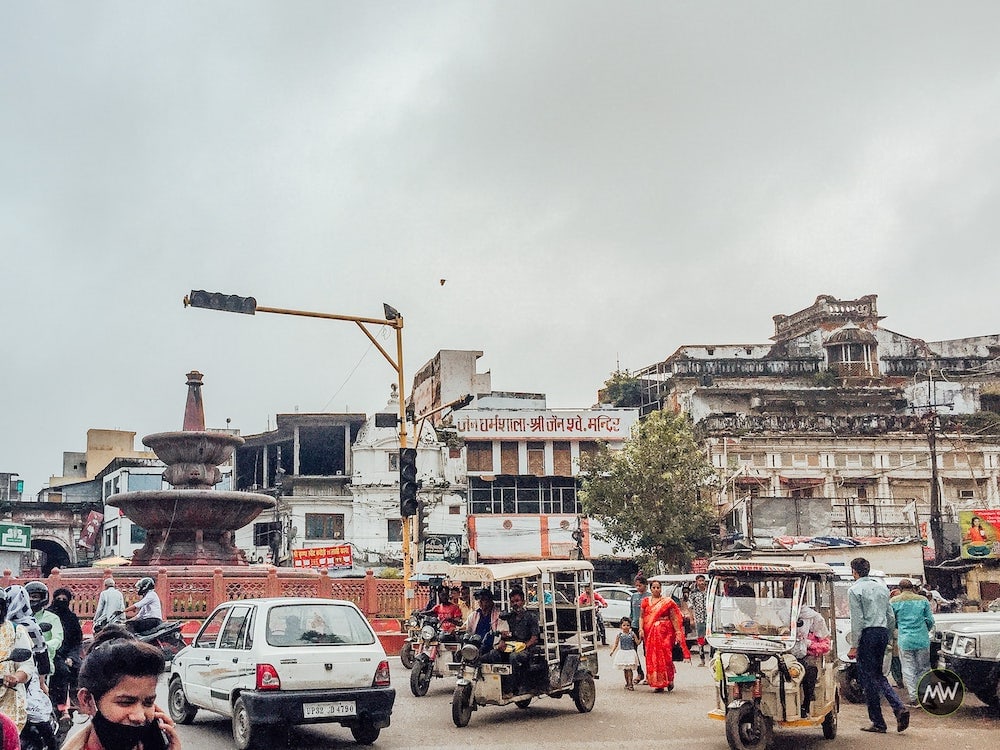 Timings: All days open
Photography: Allowed
14. Riverfront & Marine Drive, Gomti Nagar
Now enough of Old Lucknow; let's roll to the new. Riverfront and Marine Drive fall in New Lucknow.
Riverfront – well as the word itself suggest, is a beautiful park built on the banks of the Gomti river stretched over for about 2 km.
However, the park becomes even more beautiful in the evening due to colorful lighting. It is perfectly suitable for spending an ample amount of quality time with your family and friends.
Also, it's perfectly suitable for photoshoots.
Timings: Sunrise till 8 pm
Photography: Allowed
15. Ambedkar Park
Indeed, this place had to be on our list of best places to visit in Lucknow.
More formally, Dr. Bhim Rao Ambedkar Park is dedicated to Bhim Rao Ambedkar for his social work. This iconic place is entirely made of marbles and various bonsai trees.
Most noteworthy, the grand statues of Ambedkar Sahab are perched at different locations inside the park.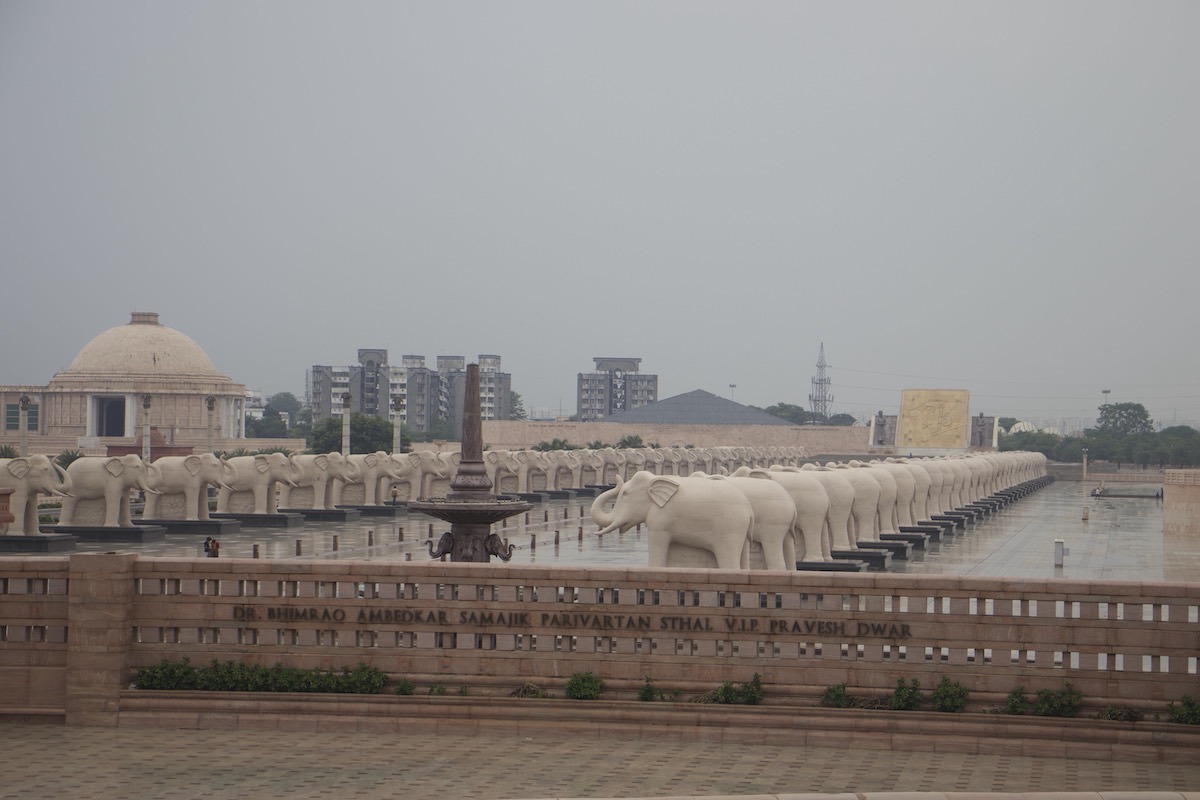 Also, the whole park is made in such a way to depict the life of Bhimrao Ambedkar. The aerial view of the park seems to be of a flower with four petals.
In addition, this place becomes extremely hot in summer, and so if you come here on a summer day, please choose the evening for visiting this park.
Moreover, from the photographer's eye, this place exceeds the minimum requirements — it is a perfect place for great photos.
Timings: 11 am to 9 pm, every day (some holidays affect its timings, please check afore)
Photography: Allowed
Local Foods & Eateries in Lucknow
In Lucknow, people eat Chicken as well as wear Chikan.
Lucknow has probably India's best taste when it comes to non-vegetarian and vegetarian foods. From Biryani to Nimish, you'll probably spend days if you're to savor each delicacy the city has to offer.
Read this crisp Lucknow Food Guide written by Team Misfit Wanderers, and your tongue will remember the taste forever.
Nonetheless, here's the table of foods & eateries' names you should check out in Lucknow:
| Vegetarian Food Items | Non-Vegetarian Food Items |
| --- | --- |
| Prakash Kulfi | Tunday Kebabs |
| Royal Cafe's Basket Chaat | Wahid Biryani |
| Sharma's Tea | Idrees Biryani |
| Netram Kachoris | Raheem's Kulcha Nihari |
| Shukla Chaat | Lalla Biryani |
| Nimish or Makkhan Malai at Chowk | Dastarkhwan |
| Ram Asrey's Malai Gillori | |
6 Activities To Do in Lucknow
Here are a few exciting and fun activities to do in Lucknow if you have time.
1. Indulge into Fascinating History with Heritage Walk
Heritage walk is the best way to unfold the layers of history embedded in this Nawabi city. Rustic building, living Havelis, hundreds of years old heritage blended with modernities — heritage walk can teach you a lot about Lucknow than any video or article on the Internet can.
You can do a self-guided heritage walk or contact Tornos for heritage walks in Lucknow.
2. Take a Stroll in Asia's Biggest Park
Janeshwar Mishra Park in Gomti Nagar is Asia's largest park. You'll get acres of green land, swings for kids, fountains, boat rides, fish, and numerous species of plants and bonsai.
If you are looking for a peaceful time with family and in the lap of nature,Janeshwar Mishra Park is worth your time.
3. Boat Ride in Gomti River
As of now, there's one place inside the city where you can enjoy a boat ride in Gomti — Kudiya Ghat. Situated near the rustic Pakka Pul and the Hussainabad Clock Tower, this Ghat is sacred, with a few small temples of Hindu deities.
4. Take a Tonga Ride
Tonga Ride or a horsecart ride is available outside the Bara Imambara Complex.
5. Visit Chatori Gali
If you're food & flavors buff, check out Chatori Gali in your spare time in Lucknow. Near the 1090 Chauraha (roundabout) in Gomti Nagar, New Lucknow. From Chinese momos to Indian Tandoori tea, you'll have the opportunity to test out several delicacies at one place.
6. Learn About Universe
Yes. If you are fascinated by stars, planets, and the grand scheme of the cosmos, you'll love Indira Gandhi Planetarium. The building in which shows happen imitates the ringed planet of our solar system — Saturn.
The shows typically start late, so make sure you're not too early.
Souvenirs to Buy in Lucknow
The city is known for its mannerism and etiquette, and its souvenirs have to reflect qualities. Here's a list of souvenirs you can buy in Lucknow:
Chikankari Work Clothes (SEWA Chikan is an authentic place to buy chikan work.)
Ittar Near Akbari Gate, Chowk in Old Lucknow
Nagra Shoes
Handicrafts
Gajak & Patti
Rewari
You can find most of these things in Aminabad & Chowk markets. Other famous markets include Hazratgunj, Kapoorthala, Nakkhas.
Here's a map for your help:
Hygiene and Public Toilets
Lucknow is a tier-2 modern city in India. It has been in top positions for the Swachch Bharat mission.
The bottom line is that Sulabh Complex public toilets are available frequently inside the city. Overall, the city is clean, follows proper hygiene, and has public restrooms near attractions.
Mode of Transport Between Attractions
Being a modern city, Lucknow is equipped with plentiful transport options. Most attractions fall in Old Lucknow and are at a walkable distance from each other.
Public Transport: Lucknow Metro, electric city buses, and rickshaws.
Private Transport: Ola, Uber (preferred), and Rapido (prefererred if you're solo).
How to Reach Lucknow?
Railways
Lucknow has Charbagh Railway Station (LKO) connected to all major stations of India. It lies around 4 km away from the city center.
Roadways
Lucknow has four major bus stations — Kaisarbagh, Alambagh, Awadh, and Charbagh. The city is well-connected to other major cities of India via these bus stations.
Airways
Chaudhary Charan Singh Internation Airport in Lucknow lies 15 km away from the city center.
Best Time To Visit Lucknow
Lucknow gets ugly in summers — the sun's scorching heat will make you plummet if you're not used to it. Consequently, winters are the best time to visit Lucknow. Explicitly speaking, come in any month from October to March.
Number of Days and Budget
There are no set criteria, but to explore fully, you'll need at least two days—one day to see places and attractions and the other for food and shopping.
Budget, on the other hand, is highly subjective. However, the following table will give you an estimate:
| Type of Tour | Estimated Cost |
| --- | --- |
| Sightseeing & Attractions | INR 2,000 |
| Sightseeing & Attractions + Food Explore | INR 3,000 |
| Sightseeing & Attractions + Food Explore + Shopping | INR 5,000 |
| | |
Please note that these prices do not include expenses incurred in traveling to and from Lucknow to your place.
Accommodation in Lucknow
Lucknow does not have many hostels. However, you can find many affordable hotels and lodges mostly near Charbagh, Hazratganj, and Aminabad.
Important Travel Tips
Beware of pickpockets while using in public transport and when in crowd.
In case of any emergency call 112 or 100.
Wear cotton clothes and keep a water bottle with you if you're coming in summers.
Lucknow is safe to travel as solo — man or woman.
You can visit Lucknow Zoo if you're in mood to meet fellow creatures on Earth.
Tag us in your social media postings — @MisfitWanderers (@Misfit.Wanderers on Instagram).
---
Conclusion
We hope this would have given you a lot of help, and just in case you need any further assistance, contact us or Tweet your question tagging us.
---
An appeal: Please do not throw litter around. Use a dustbin and if you can't find one, take the trash with you and throw it when you find one. Your small steps like this one can make the world clean and green.